How to Get a Walmart Free Trial Easily and Securely With This Virtual Credit Card

Are you looking for a way to get a  without any risk? The free trial period for Walmart Plus is only free if you know how to manage your subscription.
We are going to show you how DoNotPay can help you get a Walmart Plus Free Trial without worrying about automatic renewal. This is in addition to other Walmart services offered by DoNotPay such as getting a Walmart refund, and how to get Walmart customer service issues resolved fast and easy with DoNotPay!
Getting Started With a Walmart Plus Free Trial
Walmart has a  for their Walmart Plus account. This free trial gives you 15-days to get free delivery from your store, free delivery with no purchase minimums, free mobile scan-and-go, and member prices on fuel.
You get access to all Walmart benefits except Rx for Less which a member will receive after their trial period, and they are a paying member.
Although Walmart Plus is relatively new, it's considered as a direct competitor of Amazon Prime. Both are great but have significant differences. To make things easier, here's a side-by-side comparison:
| | | |
| --- | --- | --- |
| Benefits | Walmart Plus | Amazon Prime |
| Free trial period | 15 days | 30 days |
| Monthly cost | $12.95 | $12.99 |
| Yearly cost | $98 ($57.40 savings) | $119 ($36.88 savings) |
| Student Discount | No | Yes |
| Free same-day delivery | Yes - $35 minimum | Yes - $35 minimum |
| Free grocery delivery | Yes - $35 minimum | Yes - $35 minimum |
| Music and video streaming | No | Yes |
| Clothing perks | No | Yes - Prime Wardrobe |
| Gas discounts | Yes | No |
| Scan to pay in store | Yes | No |
There are a lot more other options that you can choose from and, as a consumer, it's best that you check out different benefits that suit your preferences from each service.
How Do I Get Started?
You can sign up for the Walmart Plus free trial and your 15-day free trial period begins as soon as you complete the application. There you will be asked to include your credit/debit card information, although it will not be charged until the free trial period ends.
There are only two different payment options for Walmart Plus, not two different types of accounts as we see with many other vendors.
Will I Be Notified Before My Free Trial Period Ends?
When you sign up, you will get an email with all your Walmart Plus benefits and other information. This information includes your original sign-up date, your monthly or yearly payment plan, and the date your free trial will end.
If you cancel your Walmart Plus account before the 15 day trial period ends, you will be charged nothing.
If you forget to cancel before 15 days, to avoid being charged you will have a 48-hour grace period to do so.
Avoid Automatic Renewal With DoNotPay Virtual Credit Cards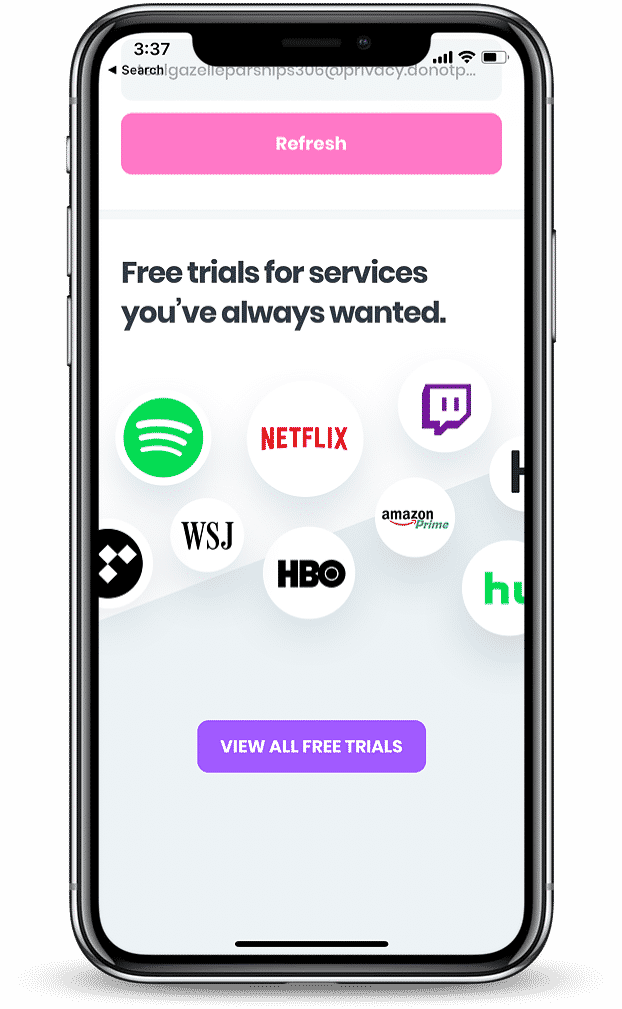 Every day, somebody somewhere is getting charged for a free trial they forgot to cancel and being charged the balance they agreed upon when signing up.  To avoid these and other like-issues you need the services that are provided by DoNotPay's virtual credit cards.
These free virtual credit cards are the fast, easy, and successful way to manage all of your free trial issues to avoid being charged for them!
Here's how:
DoNotPay will generate a random credit card number and CVV that merchants cannot tell the difference!
These VCC will serve you just like a real credit card except they cannot be charged any money because they do not exist!
Your VCC will then be used to manage your free trials without any harm coming to your bank account
DoNotPay is the fast and easy way to deal with all of your free trial period issues when you use the virtual credit card products they provide. Manage a free trial with these amazing tools at your disposal with four easy steps:
Generating a random credit card number
Approving on "free trial" or billing pages automatically
Not approving subscriptions or other charges
Canceling subscriptions for you
Managing your  has never been easier when you rely on the virtual credit card solutions provided by DoNotPay!
What Else Can DoNotPay Do?

DoNotPay is the way to level the playing field and make issues like getting free trial periods from Walmart and other companies a breeze. DoNotPay is your solution and information center to make sure that you never get charged for a free trial again!
Getting and managing your Walmart Plus free trial is just a small sample of what you can do when you have DoNotPay covering your back! Just take a look at some other issues that are easily navigated by using the DoNotPay platform!
You can open DoNotPay and get help with almost anything, including:
From credit card issues to getting rid of spam text, DoNotPay is the fast, easy, and successful way to handle life's little curves! Why don't you let DoNotPay take care of your  issues today with their virtual credit card products!