VRV Free Trial
Without Risks for Anime and Cartoon Fans
VRV is a direct-to-viewer streaming service focused on anime, gaming-related channels, and speculative fiction. It was created in 2016 by Otter Media, a subsidiary of AT&T. Viewers can stream VRV content on:
iOS mobile devices

Android devices versions 5.0 and above, including Android TV

Fire TV

Apple TV

XBOX One

PS4

Chromecast

Newer Roku devices

Web browsers
While it's possible to watch most of the content with a free account, VRV offers a paid premium service with additional benefits.
Everything You Should Know About the
VRV Free Trial

If you're bothered by ads while watching free content on VRV, you can check out VRV Premium free of charge for 30 days. The paid subscription allows you to access exclusive channels such as:
Boomerang

Crunchyroll

Cartoon Hangover

MONDO

Rooster Teeth

HIDIVE

VRV Select
Besides ad-free streaming and exclusive channels, other VRV Premium benefits include offline viewing on iOS and Android devices and immediate access to new episodes of many series.
You can also choose to start free trials for the listed premium channels separately if you're not interested in the rest. In this case, the free trial period lasts seven days for each channel instead of 30, which is reserved only for the whole premium package.
VRV accounts shouldn't be created by users below the age of 16. 
How To Start Your
VRV 30-Day Free Trial
To begin the VRV premium service, you will have to follow these steps:
Open VRV in a web browser

Click on

TRY FREE

in the upper right corner

Hit

30-DAY FREE TRIAL

in the pop-up window

Log in or create a new account 

Select whether you want to pay with PayPal or credit card

Enter the payment details accordingly
Your card won't be charged right away, even though it is necessary to provide the payment information upfront. 
Will the VRV Free Trial Turn Into a Recurring Paid Subscription?

Those who sign up for VRV Premium have 30 days to enjoy the exclusive content and other channels without ads. If you don't cancel the free trial before it expires, VRV will start charging you monthly until you cancel. VRV doesn't lock you into a contract, so you can stop the subscription at any time in your account settings. 
Anyone can forget to cancel a free trial before it ends, and that's what companies are counting on. As stated in VRV Terms of Use, if that happens to you, and you don't want to continue using VRV Premium, it won't be possible to get a refund. This rule applies to prorated refunds as well.
After cancellations, users can access premium content until the next billing cycle. 
How Much Will I Be Charged After the VRV Free Trial Expires?
Unless you cancel before the end of the 30th day of your free trial, VRV will charge the provided payment method. The monthly price for the premium subscription is $9.99 plus tax. 
In case you don't want to get the whole premium experience because you're interested in just one exclusive channel, you can find the pricing for each separate subscription in the table below:
| | |
| --- | --- |
| Exclusive Channel | Monthly Subscription Price |
| Crunchyroll | $7.99 |
| MONDO | $2.99 |
| Rooster Teeth | $5.99 |
| Cartoon Hangover | $3.99 |
| Boomerang | $4.99 |
| HIDIVE | $4.99 |
The prices in the table are listed without tax, so the final price for monthly subscriptions depends on your billing address. 
Delete That Calendar Reminder and Use DoNotPay for the VRV Free Trial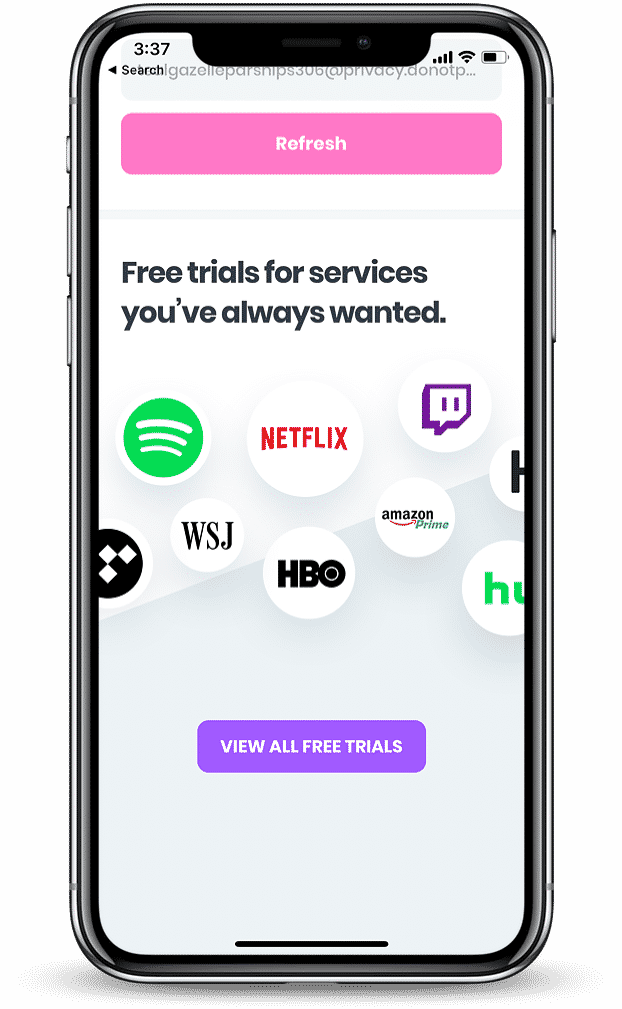 Many companies, like VRV, ask for the payment details when you sign up for the free trial. It's not a scam, but they hope you will forget to cancel before the first charge kicks in so they can get your money at least for the first month. Americans lost around $5.7 million on various subscription traps in 2017, and that amount applies only to the cases reported to the FBI's Internet Crime Complaint Center. 
Keeping up with different free trials and cancellation deadlines is becoming more challenging as the number of online services and various streaming platforms multiplies by the minute. The good news is that you can put an end to this issue with DoNotPay's help!
Have you ever heard of a Free Trial Card? It's a virtual credit card created by DoNotPay that you can use to sign up for free trials if they require payment information right away. Getting one is a piece of cake:
Set up a DoNotpay account in a

web browser

Sign in with your login credentials

Generate a virtual credit card in a few clicks
You will see the 16-digit card number, expiration date, and the CVV number. Enter them when you sign up for the desired free trial, such as Audible or Tidal, and you won't have to worry about what will happen when the free period runs out. 
Our Free Trial Card is not connected to your bank or your PayPal account, so when the service provider tries to charge it, they won't succeed, and your free trial will be terminated without consequences!
Got Stuck With VRV Because You Didn't Cancel on Time? DoNotPay Has a Solution 
It can happen to anyone. The free trial you used turned into a paid subscription, and the first amount has already been deducted from your bank account. With DoNotPay, it doesn't have to stay that way. 
If you didn't have a chance to use our Free Trial Card on time, our Find Hidden Money feature will protect you from additional charges by canceling the unwanted VRV subscription in an instant:
Log in to your DoNotPay account 

Select

Find Hidden Money

Type in VRV as the service you want to get rid of
The process will take you less than two minutes, and when the AI bots finalize your cancellation, a notification will pop up in the app. 
We don't call it Find Hidden Money without reason. If you connect your email address or bank account to DoNotPay, we will monitor your paid subscriptions and help you locate the ones you forgot about or no longer need. 
Still feeling bad about that first unnoticed charge? In that case, check out DoNotPay's feature called Chargeback Instantly. Our app will assist with requesting your money back even when the companies have a no-refund policy!
DoNotPay Has More To Offer

It's not unusual to feel lost when facing bureaucracy on your own. You don't have to waste time and money looking for help online or hiring legal counsel for every minor thing. DoNotPay will stand by your side whether you need to file a chargeback or get help with the tax bill after your student loans get dismissed.
Access DoNotPay from any web browser and explore the rest of our rich portfolio of solutions to your struggles with administration:
Challenging speeding tickets

Challenging traffic tickets