How to Get a VideoBlocks Free Trial The Risk-Free Way

VideoBlocks, or StoryBlocks, is a program that can add sounds or video to any project that you have going. This includes YouTube video creation, slideshows, and more. As with all programs, you may want to know that it can meet your needs before you buy, so you launch .
The problem is free trials aren't usually 100% free. Either they keep sending emails because you signed up that one time two years ago, or they automatically withdraw a payment, though you don't want it to.
If you are looking for a way to have a completely free trial for VideoBlocks, DoNotPay can help you get it.
Can I Use VideoBlocks with a Free Trial?
VideoBlocks does not offer a free trial period. The previous VideoBlocks 7-day free trial ended when it became StoryBlocks. However, this doesn't mean you cannot give it a try.
You have the option to create a free account. The free account will give you access to:
View Watermarked Previews
Get a Feel for the Quality It Provides
Although impressive to see the video content and listen to the audio, it really may not give you much of an idea on how easy it will be to implement it into what you are creating.
What Do I Need to Do to Get a Free Trial with VideoBlocks?
To access the free preview of VideoBlocks' content is easy. You only need to log in using a created email and password combination or sign in with your current Google Account
Will VideoBlocks Automatically Become a Subscription After the Free Trial?
Since VideoBlocks does not provide an actual free trial, you do not have to worry about it withdrawing the subscription automatically.
However, the fact that it limits your account so much, you may want to pay for the first month to see what it is all about. This can, and will, lead to recurring subscription costs, which may not be ideal.
The only way to avoid this from happening is to remember that you have to cancel your VideoBlocks subscription. Who has time for that? With DoNotPay, you don't have to deal with it.
With DoNotPay and Virtual Credit Cards, VideoBlocks Will Not Get Money Unless You Choose to Buy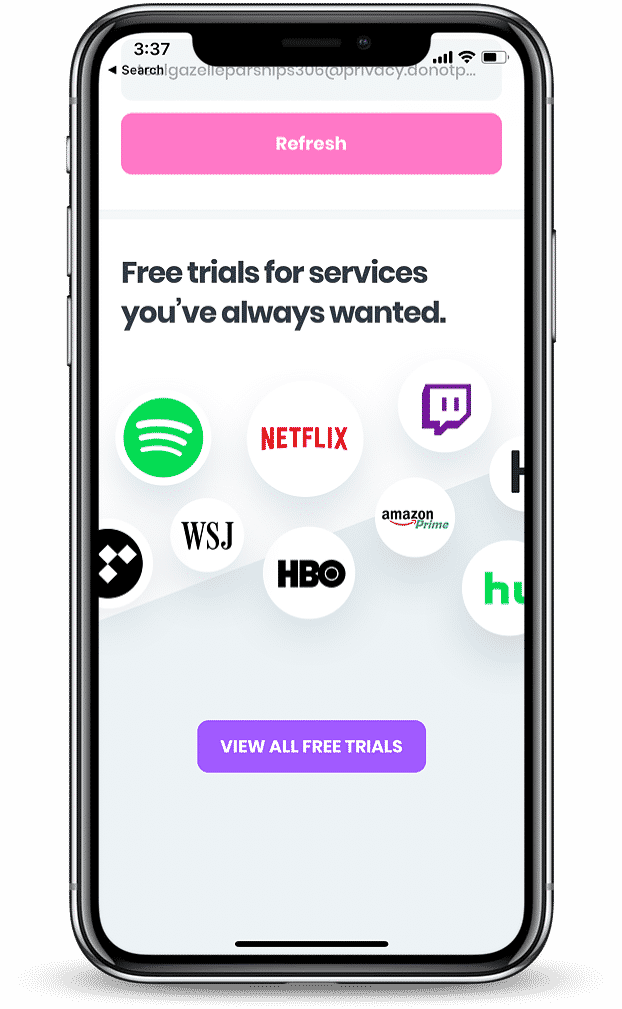 With DoNotPay in your corner, you can sign up with VideoBlocks and try it with all its features, without concern over automatic withdrawals from your account. The way it works is simple.
Step 1: Log into DoNotPay
DoNotPay is a safe and secure place for your information because as the world's first online robot lawyer, confidentiality is our number one priority.
Step 2: Let Us Know You Want Our Virtual Credit Card
We offer a free virtual credit card that you can use to sign up for free trial offers and to protect your privacy online. You NEVER have to give out your banking or credit card information online if you simply hope to try out a service.
This virtual credit card will get you through the signup process using a randomly generated:
Number
Expiration Date
CVC Security Code
Step 3: Sign up for VideoBlocks
Once you have your very own virtual credit card number, you add it to your first payment to VideoBlocks. Your payment will be approved, and you can take full advantage of VideoBlocks.
Please note: When signing up for a subscription service using a virtual credit card, you will need to provide us with your bank or credit card information. This will allow us to pull a one-time payment to cover the cost of your new service.
You can feel confident that it will just be a one-time payment because moments after your card is created, it is erased from the DoNotPay system.
Step 4: Enjoy Your Service from VideoBlocks
You will have unlimited access to the entire VideoBlocks content for the entire month of access, and as per your subscription allows.
If you do not want to keep using VideoBlocks, you can relax knowing that you do not have to cancel. It will automatically cancel when payment is due again.
In the event you like VideoBlocks, you simply log into your account and update the payment method to include your personal credit or debit card. You can then continue enjoying the service all you want.
How Much Is VideoBlocks After the Free Trial Offer?
Now that you know how to enjoy a truly risk-free trial period for , you are likely wondering about the service cost if you choose to keep it. This will also be what you must pay in order to create a full-access account using a free virtual credit card.
VideoBlocks offers several subscription services. They include:
Service:
Pricing:
For Video Needs
For Personal Use

Basic Video Access
$10 Per Month
5 Downloads Per Month of HD Video
Unlimited Video Access
$20 Per Month
HD, 4K, and After Effects Included

For Audio Needs
Basic Audio Access

$10 Monthly
Max 3 Downloads Per Month
Unlimited Audio Access
$15 Per Month
Unlimited Music and Sound Effects
All-Access Unlimited Access
$30 Per Month
HD, 4K, After Effects, Music Sound Effects Photos Illustrations, and More Included
Business-Use Pricing is Fully Customizable Based on What You Need
Prices may vary based on the services that you want to access. These prices change often for commercial users, so check with the provider directly.
Are There Good Alternatives to VideoBlocks
Although  may meet your every need, it can also be good to know if you have alternative options available. Luckily, there are quite a few for you to choose from. Some of the most popular alternatives include:
Free to Use
Best for:
Free/Donations Appreciated
Best for:
Images
Videos
Vectors
Illustrations
Music
Sound Effects
Pricing: Free to Try
Afterward, Prices Range from:
$49.00-$249.00 Monthly for Images
$16.60-Monthly for Unlimited Music
$99.00-$199.00 Monthly for Video Clips
On-Demand Image Packs $29.00-$299.00 Monthly
Flex 25 Mixed-Asset Subscription $49.00
Best for:
Three Plan Options:
Videvo Lite: $4.99 Monthly
Videvo Plus: $14.99 Monthly
Videvo Pro: $24.99 Monthly
Best for:
Video
Motion Graphics
Music
Sound Effects
DoNotPay: Always Available When You Need Us Most

DoNotPay is an online robotic lawyer and the first of its kind. Therefore, our job is never-ending, and we are always here to help when you need us the most.
This is also why DoNotPay offers a large variety of services that go well beyond virtual credit cards. Some things we can help you do include:
Get Back at Robo-Caller
Protect Your Family from Harassment and Stalking
Get Compensation for Flight Cancellations or Delays
Protect Your Copyrights
Jump Long Phone Queue Lines
Tackle Credit Card Issues
Cancel Membership Agreements
Get Rid of Spam
Sue Anyone in Small Claims
Lessen DMV Wait Times
If you are interested in learning more about any of the things we can do for you, we are here 24/7. All you have to do is check us out on DoNotPay.