Things you should know about Verizon robocall blocking
Robocalls can be simply annoying when they are associated with telemarketing or political phone campaigns. However, in some cases, it's not just a matter of annoyance. There are many robocall scams that get you into trouble. According to PR Newswire, there were as many as 27 billion robocalls classified as scams in 2018, and, unfortunately, this number is now much higher and continues to grow.
The good news is that you can do something to fight robocalls and even get revenge if the fraudsters manage to wrong you in any way. If you have a Verizon phone, you can use the Verizon robocall blocker.
You can always use DoNotPay to stop robocalls and even report them if you deem appropriate. Before we tell you more about both Verizon and DoNotPay and how they can help you in your fight against potential scammers, let us address a much more significant question for a start—what is a robocall?
What are robocalls?

Robocalls refer to the automated calls made with the aim of delivering a pre-recorded message. In most cases, robocalls are used for telemarketing, political campaigns, and public-service announcements. With the development of technology, it has become much easier and cheaper to make robocalls, so they have become more and more common in recent years.
Chances are that you have been a "victim" of endless telemarketing calls coming from companies trying to sell you something or even asking for some information. If so, you already know what robocalls are.
One of the ways to put an end to these unwanted calls is to use Verizon robocall blocking. Let's see how this app works.
How does Verizon robocall blocking work?
If you have a Verizon phone, you're probably wondering whether Verizon offers robocall blocking. We have some good news for you—you get to choose from four different options to get protection from robocalls. These include the following:
Anonymous Call Rejection

Call Block

Caller ID/Call Waiting

Caller ID
The Verizon robocall blocker app provides protection from scammers by sending an alert every time a call looks like a scam. Users can set the level of risk at which the calls should be blocked. Based on their previously determined preference, the app blocks all suspicious calls automatically. Should it happen that a wanted call ends up being blocked automatically by mistake, you should just let Verizon know, and they will correct that mistake.
Is Verizon robocall blocking free?
If you're wondering whether you'll have to pay to get a Verizon robocall blocking app, you should know that this is up to you. Depending on your needs and preferences, as well as your willingness to pay a few extra dollars on top of your monthly bill, you can choose between these two options:
Free Verizon robocall blocking

Premium Verizon robocall blocking
Free Verizon robocall blocking
If you choose Verizon's free Call Filter option, the app automatically spots and blocks scam calls based on the level you allow. The free version is available both on Android and iOS. You should keep in mind, though, that some features might vary depending on the type of the phone you have. But no matter the type of your phone, you can be sure that you'll get at least the basic level of protection.
It's even more important to be aware of the fact that this version is reserved for postpaid customers only. If you have a prepaid account, you won't be able to access it.
Premium Verizon robocall blocking
In addition to the free version, you can also use Verizon's premium robocall blocking app if you want to upgrade your account. The premium account costs an extra $2.99 added to your fixed monthly bill. You can also choose a plan to pay $7.99 for 3+ lines if you find it more convenient and if, of course, you have three or more Verizon lines.
Similarly to the free option, the premium account also ensures spam detection, spam blocking, and reporting, but there's more—it's called premium for a reason, right? You also get an exclusive feature—identifying unknown callers by their name! Apart from that, there's also an option to do the following:
Customize a personal robocall blocking list

Use robocall risk meter to access additional insights

Use spam number lookup to gain additional insights
If you're still not ready to switch to the premium version, but you would like to get a sneak peek at its features, you can get a free trial and try it out for free for 60 days. In case you've had a bad experience with free trials in the past, and you're afraid that you'll be charged even after this period expires, DoNotPay has a solution—Free Trial Card. With our virtual credit card, you don't have to worry even if you forget to cancel your subscription before the free trial expires, as you won't leave your real credit card info, but only a temporary randomly generated virtual card number.
Rely on DoNotPay to get revenge on robocalls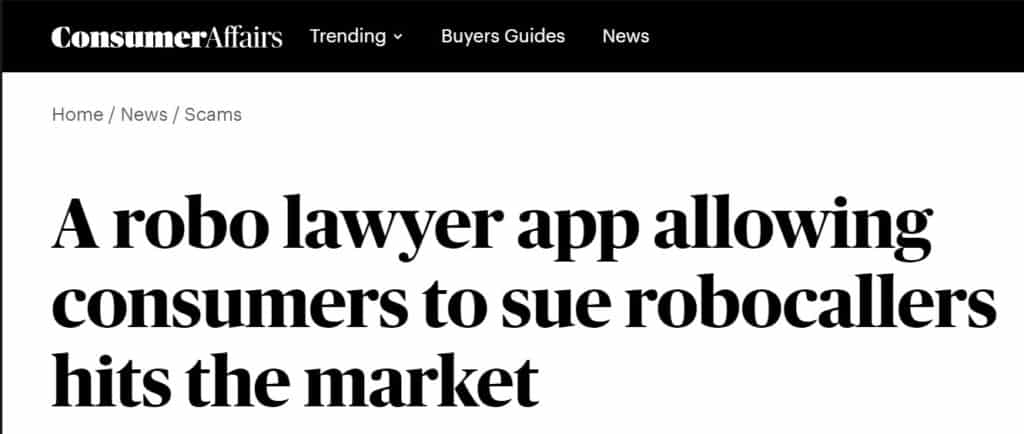 If scammers managed to lure you into answering the call and wronged you, don't worry—DoNotPay gives you a chance to use robocall blocker for Robo Revenge. Even if they cause you some damage, you will be able to repair it with our app at your service—robocallers can be sued for up to $3,000 with DoNotPay. To get revenge on robocalls with the help of our app, you need to take the following steps:
Log in to your DoNotPay account through the

Register on the

Do Not Call list

Open DoNotPay and click on

Robo Revenge

option

When you receive a robocall or a potential scam call, give them the virtual credit card information instead of the real details
The method of Robo Revenge is quite simple. When the scammers try to charge you, they won't be able to do so because they won't have your real info, but DoNotPay will have their information. That way, we can easily figure out who they are. When we gather all the necessary details about the scammers, you can file your claim with our help. DoNotPay can send a demand letter for compensation on your behalf. All that's left for you to do after that is wait to get the compensation.
How to stop robocalls on Verizon cell phone
If you have a Verizon cell phone, you should first check if there are any specific features for your particular type of phone. Once you make sure that you can get all the features you need, you can begin with the robocall blocking activation process. Here's what you need to do:
Download the app for Android or iOS

Log in

to your account

Select

Account Manager

option and go to

Calling Features

Select

Incoming Call Block

Select

Reject All Anonymous Calls

option

Confirm by clicking on

Activate Incoming Call Block
How to block robocalls on Verizon landline
When it comes to blocking robocalls on your landline, you should be prepared for a somewhat less advanced technology compared to how this feature works on cell phones. For a start, you need to know that you will have to enable the robocall blocking feature for each unwanted number separately. Another option is to rely on Verizon to label suspected robocall spams on your caller-ID screen.
To complete robocall blocking on your landline, here's what you need to do:
Dial *60 on your landline phone

Dial the phone number that you want to be blocked

When the automated service requires so, confirm the previously entered number

Enter additional numbers you want to block

Press

End

or hang up the phone when you're done
Keep in mind that Verizon will allow you to block no more than 12 numbers, so choose carefully. However, even if you change your mind about a number and you want to unblock it, that's possible, too. Should you decide to do this, here's what to do:
Dial *82 on your landline phone

Dial the number that you want to unblock
The difference between legal and illegal robocalls
Yes, robocalls are quite annoying. And yes, sometimes, a scammer with fraudulent intentions is behind them. But that doesn't mean that all robocalls are illegal. One of the main things that differentiate these two categories is whether or not you gave your number to the company that's calling you. If not, there's probably something wrong about it. Here are some other points that should help you understand the difference between a legal robocall and an illegal one:
| | |
| --- | --- |
| Legal robocalls | Illegal robocalls |
| Robocalls related to your subscriptions made by the service provider that you gave your number to willingly | Any attempt to get payment information from you is most likely a fraud, so you should be careful |
| Robocalls calling you to be part of a study approved by the government | Calls that only look like they're coming from a reliable institution, such as the government |
| Robocalls made by debt collection agencies (not only are they legal, but they are also obligatory to take if you don't want to end up in even greater trouble) | An attempt to sell you something, be it a product, service, exclusive feature of a service, or anything similar |
| Robocalls bringing informational messages, such as updates on a delayed flight, rescheduled or canceled appointments, and the like | Calls offering something for free, be it a vacation or any other kind of a prize |
Can you report robocalls?

In case robocalls become such a problem for you that you want to report this issue, here's some good news—you can do this. The first thing that you need to do to protect yourself from robocalls is to register on the National Do Not Call Registry. If you continue to receive these disturbing calls 31 days after you contacted the registry, you can report robocalls. If you're wondering how to check if a number is on the Do Not Call list, here are your options:
TeleTypewriter 1-866-290-4236

Dial 1-888-382-1222
If you're wondering how to report robocalls, DoNotPay is here to help you out—with our app, you can sue any company that's wronged you in small claims court. DoNotPay can prepare all the paperwork required, so you don't have to worry about a thing. To make this possible, you just need to do the following:
Keep all your phone records

Do some research to obtain enough information on the company behind robocalls
What to do to prevent robocalls
While you'll be satisfied when you manage to stop robocalls either by reporting them or suing the scammers, we're sure that you wouldn't like to go through the same process again. That's why it's crucial that you take some precautionary measures to prevent robocalls in the future. To ensure your peace, always keep in mind the following:
Never give your personal information to any suspicious caller

Never believe any too-good-to-be-true offers and prizes

Register your phone on the Do Not Call List

Don't give your phone number to everyone who asks for it

Get an unlisted phone number so that telemarketers can't find it

If you pick up the phone and realize that it might be a fraud, hang up immediately
Be on the alert for the most common robocall scams
To avoid getting into trouble by answering robocall scams, you should know a little bit more about the most common ones and how to spot them. When you know what to expect, you can act accordingly to protect your privacy. Here are some of the most common scams and a few crucial things to know about them:
Common robocall scams

What to know about them

Calls from utility bill collectors

These are among the most common scams, probably because people are likely to believe the scammers without much questioning. Considering that so many people all around the country are struggling with bills, it comes as no surprise that their first thought when they receive a call from a bill collector is that they do have some unsettled debt. These calls are usually quite "aggressive" right from the start, and they may not begin with a robocall.

A real person might open by threatening to disconnect the user unless they pay a certain amount of money in a couple of hours.

Another option is that they suggest helping you get a discount for an unpaid bill by transferring your money to a certain account first instead of paying the utility company directly.

Guaranteed investments

Whenever you hear the word "guarantee" coming from an unknown caller, that should be a sign that something is wrong and that you should hang up the phone. This is especially the case if they guarantee a financial or any other type of gain after you invest a certain amount of money.

These scams can seem quite real, as the fraudsters often have real-looking documents, with seals and logos that make them appear to be official. If it's not the money, they may ask for your personal information, which they can use for identity theft.

Call from your neighbor or "neighbor spoofing"

Scammers know that you are much more likely to pick up the phone if you see that the number is from your area. That's why they came up with a fake call from a neighbor. They make the number appear to be from your area even if it's not to make you pick up the phone for a start.

To avoid this type of scam, don't pick up your phone if you don't recognize the number, even if it seems to be from the local area. If someone from the neighborhood is really calling you, they'll leave a message.

Prize scams

In addition to the word "guarantee," you should also be on alert for the word "winner." When they call you to break the good news that you're the happy winner of some prize, it's time to hang up the phone.

These scammers usually start the call by saying something like, "You've just won $5 million!" Apart from an enormous amount of money, they usually also include luxury trips, expensive jewelry, etc. Whatever they offer as a prize, the intention is the same—to scam you.
Is there anything else DoNotPay can help me with?

There are many problematic situations in which you can rely on your trusted robot lawyer to save you some trouble. Whether you have a problem with an unfair parking ticket or you can't seem to get through customer support because you got stuck in long phone queues, our app can save the day. Access DoNotPay through a . Take a look at some of the services that DoNotPay provides:
Disputing unfair traffic tickets

Fighting your speeding tickets