Dispute UCSD parking tickets for free in 2 minutes

DoNotPay assists people in fighting their parking tickets for free using AI-powered technology. According to Newsweek, an impressive amount of tickets have been beaten using DoNotPay's services. DoNotPay has a magnificent success rate that has allowed hundreds of thousands of people to appeal and beat their parking citations.
Below are some easy steps that will help you appeal your ticket:
Use our app directly from your

.

Answer a few questions regarding your ticket. Don't forget to include the type of violation you received, which jurisdiction you received it in, and why you are trying to fight it.

Take a photo of your ticket and send it to the app.

DoNotPay will generate the exact template you need to dispute and beat your parking ticket.

Watch how to dispute parking citations in any city:
Is contesting a ticket from UCSD even worth it? Can I fight it and win?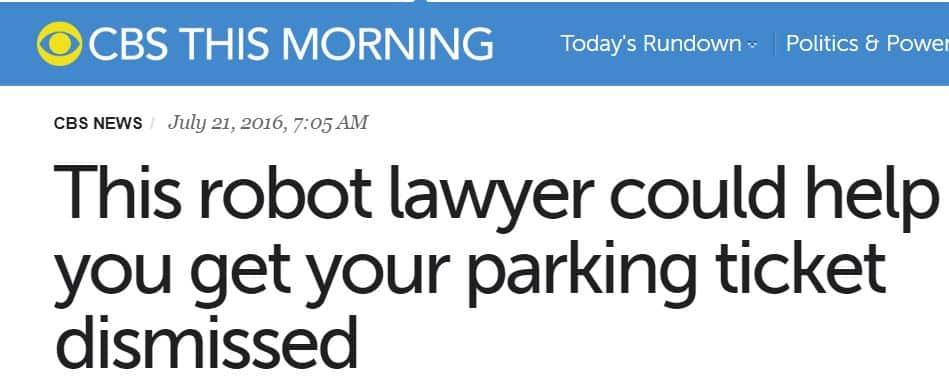 DoNotPay's free services use an AI-powered chatbot that provides advice in seconds. DoNotPay can offer suggestions of what to focus on when you appeal your parking infraction including:
Missing or incorrect details listed on the citation

Fading paint on street signage

The ticket was issued after you sold the car

It's not your vehicle

Illegible notes on the ticket

Lack of clarity of the parking regulations
Even if you do not win your appeal, merely appealing your citation can reduce the fine. You should ALWAYS dispute your parking infractions.
There is a good chance that UCSD will reduce your fine if you dispute.
You can appeal your parking citation incredibly fast if you use DoNotPay, it doesn't make sense not to! Access DoNotPay through any .
Can DoNotPay help me beat citations in San Diego from private parking companies?

DoNotPay will not only help you beat parking tickets given to you from the government but also tickets from any private parking company:
Laz Parking

Ace Parking

ABM Parking Services

Impark, aka Imperial Parking

SP+, aka Standard Parking

Lanier Parking

Towne Park

Douglas Parking
Ace Parking is one of the largest private parking companies in San Diego. Make sure to be aware of this company because it manages areas spread widely across the city.
How much time does DoNotPay save disputing tickets at UCSD?

On average, DoNotPay can save you half a day of missed work or classes. If you fight your parking ticket all on your own, you can spend over half of your day. You must gather evidence, collect statements from witnesses, take everything to the appeal, wait in lines, write checks, and mail letters to university law enforcement.
Whenever possible, choose the fastest option for challenging a parking infraction, especially if you have a busy schedule.
Should I get a lawyer to dispute UCSD parking tickets?

The good news is that you do not need a lawyer to appeal a parking citation. A good parking infraction lawyer can cost an arm and a leg.
Choosing to fight your parking violation with DoNotPay is the perfect alternative. It's the world's first robot lawyer that can give legal guidance in seconds. All you have to do is type in your problem, and you can get a quick step-by-step fix for free!
But if you want to hire a lawyer, keep in mind that you should:
Research

Check credentials

Beware of red flags

Consider the costs

Interview
The first step is to research the lawyers you are considering hiring. You can find a lawyer online or use personal recommendations.
Remember to check the lawyer's credentials and see if they are capable of resolving your case. Look for customer reviews to see if they have dealt with similar situations before and what the outcomes were.
Hiring a lawyer can get extremely expensive. It doesn't make any sense to pay more for a lawyer than the cost of your ticket.
It's not wise to go with the first lawyer you find without talking to them first. So take an afternoon to speak to your potential lawyers.
Check out this thread about how a UCSD student appealed their ticket on their own in this Reddit conversation.
How much does a parking lawyer in San Diego cost?

Lawyers in San Diego can charge you $30 to $100 per parking case. Additionally, some lawyers will even charge you a monthly rate of $25 while they are helping you fight your parking citations. Of course, you get what you pay for when it comes to services, so be aware of the "too good to be true" offers that some lawyers provide.
Alternatively, you can use DoNotPay's free app to fight your legal battles. Just answer the chatbot's questions and upload an image of your ticket. Access DoNotPay through any .
What if I got a ticket and it blew off, or someone took it off my car?

Parking enforcement will send a letter to the address where the vehicle is registered. If the registered address of your car is incorrect, for example, if you moved and did not let the DMV know, the parking ticket can be turned over to a collection agency.
If the collection agency is unable to reach you, they will report you to the major credit bureaus. That can affect your credit score and prohibit you from signing a new lease or applying for a car loan.
Find more advice about this parking ticket issue here.
Dispute your parking citations effortlessly with DoNotPay. Access DoNotPay through any .
Dispute or pay?
| | | | | |
| --- | --- | --- | --- | --- |
| | Ease | Time it takes | Cost | Benefits |
| Dispute | This is easy when you're using the DoNotPay app. | Appealing a parking ticket takes a minute using DoNotPay. | This can end up entirely free. | Losing no money on parking infractions |
| Pay | The easiest method is to pay in person | If you pay in person, it takes hours. By mail, up to two weeks. Online: depends | Price of the citation + transportation costs if you're paying in person + cost of lost work | Your wallet will be lighter |
Can I get my parking infraction reduced?
It may be possible to overturn or reduce your parking fine by simply disputing it.
Check out this Reddit user's discussion on reducing parking ticket fees here.
What happens if I don't pay for my UCSD parking ticket in time?
You will never go to jail if you do not pay for your ticket. But that doesn't mean there aren't any consequences to not paying it.
Punishments for not paying off your ticket can include:
Your car gets impounded

Your case gets sent to a collection agency

The release of your grades and transcripts could be delayed

You may be barred from registering for classes

Non-renewal of your driver's license or vehicle registration

Your diploma may be held until payment

You may incur late fees
UCSD law enforcement can double the fine of your parking infraction if you haven't paid it 45 days from its due date. They will also notify the DMV, which can halt the renewal of your license. In California, a late fine can also mean that you are required to pay a "civil assessment" of up to $300.
Your vehicle can also get booted or towed. Depending on how many parking tickets you have accrued, the city of San Diego might auction your car off to pay for the fees that you owe.
If the parking violations bureau sends your fine to a collection agency the agency may report your misdemeanor to a credit bureau. This can harm your credit score, making it difficult to get a mortgage or apply for a loan.
If you can't register for classes, this can delay your graduation date. Depending on the popularity of your major, specific courses can only be available during certain quarters. This means you may have to take summer or winter courses to graduate on time.
Freezing your transcripts can prevent you from applying to grad school.
Read this Reddit thread about what happens when you don't pay off your tickets here. Dispute your parking citations effortlessly with DoNotPay. Access DoNotPay through any .
Can infractions go on my record?
No, parking tickets are never reflected on your driving record. However, unpaid parking citations can be reported to the DMV, which can lead to some severe consequences. If you do not pay off your parking infractions, the DMV can reject the renewal of your car registration or suspend your driver's license.
Instead of ignoring your parking fines, why not try to appeal them? You can only fail if you never try. So, never give up, don't waste your hard-earned cash on parking citations that you can challenge.
Can my insurance go up?
The shortest answer to this question is no. Insurance companies like Liberty Mutual are unable to see if you have received any parking tickets. There is no exact connection between vehicle insurance coverage and parking violations. However, this does not mean you won't pay the price for getting a ticket.
If you disregard your parking infraction, you will be unable to renew your vehicle registration. This article states that, without registration, some insurance companies will refuse to cover your vehicle.
Dispute your parking citations effortlessly with DoNotPay. Access DoNotPay through any .
Do I need to pay for UCSD parking tickets if I'm not a student?
Yes, you are required to pay off parking tickets that you get even if you're not a student. You are liable for all legal penalties you incur in any county and state, whether you reside there or not. You can pay for your ticket online, but it's always better to appeal. DoNotPay helps you appeal remotely.
If you're not a student and you want to beat your parking infraction without going to court, you can download and use DoNotPay. Access DoNotPay through any .
Can I get a parking ticket if I'm in my car?
Whether you are sitting in or standing by your vehicle, you can get a ticket if your car is improperly parked. If you want to answer a phone call or text while you briefly stop your vehicle, make sure you are following all parking laws.
It isn't very common for people to receive parking citations while they are sitting behind the wheel, but it is possible. If you get a ticket anyway, you can use DoNotPay to dispute it. Access DoNotPay through any .
Do I have to pay infractions that I get while driving a rental car?
You have to pay off all the parking tickets you receive in a rental car. Practically all car rental companies, like Budget, will make you pay off your parking infraction in full. They will add an administrative fee on top of any parking violation you receive while driving one of their cars. Administrative fees typically run anywhere from $30 and $45.
In most cases, companies will automatically charge citations and administrative fees to the credit card you used to make the booking. If you neglect the ticket payment, they will charge you an additional administrative fee, and your fine can also increase. The additional administrative fee can go up to $100.
How much does UCSD make from parking citations?
There isn't a publically available official number of how much UC San Diego makes from parking tickets. However, the city of San Diego made over $32 million from parking tickets in 2017, according to Matador Network. This puts San Diego in the top ten U.S. cities for parking citation revenue.
How to pay for UCSD parking tickets?
Don't give up easily! Fight your ticket with little effort by using DoNotPay directly . DoNotPay makes appealing your parking infraction a hassle-free process. All you need to do after downloading is to answer a few questions about your ticket.
If by some freak occurrence you lose your dispute and need to pay:
Go to UCSD's transportation

website

.

Decide how you would like to pay for your parking violation. You can pay online, via mail, or in person.

If you decide to pay online, click the

payment link

.
Many jurisdictions require you to pay an additional fee if you pay for your ticket online. This fee is typically under $5.
Paying by mail is another option.
Here are the steps to pay for your ticket by mail:
Make your check or money order payable to UC Regents. Cash is not accepted.

Make sure your payment is tied to the right citation by:

Including your ticket or license plate number on your check

Including your citation with the payment, if possible
Mail your payment to:
University of California San Diego
Transportation Services - Adjudication Office
9500 Gilman Drive #0042
La Jolla, CA 92093-0042
If you would like to pay off your parking fines in-person, the accepted forms of payment are:
Credit and debit payments are only accepted online. When paying in person, bring your ticket to one of these UCSD locations:
Main campus, Gilman Parking Structure, Level 2

Hillcrest, Bachman Parking Structure, Level 2

East Campus, East Campus Parking Structure, Level 1
There is a campus map here. Remember to issue your money order or checks to UC Regents. No appointment is necessary to pay for your parking citations in person.
DoNotPay helps users fight and beat tickets in any city
DoNotPay helps users fight parking tickets in every city in the US and UK. Here are a few cities we've helped users dispute the most tickets in:
Use Our Robot Lawyer To Eliminate Pesky Tasks
Administrative tasks are often time-consuming, which is why many people give up on them before even trying to tackle them. Requesting refunds, canceling services, signing up for clinical trials, reporting stalkers and robocalls, and trying to find unclaimed money are all processes that would usually take a long time to resolve.
With the help of DoNotPay, though, all of these admin hurdles become a piece of cake. In just a few minutes, our app can assist you in appealing parking tickets, getting in touch with your imprisoned loved one, getting an extended warranty, reporting copyright infringement, and so much more!
Don't Break the Bank—Sign Up for DoNotPay!
Our app can save you lots of money by helping you get a refund from any airline, sign up for a free trial without your credit card info, earn off persistent and illegal spam emails, and get an application fee waiver for a college you apply to.
With DoNotPay, you can even schedule a DMV appointment or jump the phone queue when getting in touch with a customer service representative without breaking a sweat!
To summarize UCSD parking tickets:
| | |
| --- | --- |
| Disputing your parking ticket can take almost no effort. | DoNotPay has collectively saved many people millions of dollars from hundreds of thousands of tickets. |
| You can contest a parking citation in 2 minutes or less. | Downloading DoNotPay will save you time in disputing a parking infraction. |
| DoNotPay can help you battle tickets from private parking companies. | That includes Ace Parking, a major private parking company in San Diego. |
| There is a broad set of consequences for not paying your ticket. | Luckily, none of them include serving jail time. |
| Appealing your parking infraction is worth the hassle. | Especially because disputing a parking citation using DoNotPay is hassle-free. |
| There are many ways to pay off your parking ticket. | But you should always try to appeal it first. |
| There are ways to get your fine reduced. | In some cities, you can even set up a payment plan to make payment easier. |
| A parking citation will never appear on your driving record. | But there are other repercussions. |
| If you received a parking ticket, and someone took it off your car, you are still required to pay it off. | Parking enforcement officers will notify you by mail of its due date. |
| Your car insurance won't increase if you receive a parking infraction. | But your insurance plan may not be renewed if you neither pay nor dispute your tickets. |
| You can go to court over a parking violation. | But you must research to find a great lawyer and assess the costs you're willing to pay for appealing your citation. |
| You need to pay parking tickets you get while driving out of state. | And you can dispute them using DoNotPay without having to go to that state's court. |
| There are various ways to avoid parking tickets in the future. | But there are also many ways to dispute them. |
| You can receive a parking citation while sitting behind the steering wheel. | Make sure you're parking legally next time you stop to answer a phone call or text. |
| You are required to pay the fines of tickets you receive while driving a rental car. | But you also have to pay an added administrative fee. |
| Some cities make hundreds of millions of dollars from parking citations yearly. | San Diego makes over $32 million. |
| DoNotPay has other free services that can help you. | These services include canceling free trials and suing people and companies. |