Dispute Syracuse parking tickets in two minutes or less!

DoNotPay, the world's very first robot lawyer has managed to overturn 160,000 parking tickets, as Business Insider has reported. Our app has a success rate of 73% to boast about. Beating parking tickets in Syracuse was never this easy!
Most drivers associate disputing parking tickets with standing in long queues and wasting hours of their precious time. Luckily, DoNotPay has found a way to help you contest your ticket without all that hassle. This fantastic app enables you to dispute any parking tickets directly from your phone, saving both your time and money. All you need to do is take the following steps:
Access the DoNotPay

Answer several questions about your parking offense

Send the appeal letter the app generates for you
And that's all there is! Check out how to dispute parking tickets in other cities too:
Is contesting a parking ticket in Syracuse worth all the trouble?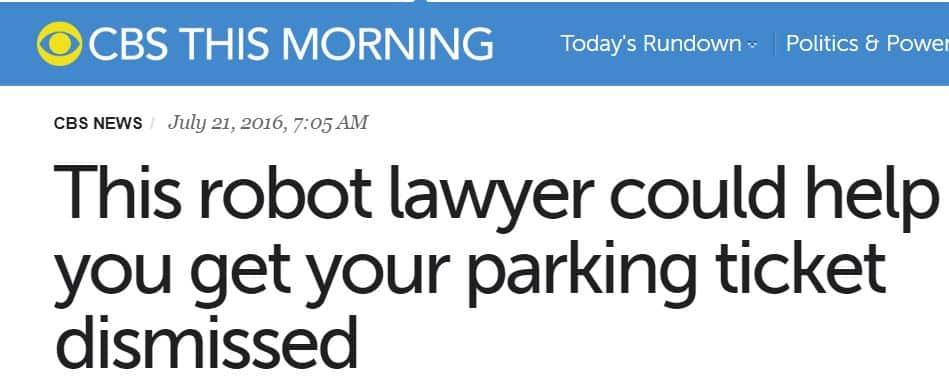 Disputing citations in Syracuse usually yields excellent results. There are so many reasons why your ticket should be voided. It could be because the parking meter malfunctioned, the parking restrictions are unclear, or some crucial information is missing on your citation.
While no one is happy when they receive a parking citation, most people do nothing about it, even though they're aware that their ticket is likely to get disputed. Since writing and submitting an appeal traditionally takes so much time and effort, drivers conclude that paying the fine will cost them less than disputing it.
But with DoNotPay, contesting a ticket is always worth it. Since the procedure is so fast and straightforward, you won't have any trouble sending your appeal. All it takes is a few clicks in your web browser or several taps on the phone. It's a win-win situation.
How to dispute Syracuse parking tickets in less than two minutes

The whole process of disputing with DoNotPay won't last more than just a couple of minutes. Based on your answers, the app will identify the factors that can get your ticket overturned and generate your appeal letter.
After that, you can send it to the Syracuse Parking Violations Bureau. Once the bureau has processed your appeal, you will be notified by mail whether you have won.
You can from any web browser.
I'm super busy. How much time will DoNot Pay save me?
Contesting a parking ticket in Syracuse the traditional way is both tiring and time-consuming. If you decide to visit the Parking Violations Bureau and submit your appeal in person, be prepared for the long queues that are an unavoidable part of the process. What makes matters worse is that it may take you a while to get there, especially if it's during rush hour. It is also possible to appeal online, but you need to create your argument. Taking all these factors into consideration, the whole process will last almost an entire day, and you will probably lose more money than the appeal will save you.
Another option is to write an appeal and mail it to the Parking Violations Bureau. At first, this seems faster than heading there in person, but don't forget that you can't predict how long it will take until your appeal letter is delivered to the office. In this case, the appeal process will possibly last for weeks.
Don't waste your time like this. With DoNotPay, you can send your appeal in only 2 minutes, from home, from work, or wherever you happen to be.
How can I pay for parking tickets in Syracuse?

There are several ways you could pay your parking fine in Syracuse. The traditional ways are:
In-person

By mail

Using your credit card
If you opt to pay the ticket by mail, you can send in the form of a money order payable or a check. Personal checks over $100 are not accepted, so if your payment is larger than this amount, you'll need to send a bank check or a money order. You can also pay the fine using your credit card both by phone and online, but that comes with additional costs.
How to pay your parking fine in Syracuse

By mail

Parking Violations Bureau,

P.O. Box 5211,

Dept. 116019,

Binghamton,

NY 13902-5211

Credit card online

Through the Parking Violation Bureau website

.

Credit card by phone

(800) 394-3478
We are here to introduce another way of paying your parking ticket:
As the name of the company suggests, our advice is not to pay for your ticket at all. Dispute it with our app instead and save yourself both some time and money.
Pay or contest: that is the question
| | | | | |
| --- | --- | --- | --- | --- |
| | Convenience | Waiting time | Expenses | Benefits |
| Pay | It depends on your payment method. Paying online is the easiest but comes with a price | It can take anywhere from a couple of hours to a whole day | A whole lot of money | You won't suffer the consequences of unpaid fines |
| Contest | With DoNotPay, disputing parking infractions is super simple | DoNotPay will generate your appeal in two minutes or less | None! The app is free to use | Your chances of winning the case are high so the app will save you both time and money |
Can DoNotPay help me appeal parking infractions from private companies?

DoNotPay can help you contest any parking citation, regardless of the ownership of the parking spot. This fantastic app's services aren't limited to disputing citations from government-owned parking spots. It will help you generate and send your appeal letter to any private parking service, including:
Laz Parking

Lanier Parking

SP+ (Standard Parking)

Imperial Parking (Impark)

Towne Park

Douglas Parking

ABM Parking Services
Do I need a lawyer to dispute a parking citation in Syracuse?

The process of disputing your parking tickets is simple enough, so you don't need a lawyer. If you think hiring someone will help you win the case, make sure to take the following steps:
Do your research:

you don't want to hire the first person you come across. Just because someone finished law school, it doesn't necessarily mean that they know how to handle your case. Search for attorneys with experience in the parking violations field and compare their pricing and services.

Run a background check:

once you have a shortlist of possible lawyers, check their credentials. With so many frauds out there, you have to be careful not to get scammed. The best way to check if a particular lawyer is credible is to look them up on the Internet and see if you can find their previous clients' reviews.

Discuss payment arrangements:

some lawyers charge on an hourly basis, while others have a flat fee. Another thing we suggest you check is whether the lawyer takes contingency fees.

Calculate the costs:

you don't need us to tell you that lawyers are expensive. Before hiring anyone, make sure that their services won't cost you more than paying your fine.
How much does a parking ticket lawyer cost in Syracuse?

Lawyers charge their services based on their reputation and experience. The more experienced they are, the higher the costs will be. Of course, the most expensive person isn't necessarily the best one for you.
In Syracuse, costs for parking ticket cases range from $200 to $1000. Having in mind that parking tickets don't cost nearly as much, it will be cheaper to give up on the appeal and pay the fine. You don't want to end up like this Reddit user.
You don't need to waste your money on fines or lawyers. Use our robot lawyer instead, and you won't have to spend a buck.
Can I get a ticket while I'm sitting inside the car?
The fact that you are sitting behind the wheel (or any seat in the car) doesn't make parking in restricted areas legal. If you are parked inappropriately, you will get a fine regardless of whether you are inside or not.
You could try and apologize to the parking officer, as they will maybe let you get away without a fine if you move the vehicle straight away. You can read more about this issue on this Quora thread.
Do I have to pay citations received while leaving the state?
Of course, you do. Your parking ticket won't magically disappear when you leave the state. You will suffer the same consequences whichever state you move to. But don't worry, you can also dispute your ticket from any part of the US if you use the DoNotPay app.
Do I need to pay the fines I got while driving a rental car?
Yes, and we highly recommend you do so while the car is still in your care. Rental companies, such as Orbitz, will pass the cost of the ticket onto you, and add a service fee for their inconvenience. If you ignore the bill they send you, the company may even sue you.
What if I don't want to pay for the ticket?
According to the New York State laws, you won't receive jail time for not paying your parking fine. Still, ignoring your tickets comes with several unpleasant consequences. If you don't pay within 20 days, you will also receive a late fine. The penalty will increase in time, especially if you amass several parking tickets. In the end, your $50 citation may cost you $1000!
If you keep ignoring the citations, your car will be booted, seized, or even sold as a means to recoup all these fines. Your license plates can also be suspended. What makes things even worse is that the city of Syracuse publishes the names of people who owe them substantial amounts of parking ticket money online, so the whole world will know about your offenses.
Will parking citations go on my record?
No, your parking tickets won't end up on your record. Still, there are many other ugly repercussions, so we suggest either disputing or paying the tickets.
Can a ticket raise my car insurance?
Thankfully, insurance companies in Syracuse, such as Freeway Insurance, do not increase insurance rates because of unpaid parking tickets. They do, however, increase if your license is revoked, which can happen if you keep ignoring your citations. If your license is revoked, some insurance companies may not allow you to renew your insurance with them.
DoNotPay helps users fight and beat tickets in any city
DoNotPay helps users fight parking tickets in every city in the US and UK. Here are a few cities we've helped users dispute the most tickets in:
Admin Issues Giving You a Headache? Resolve Them With DoNotPay!
Scheduling a DMV appointment, applying for clinical trials, requesting refunds from companies, and getting in touch with your loved ones in prison are all difficult and time-consuming tasks. You have to take many steps before you can get any of these over with, and that's why our robot lawyer app is here to help.
No matter if you need assistance with appealing parking tickets, signing up for free trials, canceling various subscription services, or maybe preparing for government tests, DoNotPay will provide you with easy solutions.
Having Financial Struggles? Rely on the World's First Robot Lawyer
Many Americans struggle to make their ends meet at the end of each month. With that in mind, we've created plenty of features that will save you both time and money in the most efficient way.
Using our AI-driven app, you can get help with bills, get refunds from airlines, find unclaimed money in any state, or earn off annoying robocalls or stalkers and harassers. If you want to fight for your right, DoNotPay will also assist you in suing any person or company in small claims court.
No matter the admin task at hand, our robot lawyer will provide swift and effective assistance.
A summary
Beating a parking ticket isn't hard

DoNotPay has already beaten 160.000 tickets

Is disputing a parking ticket in Syracuse a waste of time?

No! If you use DoNotPay, contesting will save you money without eating up your time

How to dispute my ticket with DoNotPay?

All you need to do is download the app, answer several questions, and hit send.

Will DoNotPay save my time?

Yes! Contesting a ticket in person may take a whole day. With DoNotPay, it only takes two minutes

How do I pay a parking fine?

You can pay it in person, by mail, or using your credit card (either via phone or online)

Can DoNotPay help me contest tickets from private parking companies?

Yes. DoNotPay can dispute tickets from any company, regardless of whether it is government-owned or private

Do I need a lawyer to contest my ticket?

No, hiring lawyers for parking tickets is a waste of money

How much would I have to spend on a lawyer's services?

Anywhere between $200 and $1000

Can I get a parking ticket if I'm inside the car?

Yes, it's still a parking violation despite you being in the car

Do I need to pay for tickets if I've left the state?

Yes, your fine will follow you even if you leave the state

Do I need to pay the citations I received in a rental car?

Yes, or the company will charge additional fees

What happens if I pretend the ticket never happened?

Your fine will go up

Your car will be booted

You won't be able to renew your license or car registration

Will the ticket go to my record?

No, it won't

Can my car insurance go up?

Only if you lose your license

Does DoNotPay offer any other services?

Yes, DoNotPay can help you reach customer service and get compensation for canceled flights