Get SpyHunter 4 Free Trial With This Virtual Credit Card

The typical antivirus solution scans for malware threats whenever the user requests and runs actively in the background, preventing any new attacks. This is precisely what almost everyone needs, but occasionally, something may slip past your protection.
SpyHunter 4 can track down and get rid of such issues. It can successfully eradicate active malware, and its hands-on remote control remediation can be immensely useful. The tool offers a that can be equally useful in cleaning up cybersecurity threats. But you must be aware of the free trial's deadlines to avoid being billed unnecessarily.
DoNotPay can be your best option if you wish to avoid the cost of unplanned automatic subscriptions. It can also help you access numerous trial versions securely.
Does SpyHunter 4 Offer a Free Trial?
Yes. SpyHunter 4 offers a to its users. You won't be charged upfront, but you must submit your credit card details when signing up. Moreover, you won't be charged if you cancel the service two business days before the trial version expires.
The free trial comes with the following capabilities:
Threat detection and elimination, including viruses, ransomware, spyware, adware, browser hijackers, and rootkits
Identification and removal of potential privacy issues and unwanted programs
Advanced threat eradication capabilities
Regular updates on the malware definition database to identify and fix malware threats
Client support through the interactive one-on-one helpdesk
Custom malware fixes
How Can I Get a SpyHunter 4 Free Trial?
It's pretty straightforward to register for SpyHunter 4 free trial. Generally, you'll follow these steps:
Open the site's homepage, where you'll find options to download the program for Mac or Windows.
Select "Download SpyHunter Free Trial," and the app will download into your device
Enter the downloads folder, then open "SpyHunter-Installer.exe" by double-clicking on it
Click "Yes" if you notice the "User Account Control" dialogue come up, then select your preferred language
Click on "Continue" to install the program into your device
Go through the "Privacy Policy" and "End User License Agreement" and accept them before clicking the install button
Select "Finish," then add your personal information or accept the default setup program details
After a successful installation, you can get rid of the "SpyHunter-Installer.exe" filename from your desktop.
Does the SpyHunter 4 Free Trial Automatically Renew into a Paid Subscription?
Yes. SpyHunter 4 free trial automatically renews into a paid subscription if you don't cancel it two days before the free trial expires. Notably, you can still reverse the process if you purchased a paid version yet aren't satisfied with the service.
The platform has a 100 percent money-back guarantee valid within the first thirty days after purchasing. However, recovering your funds could take time; hence it helps to be constantly aware of the deadline and cancel in advance.
Avoid Automatic Renewal With DoNotPay Virtual Credit Card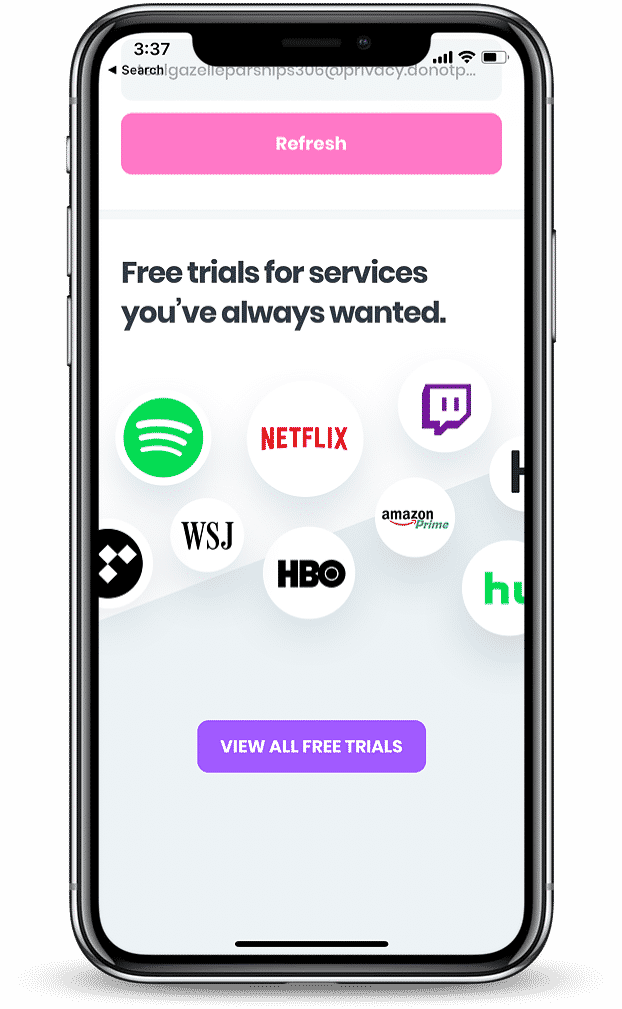 Time flies, and it's easy to forget the deadline limits for your SpyHunter 4 free trial. As a result, many people overlook the time-lapse and end up paying for a service they no longer need. This is common among SpyHunter 4 users, but there's a way around it.
DoNotPay is your solution to the risks of signing up with your credit card details and can help you avoid the unplanned expenses that occur due to automatic renewals. This incredible platform has an effective card generator that creates virtual credit card numbers. You'll use this randomly created credit card information to sign up or subscribe to any trial version.
Here's how the virtual credit card works:
Search Free Trial Card on DoNotPay and enter the company you want a free trial for.
We'll automatically generate a virtual credit card that you can use for that merchant. Copy the card details shown on your screen.
Use the card to sign up for your free trial and sit back to relax and enjoy.
The company won't bill you after you're done with the free trial because your Free Trial Card will have no funds. Consequently, the platform will unsubscribe you automatically.
How Much Does SpyHunter 4 Cost After the Trial?
Once you're done with the trial version, you'll have to pay $42 twice a year (or every six months) with the automatic renewal. Of course, you can cancel this on time. You'll receive a billing notification before the cost is applied to your credit card.
So if you don't like the service, you can leverage the thirty-day 100 percent risk-free money-back guarantee to recover your cash.
What Are the Most Popular Alternatives to SpyHunter 4?
Here are some of the top five websites that you can use instead of SpyHunter 4:
| | |
| --- | --- |
| Malwarebytes for Business | This program can actively secure your devices and systems against malware. It can enhance your security without adjusting your AV and offer renowned cleanup and protection technologies. The tool is ideal for super users and techs. |
| End-user Endpoint Security | This is the perfect solution to proactively identify and block advanced threats using endpoint protection tools whose capabilities go beyond antivirus. |
| ESET PROTECT Advanced | This tool is equipped with proactive malware security and is designed to illuminate your systems. As such, you'll get the required protection and enjoy significantly fewer false positives and interruptions. |
| K7 Antivirus | This antivirus tool secures your system from viruses and spyware. Moreover, it offers additional tools to enhance system performance. |
| SUPERAntiSpyware | The software application can identify and eliminate adware, spyware, Trojans, malware, worms, rogue software, parasites, rootkits, and other potentially adverse applications. |
What Else Can DoNotPay Do?
Navigating the challenges of signing up for free trials is just one thing that DoNotPay can help you with. The platform can also help you handle almost anything. Its scope of services includes the following:
No matter what you wish to achieve, DoNotPay could be your best ticket to achieving your goals. So if you're looking for the following services or much more.