How To Sign Up For SpinTV Free Trial Securely With This Virtual Credit Card

For TV lovers that are tired of paying for expensive cable packages, subscribing to Spin TV is a very attractive alternative. This internet-based television service offers a reliable way to watch over 3,500 live channels around the world, including news, sports, and entertainment.
If you want to see what watching TV via your internet connection is all about, signing up for is a great way to get started. Even better, DoNotPay can help you test out the service without having to worry about getting charged.
Does Spin TV Offer a Free Trial?
Yes, you can try the service for 24 hours without having to purchase a membership.
The free trial provides access to all the content on Spin TV's standard plan, which normally costs $25 a month. You can enjoy thousands of live channels, as well as a library of video-on-demand content.
As an internet-based service, Spin TV can be streamed on any device that has a web connection. This can include:
Smart Televisions
MAC or Personal Computers
Fire TV or Fire Stick
Apple iPhones or iPads
Android phones and tablets
How Can I Get A Spin TV Free Trial?
As long as you have an internet connection with at least 30mbps, it's very easy to access and enjoy Spin TV's 24-hour free trial.
Head to Spintvme.com
Click on Shop, which is the first option on the upper header of the website
The Spin TV Subscription purchase page gives the option of how many months you want to buy. The default is "1", but you can scroll up to choose "Trial"
The page also asks if the subscription is a New Activation or Renewal. Choose New Activation.
Add Your Desired Username and Desired Password
Click on Add to Cart
On the next page, click on Check Out
Provide your name, email address, country, state, and zip code
Click on Create Account
Check your email to confirm your membership has been set up
Does the SpinTV Free Trial Automatically Convert Into A Paying Membership?
Companies that offer free trials are notorious for charging your card at the very first opportunity. That means customers that forget to cancel before the grace period ends will probably end up stuck with a non-refundable charge, even if they're no longer interested.
Spin TV's free trial is one of the rare exceptions to this trend. New customers are not required to enter a valid credit or debit card as part of the signup process, so there's no way to renew your membership at the end of the 24-hour free trial. In this case, Spin TV is hoping their user-friendly interface, low prices, and diverse programming will be enough to make new members stick around!
How DoNotPay's Virtual Credit Cards Help You Avoid Free Trials With An Automatic Renewal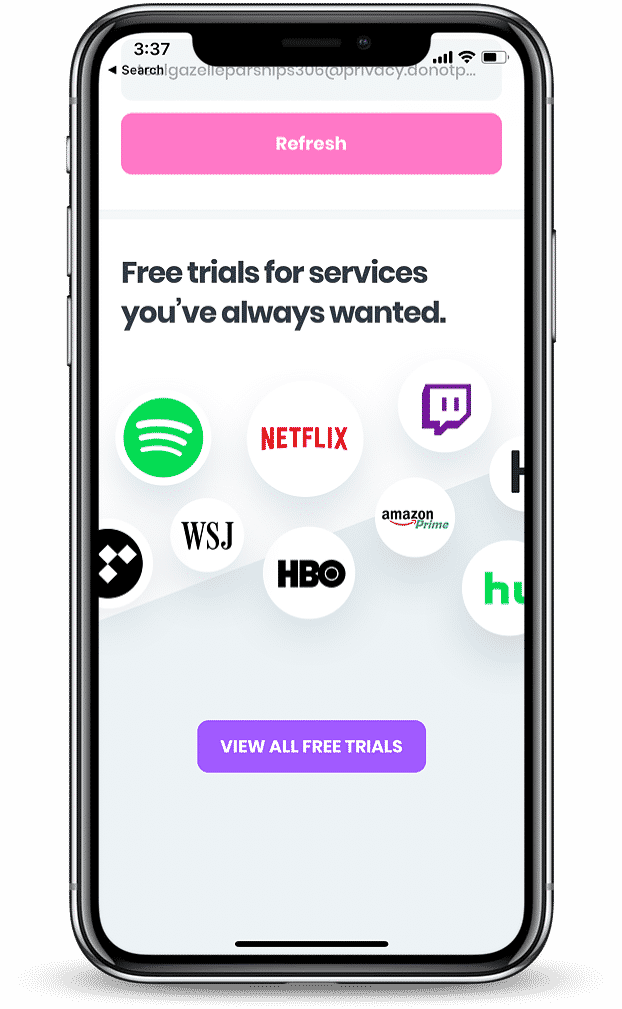 While the comes with no strings attached, you won't find too many other companies being that accommodating. This is why signing up for a free trial tends to be risky.
Luckily, DoNotPay has an innovative way to help you take advantage of free trials without any stress! If there are other services or products out there that you're interested in trying out, simply sign up using DoNotPay's free virtual credit card. This is how it works:
The app generates a valid credit card number that you can use to authenticate your free trial
DoNotPay's virtual card isn't attached to any financial accounts, so there's no way for the company to charge you
You can try out the service with no worries about accidentally getting charged if you forget to cancel
Once the company doesn't succeed in charging you, the account gets canceled automatically and you don't have to do anything further
How Much Does SpinTV Cost Once The Free Trial Ends?
SpinTV offers the option to buy either one month or multiple months, and there's a discount for purchasing the longer periods.
| | |
| --- | --- |
| Subscription | Price |
| 1 Month | $25 |
| 3 Months | $50 |
| 6 Months | $100 |
| 12 Months | $200 |
Spin TV also offers the ability to add up to four extra devices to your account. Depending on the length of your subscription period, each additional device will cost between $10 to $120.
What Are The Popular Alternatives to SpinTV?
Internet-based television services have become a growing niche over the last decade, with many consumers considering them an affordable alternative to cable. Some of SpinTV's main competitors are:
Product
Price
Xtreme HD IPTV
$14.99/month
FalconTV
$5.8 to $20/month
Worthystream
$20/month

$7.99/month for annual membership

IPTV Trends
$18.99/month
Best Streamz
$16 to $18/month
IPTV Gear
$6.67 to $15/month
What Else Can DoNotPay Do For You?
DoNotPay has a wealth of creative tools that can help you solve all kinds of problems from the comfort of your smartphone or laptop. Here are just a few of the popular products that can be found on the app:
Download DoNotPay today to discover many other useful tools that can help you save hassle, money, and time.