How to File a Complaint Against Specsavers & Hear Back Today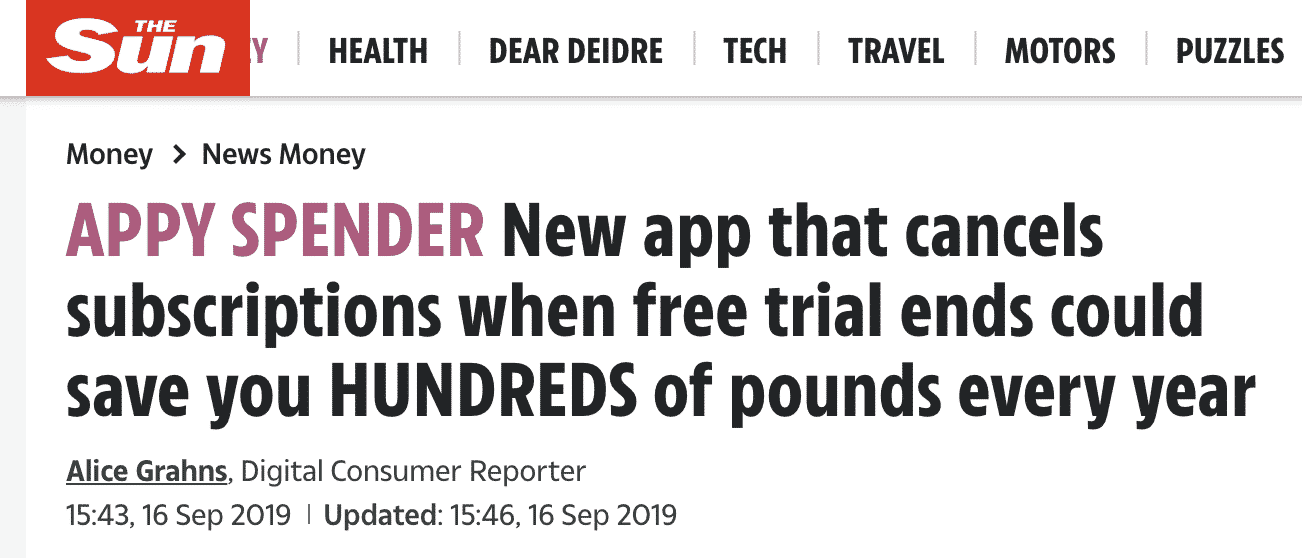 Specsavers Optical Group Ltd is a leading multinational optical retail chain operating in the UK, Ireland, Australasia, and the Nordic countries. Specsavers customer complaints range from changed orders, poor customer service, delayed orders, cancelled schemes, and more. If you have had an unresolved issue with the retailer, consider seeking an alternative resolution mechanism like filing a dispute in small claims court. DoNotPay provides a more convenient means to file Specsavers complaints. We will generate a demand letter through our complaints product asking Specsavers to address your issue or face further action. We will also help you scale the matter to a small claims court in real-time.
How Do I Contact Specsavers for a Complaint?
You can use the following contact details to reach Specsavers and complain about an issue:
| | |
| --- | --- |
| | Ways to Contact Specsavers Customer Support |
| Phone Number | 0345-2020-241 or 0207-1000-241 |
| Online Contact Page | Contact Us |
| Fax | 01481 235555 |
| Address | Customer Care Manager, Specsavers Optical Group, FREEPOST GU209, Guernsey, GY1 5SS |
How Do Specsavers Approach Customer Complaints?
As mentioned earlier, Specsavers Optical Group Ltd is a global retail chain with several stores across different locations. Each store is jointly owned and run by its own local directors supported by specialists in the main office. Specsavers advise on their website that you get in touch with your local store first if you have an issue. This means that your local store is your first point of call whenever you have a complaint. The store can help address issues related to:
Prescription
Cancelling appointments
Changing contact details
What Are the Other Alternatives to Resolve My Dispute With Specsavers?
If you can't fix a dispute amicably with Specsavers, consider using any of the following alternatives:
Alternative Dispute Resolution scheme (ADR): ADR is an alternative means of resolving disputes outside judicial processes. Common examples of ADR include mediation, negotiation, arbitration, conciliation, and facilitation.
Retail ombudsman ADR: you can also seek the assistance of a retail ombudsman to resolve your issue with Specsavers. An ombudsman has the training and resources to independently review the case and make the final decision based on what they believe to be fair and reasonable.
Small claims court: Another option is to escalate your dispute to a small claims court. Small claims court is the best option if you are claiming less than £10,000 from Specsavers.
Must I Write a Complaint Letter Before Filing My Dispute at Small Claims Court?
Yes, it is advisable that you make a formal complaint to Specsavers before escalating the matter to small claims court. The judge will want to know whether you tried to settle the matter out of court first. You can do this through a complaint letter, also known as a letter before action. In your letter, state your dispute and the action you want the defendant to do. You should also state your next course of action. Give Specsavers 14 days to act on your complaint before taking the next action.
What Are the Steps to File a Claim Against Specsavers in Small Claims Court?
The following are the general steps to start a claim in small claims court:
Determine how to name the defendant: find out precisely who the defendant is so you can name them correctly on your claim.
Ask for payment: small claim courts expect you to ask the defendant for payment before you go to court. You can ask in person, by phone, or in writing. You must state in your court form that you did this.
Find the right court to file your claim: find the nearest court in your jurisdiction to file the case.
Fill out your court forms: these forms tell the court and the person or business you want to sue about your claim.
File your claim: once you finish filling your court forms, submit them to the court clerk alongside the required fee.
The court will serve your claim to the defendant.
Be prepared for your case by gathering all proof.
How to Sue Specsavers in Small Claims Court With DoNotPay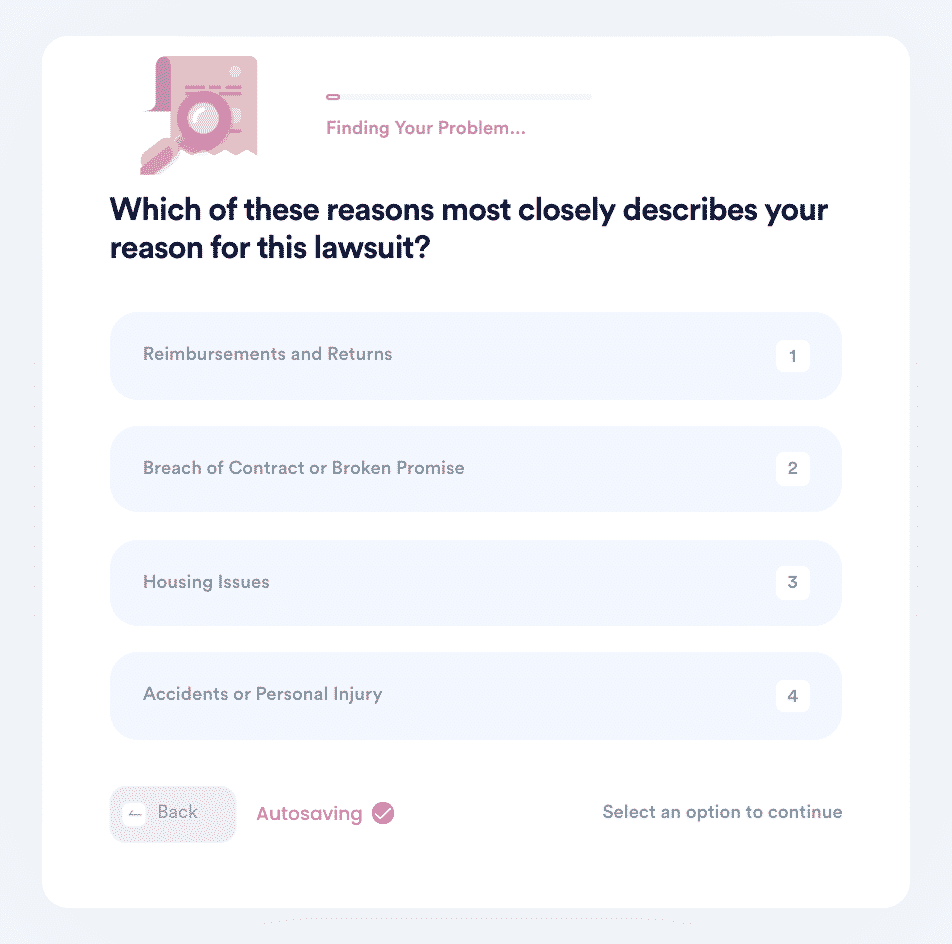 The DIY methods to sue Specsavers can be time-consuming. DoNotPay helps ease this process. Here's how to get started:
Open DoNotPay in your web browser and Search Sue Now product
Enter the amount of money you are owed
Choose whether you need a demand letter or court filing forms
Provide the reasons for the lawsuit and submit any pertinent details, including receipts, videos, or photo proof.
That's it! DoNotPay will then generate a demand letter or court filing forms for you. We'll even mail a copy of your demand letter to the individual or business you are suing!
Solve Other Problems with DoNotPay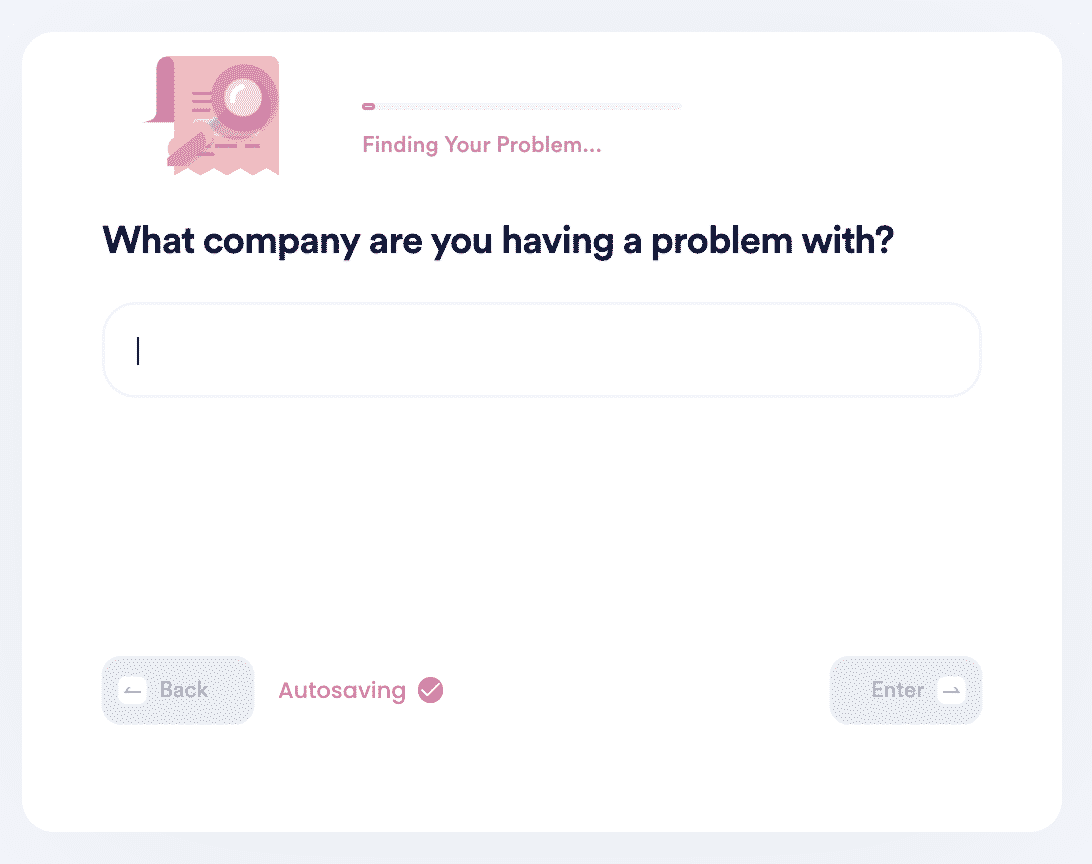 DoNotPay does much more than help you file a complaint in a small court. The following are some of the other things DoNotPay helps with:
Sue Specsavers With DoNotPay

If you have an unresolved issue with Specsavers, maybe it is time to seek help from a small claims court. DoNotPay provides an easier and more convenient way to file Specsavers complaints. We can also help you with other issues such as:
Join us to file a formal complaint against Specsavers!