How to Get Scribd Free Trial Without Giving Your Credit Card Info

These days, even books are available digitally. When you need some quality literature, you can be sure that Scribd has what you're looking for. Often described as "Netflix for books," Scribd gives its users access to its library of thousands of texts for a single low price each month, all in a convenient digital format. If you're interested, DoNotPay can help you get a , plus the peace of mind knowing you won't get charged for it unless you want to continue your subscription.
Does Scribd Offer a Free Trial?
Scribd offers all new users a 30-day free trial. There are no limits to how much you can read during your trial, so enjoy your heart's content until the month is up. Additionally, there are some documents available on Scribd that you can read without a subscription, meaning you can still use the app even after the trial is up and you haven't renewed into a subscription. However, keep in mind that the majority of the library is still part of the subscription.
How Can I Get a Scribd Free Trial?
The process for signing up for a is super simple. If you're ready to read, you just have to follow these steps:
Go to the Scribd webpage and click on the free trial button. It should be on the left side of the screen, saying, "Read free for 30 days."
Create your account using one of the listed options (Facebook, Google, or your email).
Once your account is made, choose your payment method and submit. You'll be charged $0 up until your membership is set to renew, just like it says on the page.
Be aware that, while you can do this as part of signing up, you can also apply for the trial if you sign up without it. As long as you haven't started a paid membership, you should still be eligible for the trial. Just look at the top of the Scribd home screen and click the button to start the trial.
Does the Scribd Free Trial Automatically Renew Into a Paid Subscription?
When your Scribd free trial ends, you can expect it to renew into a paid subscription automatically. Starting with the 31st day of your membership, you'll be charged monthly for as long as you stay subscribed to Scribd.
Avoid Automatic Renewal With DoNotPay Virtual Credit Card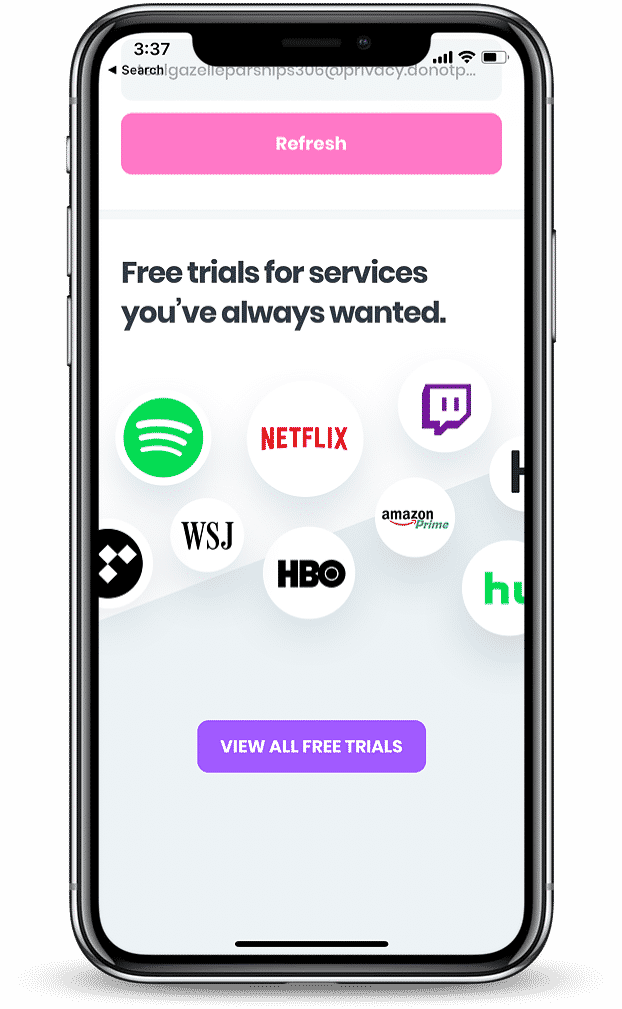 If you're only planning to use Scribd for the length of your trial, be sure to cancel before it expires. Plenty of people forgets to do this for Scribd and a variety of other services, costing them at least a month's worth of payment when they do. This costs consumers millions of dollars each year, and a lot of companies plan on keeping it this way just to make a little extra money. DoNotPay doesn't think that's a very ethical way to conduct business, so we created our free virtual credit card service to fight back against greedy subscription plans hoping to nickel-and-dime you out of your cash.
With the virtual credit card, you can use a randomly generated number and card information when you checkout for a free trial. Your real card info doesn't change hands, and neither does any of your money. In fact, there's not even any money to change hands. As a result, it's impossible for a service to charge you at the end of a free trial, and they'll have to unsubscribe you due to insufficient funds on the virtual card.
To learn more about the virtual credit card service we offer, click here. If you want to know more about what we can do for you with Scribd, like getting you a refund or canceling your subscription, you can visit the DoNotPay website.
How Much Does Scribd Cost After the Trial?
Once your free trial expires, you'll pay $9.99 plus tax each month to stay subscribed to Scribd. You can cancel at any point during your membership, free or paid, and will still have access to Scribd's library up until the end of the month's billing cycle.
What Are the Most Popular Alternatives to Scribd?
Scribd isn't the only game in town when it comes to reading books online. There are a number of great alternatives you can use if you aren't too into Scribd for whatever reason. Check out some of these other online book resources, many of which are free to use or offer free trials.
Product
Cost
Benefits
Project Gutenburg
Free
Over 60,000 Free eBooks.

You will find the world's great literature here, with a focus on older works for which U.S. copyright has expired.

Internet Archive
Free
A non-profit library of millions of free books, movies, software, music, websites, and more.
Audible

Plus- $7.95
Premium 1 credit- $14.95/month
Premium Plus 2 credit- $22.95
Premium Plus Annual 12 credits- $149.50/year
Premium Plus 24 credits- $229.50/year

As an Audible member, your subscription includes:

Premium Plus members get credit(s) good for any titles in our premium selection (1 credit = 1 title)*
Premium Plus members get access to exclusive sales as well as 30% off all additional premium selection purchases.
All members can listen to all they want to thousands of included audiobooks, podcasts, originals, and more in the Plus Catalog.
What Else Can DoNotPay Do?
If you're looking for something besides a Scribd free trial, DoNotPay can still help you. Some of our other services include:
Whether it's finding new reading material, challenging parking tickets, getting compensated in court, or just about anything else, DNP has your back. Try the app today to start saving your valuable time and money.