How to Dispute a Sandwell PCN From Your Phone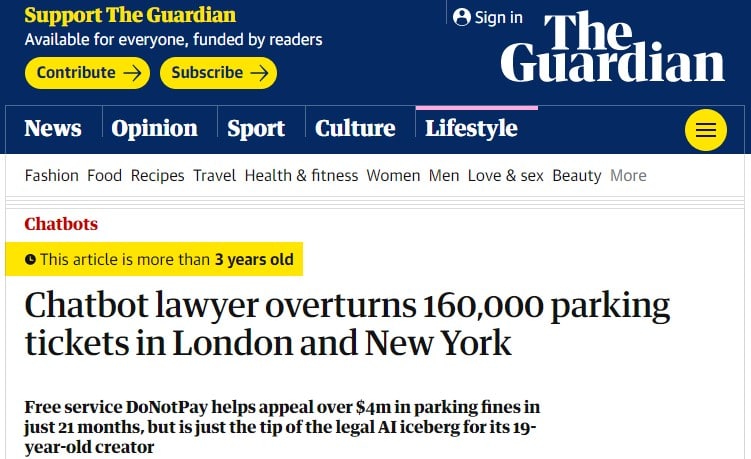 Some areas are infamous for handing out Penalty Charge Notices a little too freely. If you've been one of the unlucky drivers to get a , you may agree with adding their name to that list.
However, you don't have to simply pay the PCN without protest. It is possible to challenge a PCN, and your chances of getting it dismissed might be higher than you'd expect. You just have to know the proper steps to make your case.
If you want to make the process as effortless as possible, DoNotPay can help you get it accomplished in just two minutes. You don't need a lawyer, the process can be done from your phone, and you have a good chance of winning your case. Want to know more? All your questions are answered below.
What You Should Know About Receiving a PCN in Sandwell

First, let's set out the facts about . Here are some important details:
They are usually issued by traffic wardens or civil enforcement officers
They can be issued for reasons such as parking on a yellow line, parking in a permit-only zone without a valid permit that is clearly displayed, parking on the pavement, and more.
Many PCNs in Sandwell are issued for driving in a bus lane, which is detected by Automatic Number Plate Recognition (ANPR) cameras that have been affixed to street lighting columns.
It is a civil offence.
A PCN can be issued by hand, by post, or left on a vehicle windscreen. If it was caught on camera, it must be issued within 28 days.
Drivers have the option to challenge the fine within 28 days of the issue date.
If the driver decides not to challenge the fine, they must pay within 28 days of issue. They will receive a 50% discount if they pay within 14 days (21 days if the vehicle was caught on camera).
Contact Information for the Sandwell Council
In-Person
Local centres are open to see residents in person. Here are the locations and hours.
Oldbury One-Stop Shop - Open 9 AM - 5.30 PM, from Monday to Thursday and 9 AM to 5 PM on Fridays.
Tipton Local - Open 10AM - 2PM
Wednesbury Local - Open 10 AM - 2 PM
Smethwick Local - 10AM - 2PM
West Bromwich Local (Currently closed)
You can also reach out to them by:
Phone
0121 569 2200
Mai:
Sandwell Council,

PO Box 2374,

OLDBURY B69 3DE
Methods to Pay a Sandwell PCN
If you decide to pay the PCN, there are a few ways to go about it. You can choose from the options below:
Pay the Fine Online
You can visit Sandwell's government website to pay the PCN online. You will need to have the PCN number (the 10-digit number that starts with SD) as well as the registration number of your vehicle.
Pay by Phone
You also have the option of paying by phone at 0300 456 0514. Simply provide your payment details to an agent if you are comfortable doing it this way.
How to Challenge a Parking Fine
You do have the right to. You have 28 days to dispute it. There are many valid reasons to appeal to the council, including:
You believe you did not do what you're charged with
You don't own the vehicle or no longer owned it at the time
The charge exceeds the amount applicable to the case
Too much time lapsed before the PCN was issued
Signage was unclear or missing
The first step is an informal challenge, which is made in writing and lists the evidence for your challenge. If your informal challenge is rejected, you will get a "notice to the owner," which tells you how to file a formal challenge or pay the fine.
Should You Bother Disputing a Sandwell PCN?
It's always a good idea to challenge a parking ticket. But when it comes to the Sandwell Council, there's evidence that it's even more important than usual. According to Daily Mail, up to 86% of bus lane fines in Sandwell were dismissed after an appeal.
Clearly, your odds of a successful appeal are fairly good. And there's an easy way to do it too.
Can DoNotPay Appeal a PCN on Your Behalf?
DoNotPay is here to appeal parking tickets, whether they're issued by Sandwell Council or a private parking company. Of course, you can do it on your own, if you'd prefer.
The first step to challenging the fine is to write a parking appeal letter, including all the facts needed to prove your claim. Then you should follow the council's appeal rules. If you don't have the time or patience to navigate these steps or figure out the rules that apply to you, DoNotPay is the easier way.
Challenge a PCN in Less Than 120 Seconds
Even BBC has raved about how DoNotPay successfully disputed more than 200,000 tickets, so you know we have the knowledge and skills to get it done. If you're looking for the fastest and most effective way to deal with a parking ticket, DoNotPay is here for you.
Here's how to get the process going with DoNotPay:
Log in to DoNotPay and go to the Ticket Disputes category. Select the Parking Ticket product.

Upload a photo of your citation.

Provide us with some details on why you believe the citation issued is a mistake.

That's it! You'll receive an appeal letter that contains the best argument to win your case.
That's it. We will send you an appeal letter that's been designed to work in your situation (in the UK, DoNotPay cannot send the letter to you directly). Send it in, and see how effective it can be when you have someone in your corner.
DoNotPay Can Appeal Parking Tickets Anywhere

We know the ins and outs of fighting in cities all over the world, including in Birmingham, and Islington in the UK as well as in Seattle, New York City, Chicago, San Jose, Los Angeles, and Chicago in the US. Don't let a mere Sandwell PCN ruin your record. DoNotPay is here to help you win your case with very minimal effort needed from you.
DoNotPay Has More to Offer
DoNotPay was created to solve problems for people. The app is like an on-call lawyer that's stashed in your pocket, ready to assist you anytime, anywhere. This robot lawyer can help you:
Sign up with DoNotPay today and discover the countless ways we can fight for you.