Dispute Richmond Parking Tickets From Your Computer or Mobile Phone
Instead of rushing to pay your parking ticket as soon as you receive it, you should try fighting it first. DoNotPay can help dispute your parking ticket in only 120 seconds. Money reports that the DoNotPay chatbot has successfully fought hundreds of thousands of parking tickets from all over the world.

Here are the simple steps that you need to follow to appeal your citation:
You can choose to dispute your ticket directly from your

.

The app will then ask a few questions regarding your infraction.

You will send a picture of the parking ticket that you received.

The app will then give you the exact argument to use in your dispute.
Watch how to dispute parking tickets in any city:
Is contesting the city of Richmond parking tickets worth the time and effort? Can I win the case?

Absolutely! It is always worth disputing your parking tickets because you can avoid paying for them entirely! In Richmond, the Administrative Review Process is limited to certain parking violations or charges. Here are a few of the acceptable reasons to appeal your citation:
The parking meter is malfunctioning

Medical emergency

The owner of the vehicle has passed away

Car or license plate has been stolen or transferred

Street signage was missing, illegible, ambiguous, or incorrectly worded
To view the full list of conditions, you can visit their government site here.
If any of those on the list applies to your situation, you can fill-up the Administrative Review Form. Once you complete the form, you can send it in by mail, fax, or you can bring it to the Parking Customer Service Specialist yourself.
The PCSS will be the one to review your request and will either forward it to the Traffic court with the city's recommendation to excuse the citation or deny it. If it is the latter option, they will send you a written notification on the result and the balance that you have to pay.
There are many things to consider when contesting your ticket. Luckily, DoNotPay can help by providing you the exact script to follow in your dispute. Use it directly from your .
How much time does DoNotPay save?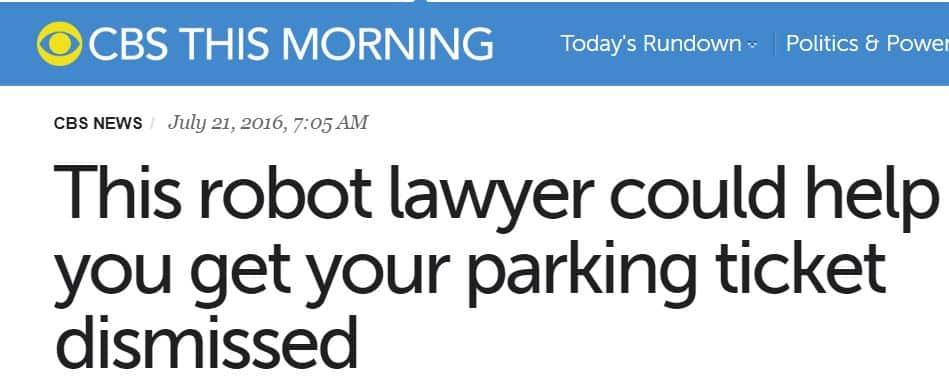 On average, DoNotPay allows you to appeal your citation in only a few minutes. If you want to do all the preparation yourself, you will have to spend at least half a day to get things in order. You will have to gather all the documents that you need. Also, you will need to create your letter to the city from scratch.
The best option would be the one that consumes less time. Those who have full-time jobs should not miss even half a day worth of work because it may cost them more than the parking ticket itself.
Will DoNotPay help me fight a Richmond parking ticket from a private company?

Other than tickets given by the city, DoNotPay can also assist you in disputing citations from any of the following private companies:
Ace Parking

Towne Park

Laz Parking

Lanier Parking

Douglas Parking

ABM Parking Services

SP+, aka Standard Parking

Imperial Parking, aka Impark
Do you need a lawyer to dispute Richmond, VA parking tickets?

The good news is that the city does not require you to have a lawyer to appeal your citation. An alternative option to a parking ticket lawyer is to use DoNotPay. DNP's chatbot was the very first of its kind to give solutions to parking tickets. There are just a few questions that you will have to answer for the app to provide a solution to your problem.
If you want to get a lawyer, you need to know that there are additional steps that you need to do, such as:
Do your research. You can search for information online regarding the different lawyers that you are considering to hire.

Check each of their credentials. To be able to help you win your dispute, you need to know the past cases that they have handled.

Be mindful of warning signs. Many people will try to scam you and get as much money from you without doing much.

Consider the costs. Hiring a lawyer is very costly. It is not wise to pay more for a legal representative than the total price of the parking ticket.

Hold interviews. Before deciding on one specific lawyer, you should schedule to meet each one of the possible lawyers. Being able to talk to them is the best way to learn more about them.
How much money would I spend on a parking citation lawyer in Richmond?

Numerous factors affect the fee that lawyers charge. It usually depends on the state that you are living in, the amount of work you require from them, and the severity of the violation. They would charge much higher if they need to represent you in court. The price ranges from as low as a hundred dollars to as much as a thousand dollars.
There is another option that requires exactly zero dollars. You can choose DoNotPay and appeal your infraction. Use it directly from your .
What are the available payment methods for a Richmond parking ticket?

Before you decide to pay for your parking ticket, you should consider contesting it first. Although the process might sound complicated, DoNotPay can help eliminate all the fines that you may have to pay.
However, if you just want to pay for the ticket, there are a few available payment methods that Richmond city has offered, which include the following:
Online - You can pay by credit card (Mastercard, Visa, and Discover).

In-Person - You can also go to either of the three addresses that the city provided.

By Mail - For this method, you may send a check or money order along with the citation. To ensure that the city posts the correct payment, you can indicate your license plate number on the check or money order. Make sure that you make it payable to "The City of Richmond."
If you're paying in person, you can do so by going to one of these addresses:
City Hall: 900 E. Broad St., Room 102, Monday through Friday, 8:00 a.m. - 5:00 p.m.

East District Initiative: 701 N. 25th St., Monday through Friday, 8:00 a.m. - 5:00 p.m.

Southside Community Services Center: 4100 Hull St., Monday through Friday, 8:00 a.m. - 5:00 p.m.
Pay or dispute?
| | | | | |
| --- | --- | --- | --- | --- |
| | Ease | Time it takes | Cost | Benefits |
| Dispute | Quite easy with the DoNotPay app | As little as two minutes | The app is free of charge and all fines may be eliminated | You won't have to spend a single dime |
| Pay | Paying online is the most convenient payment option, however, people usually choose to just pay in person | May take up to half a day | The total amount of parking ticket fines, plus the cost of transportation and missing work | You don't need to think about parking tickets |
Is it possible to reduce my parking fine?
Once you contest your parking citation, there is a high chance that you will receive a deduction on your total penalties. As reported in this article, the town often lowers fines to reduce the burden on the courts.
There is also a chance that you can enroll in a payment plan that your city offers. You can contact your local government to inquire about the different options they have for you. Although these plans will not reduce your total fines, it can still lower the burden of paying a large amount of money at one time.
What happens if I don't pay for a Richmond parking ticket?
The city may give you different kinds of penalties if you don't pay for your parking ticket. However, the good news is that you will never have to go to jail for it.
If you choose to ignore your parking tickets, the city will charge you an extra $10 every 15 and 30 days until the total fine is twice the original amount. You should deal with it before this happens.
Other than additional charges, the city may also forward your case to the local DMV. Once they are aware of your situation, the DMV may order for a hold on your vehicle, which means if you want to renew your registration, they may reject it. Your driver's license may also be suspended until you pay the fines.
This situation is not favorable to anyone, so as soon as you receive the ticket, you should dispute it right away. Use it directly from your to contest your parking ticket and avoid these situations.
Do parking infractions affect my driving record? Should I be worried?
Fortunately, no, getting a parking citation will not affect your driving record in any way. However, there are several other penalties that you can receive if you neglect to pay your fines.
There is one record, though, that unpaid tickets could influence. The city may notify a collection agency if you continue to ignore the parking ticket fees. Once this happens, your credit score may suffer, which means it will be difficult for you to get a loan in the future.
What if I got a parking citation and someone or something took it off my car?
Just because you did not see the ticket on your windshield does not mean that you are not responsible for it. You still made the violation, and you have to work through the consequences. Someone may have taken it off your car, or the wind could have blown it away.
Sometime after the violation, the city will send a letter notifying you of the citation. Even if you are unsure, you should call your city hall to clarify things.
Once you receive the notice, you have two options. You can fight the ticket first and see if you have a chance to eliminate all fines. But if you have no other choice, you should pay the fees through any of the available payment methods listed above. Use it directly from your to contest your parking ticket in 2 minutes.
Here is a Reddit discussion thread regarding similar situations.
Can a citation make my car insurance go up?
Luckily, receiving a parking ticket does not affect the auto insurance fee. Car insurance companies, such as Direct Auto Insurance, will only refuse to cover vehicles that are not registered with the DMV. This may happen if you neglect to pay your fines on time.
Do I need to pay for a parking ticket from Richmond VA if I'm not from Virginia?
Yes, the city of Richmond requires anyone who violates their parking rules to pay the fines, even if they are from a different state. Because you have a driver's license, officers across the nation expect you to follow the parking regulations wherever you are driving through.
Even if you live in a different place, you still have the option to contest your citation. People who live further than 25 miles from the city's borders can contact (804) 646-5700 and ask for a form to contest their parking tickets. The city's 311 call center can forward your request to Parking Customer Service, who will then respond to your call within 48 hours.
With DoNotPay, you can contest any parking ticket from any city, including Richmond, VA. Use it directly in your to beat your parking ticket in 2 minutes.
Can an officer issue me a ticket even if I am behind the wheel?
Yes, it is possible to receive a parking ticket even if you are still in the car. There are times when you will need to stop to receive a call or respond to a text message. However, you should still be mindful of the parking rules around the area where you intend to park temporarily.
Here is a Quora post on other people's experiences.
Do I have to pay for parking fines I got while driving a rental car?
As you were the one using the vehicle during the issuance, you are responsible for the fine. Car rental companies, like Payless, often pay citations as soon as they receive the notice. However, they will immediately charge the total amount of fines on the credit card or debit card that you used for the rental. Other than the parking ticket fees, you will also have to pay an administrative fee.
How much money does Richmond VA receive from parking tickets annually?
According to WWBT NBC12, the city of Richmond receives a few million dollars per year only from parking tickets. The website also reports that the city's parking enforcement issued more than a hundred thousand citations annually.
DoNotPay helps users fight and beat tickets in any city
DoNotPay helps users fight parking tickets in every city in the US and UK. Here are a few cities we've helped users dispute the most tickets in:
What else can DoNotPay assist me with?
Other than fighting your parking tickets, DoNotPay can also:
Disputing traffic tickets

Fighting speeding tickets
Summary of the city of Richmond parking tickets:
| | |
| --- | --- |
| DoNotPay makes it quicker and easier to appeal your parking ticket. | The app can give you the exact argument to use in your dispute. |
| DoNotPay doesn't only help with government-issued tickets. | It can also assist in beating your citations issued by private companies. |
| There are different ways you can receive a deduction on your fines. | Simply disputing the ticket will often reduce the charges. |
| You need to deal with all the parking tickets that you receive. | Even if you live in a different city, were seated inside the car during the issuance, were in a rental car, or didn't see the ticket on your windshield. |
| Receiving a parking infraction will not affect your monthly premium or throw you in jail. | However, the insurer will not cover vehicles that are not registered with the DMV. |
| There are other services that DoNotPay offers. | Such as, beating speeding and traffic tickets. Check the full list above. |