Start Your
QuickBooks Free Trial
Without Any Risks
QuickBooks is an accounting software package developed and sold by Intuit. Its products are predominantly tailored to small and medium-sized businesses. 
QuickBooks helps companies and self-employed individuals manage various aspects of their business. Some of its main features include:
Invoicing

Bookkeeping

Tracking expenses 

Accepting payments

Managing payroll

Generating reports
What You Need to Know About a
Free QuickBooks Trial
Intuit offers a 30-day free trial of QuickBooks. Instead of the trial, you can also choose to get a 50% discount if you commit to a three-month subscription plan.
You don't need your credit card when you're signing up for the free trial. To continue using the service after the trial period expires, you will have to provide your payment details. Only then will you be charged on a monthly basis for the selected plan.
How to Get a
QuickBooks Online Free Trial
To apply for a QuickBooks test run, follow these simple steps:
Open the

Pricing

page on the QuickBooks website

Switch off the button for the 50% discount—this will automatically switch on the

Free trial for 30 days

option

Select a plan that works for your business and press the

Try it free

button

Log in with your Intuit account 

Access the software on your device
Does the
QuickBooks Trial Version
Automatically Renew Into a Paid Subscription?

No, your QuickBooks free trial will not automatically turn into a paid subscription. Only once your trial expires will you be asked to present your payment information.
If you subscribe but after a while decide to cancel anyway, you might be eligible to get your money back. QuickBooks offers a 60-day guarantee, which means that you're entitled to a full refund within 60 days of your original purchase. The refund will be processed to the same payment method QuickBooks has on your file.
The company recommends canceling your subscription at least five days before your next billing date to avoid any further charges. Learn how you can cancel QuickBooks with the aid of DoNotPay.
How Much Does QuickBooks Cost After the Free Trial Expires?
Here is the monthly price breakdown of all of QuickBooks' plans.
| | |
| --- | --- |
| Plan | Cost/Month (With the Free Trial Included) |
| Simple Start | $25 |
| Essentials | $40 |
| Plus | $70 |
| Advanced | $150 |
| Self-Employed | $15 |
In addition to the main plans, you can also add various payroll add-ons and invest in a one-off bookkeeping setup.
Note that you will receive a 50% discount if you decide to skip the free trial and pay upfront for a minimum of three months.
There is no free trial for the Advanced plan, but you can call QuickBooks' customer service team on 1-877-877-9185 to request a product demo.
Check the Pricing page to find out what is included in each plan. There's no contract or commitment, so you can switch plans or cancel any time.
This Is What QuickBooks Fees Might Appear as on Your Bank Statement
You will recognize your QuickBooks charge on your bank account statement easily. Simply scan it for a description similar to any of the below:
| | | |
| --- | --- | --- |
| INTUIT PAYROLL 866-729-2925 CA | Intuit * | Intuit *QuickBooks SE 800-446-8848 CA |
| INTUIT *QB ONLINE 800-286-6800 CA 92129 US | Payment to INTUIT *QB ONLINE|800-286-6800|CA | INTUIT *PAYROLL |
| Intuit 18004Intuit | INTUIT *PAYROLL 888-537-7794 CA | Intuit *QuickBooks SE 800-446-8848 CA 92129 USA |
| INTUIT *QB ONLINE 800-286-6800 CA | Intuit *QuickBooks | INTUIT PAYROLL 888-537-7794 CA |
| INTUIT *QB ONLINE 800-286-6800 C | INTUIT *PAYROLL 800-446-8848 CA | INTUIT *PAYROLL 866-729-2925 CA |
| INTUIT *PAYROLL 888-537-7794 CA 94043 US | INTUIT *QB ONLINE | INTUIT *QB ONLINE 800-286-6800 CA |
| INTUIT *QUICKBOOKS S800-446-8848 CA | INTUIT *QB ONLINE 800-286-6800 CA 92129 USA | Intuit *QuickBooks SE 800-446-8848 CA |
| Intuit *QuickBooks SE | DEBIT CARD PURCHASE – INTUIT *QB ONLINE xxx-xxx-6800 CA | Intuit * 800-446-8848 CA |
| Intuit *QuickBooks 800-446-8848 CA | INTUIT ORDER CHANNEL | Intuit *QuickBooks SE 800-446-8848 CA 92129 US |
Put an End to Unsolicited Auto-Renewed Fees With DoNotPay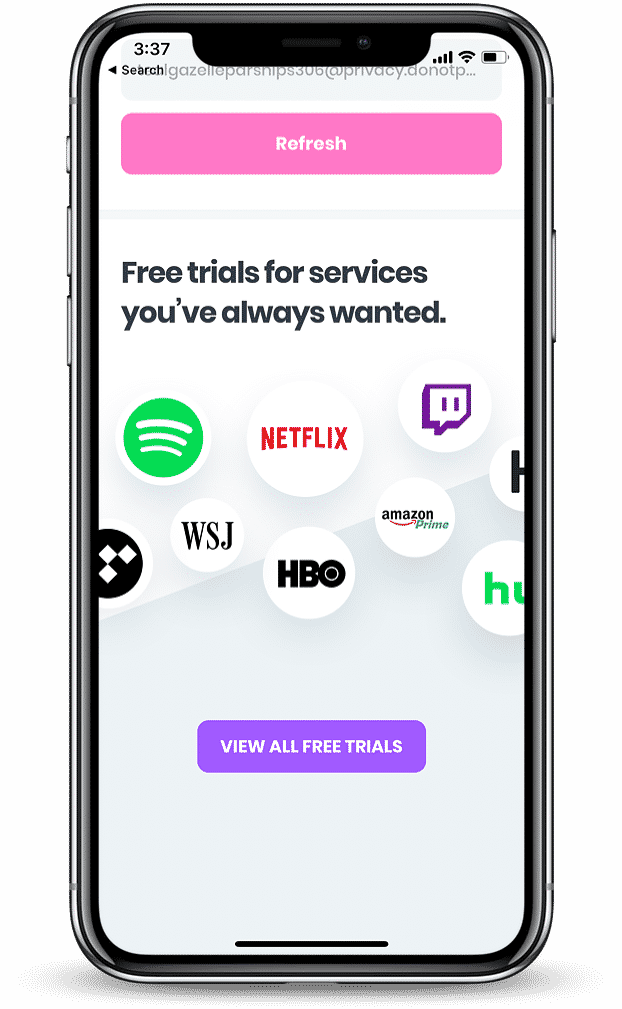 While QuickBooks may not require your credit card info when you're signing up for a free trial, most other subscription-based services do. It's like a bait companies use to reel in new consumers—the consumer, even if they aren't especially keen about the service, will likely forget to cancel it before the free trial terminates. As a result, they will be charged an automatic subscription fee that came into effect as soon as the trial ended.
To protect your money and put a stop to unwanted auto-renewed charges, DoNotPay has devised the Free Trial Card. Our app's version of a virtual credit card is tailored to signing up for free online trials. If you're quite the avid tester of many services, then our Free Trial Card belongs in your virtual wallet.
The way it works is the following—the Free Trial Card generates temporary, single-use credit card details that, to the merchant, look like they belong to your actual credit card. In reality, the card has no connection to your bank account or another funding source. So even if you forget to cancel the free trial, the company will not be able to withdraw a single dollar from your card.
An Email Address Exclusively Designed to Start Free Trials

Other than your finances, DoNotPay's virtual credit card also takes care of your privacy.
Our Free Trial Card comes with a random email address that you can use during the trial sign-up process. This saves you from giving out your actual email address to the company whose services you're trialing.
By doing so, you will:
Avoid

spam emails

like marketing newsletters

Stop the sender from tracking your location 

Prevent the sender from using your data as a sales lead
If you're concerned about missing out on anything important, fear not—all relevant emails will be forwarded to you instantly.
If QuickBooks Is Pushing You Around, DoNotPay Will Help You Sue Them

QuickBooks is notorious for giving its customers a hard time when they're trying to unsubscribe from its services. The owner company is often accused of malpractice, so if you have also been mistreated by Intuit, take it to small claims court.
DoNotPay, also known as the world's first robot lawyer, makes sure that you have all the necessary tools at your disposal in court.
The process is easier than you'd think. Explain to our chatbot your grievance with QuickBooks. As soon as it gathers enough information about your case, DoNotPay will present you with the necessary legal forms and fill them out on your behalf. It will also prepare the most suitable legal argumentation you should use in your defense. As a result, the entire court process will be streamlined and swing the odds of winning the case in your favor.
We have been so successful in our efforts to make services more accessible to all Americans that The American Bar Association recognized our app with the 2020 Louis M. Brown Award for Legal Access. 
DoNotPay Helps You Fight Bureaucracy, Admin, and More

Is life giving you a hard time at the moment? Are you falling behind on your bills while the parking tickets keep piling up? Do you need to take an individual or a business to court, but think you don't have the money or expertise to start a lawsuit?
While we may not have a silver-bullet solution to all of the issues you're grappling with, our app can make an enormous difference to how you deal with your day-to-day chores and errands. It also protects your customer rights, increases your access to services, and saves you time and money. What's not to like?
DoNotPay relies on artificial intelligence to conduct many processes on your behalf and in a much simpler, more efficient way.
Open DoNotPay in your web browser and unlock access to features like:
Challenging speeding tickets

Fighting traffic tickets