Challenge ParkingEye PCN From Your Phone

Studies estimate that private companies issue about 22,000 tickets every day. This results in huge profits for UK councils and firms who have found a way to mint money off unsuspecting car owners. ParkingEye, also known as Parking Eye and Parkingeye, is one of the biggest private parking firms in the UK that benefits a lot from issuing parking charge notices. If you have a , DoNotPay can help you appeal it. DoNotPay is a fast and secure service that ensures you beat your parking ticket in two minutes!
Receiving a Parking Charge Notice From ParkingEye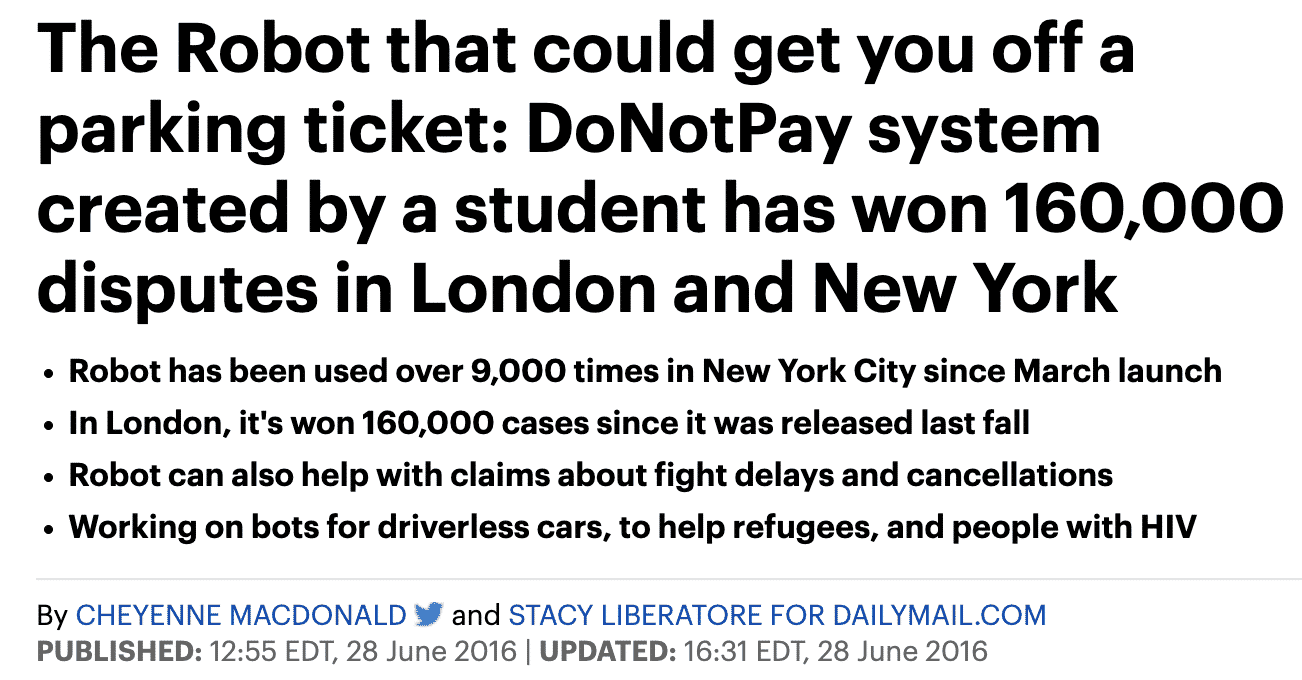 ParkingEye uses cameras to monitor car parks on private land and issue tickets for any overstays. ParkingEye has enjoyed success thanks to its contracts with major retail chains, including The Range, Aldi and Morrisons. Here's how a works:
The firm photographs car registrations upon entry and exit.
If the difference in the times is greater than the maximum stays, the company will issue a ticket.
ParkingEye will look up the registered car owner's identity from the DVLA database and then send a Notice to Keeper within 14 days.
The notice requests payment (usually £100). It also requests for the driver's name for them to be pursued.
Failure to pay the ticket will see ParkingEye or a debt collection agency send debt collection letters your way to chase payment.
Once you've been issued a parking ticket, there are several actions to take. You can settle it in full or appeal it if you feel the parking ticket was unfairly issued or was a mistake on the firm's end.
How to Pay a ParkingEye Fine
Some people prefer to pay ParkingEye tickets than challenge them. If you want to settle your parking fine, you can do so using any of the following methods:
| | |
| --- | --- |
| Telephone: | You can contact ParkingEye on 0330 555 4444 to pay your parking fine using Visa, Mastercard, or Visa Debit. The firm advises one to make sure the amount they're paying is exact and correct. Any overpayment doesn't get refunded. |
| Cheque: | You can mail your cheque or postal order payable to the firm. Ensure you've written the 12-digit reference number in reverse and mail it to ParkingEye LTD, PO BOX 117, Blyth, NE24 9EJ. As with payment by telephone, any overpayment with a cheque won't get refunded. |
How to Challenge a Parking Fine
can be frustrating, especially if the ticket was issued unfairly. ParkingEye offers an appeal solution to allow people to challenge the parking charge against them if they believe it was an error or unfair.
Before challenging a parking fine, always take into account the reasons why it was issued in the first place. Did you overstay on a parking site? Or did you use a private park and go elsewhere? If you answered yes to any of these questions, getting your appeal overturned might be tricky.
If you have a valid reason for overstaying on a parking spot, you stand a good chance of winning your appeal. Say, for instance, you are disabled, and it takes longer to get to your car, the ticket can easily be overturned as, in this case, it's an unavoidable circumstance. You have 28 days from when the notice was issued to appeal.
Here are the steps to follow if you want to appeal your ticket:
Don't pay the ticket or fine you're appealing as it might be seen as an admission of correct issuance.
Collect the necessary evidence to support your case. Evidence includes a valid pay and display ticket, receipts of where you shopped (if in a supermarket park), receipts from a breakdown service or a doctor's note.
Get in touch with ParkingEye. Always submit your appeal in writing and not via phone to ensure every detail is recorded.
Once your appeal is received and recorded, the time frame for paying your ticket will be paused until the firm resolves your appeal. If the firm rejects it, you'll receive a Notice of Rejection. You can contest the decision at an independent tribunal. If the independent tribunal upholds the firm's decision to throw out your appeal, you'll be required to pay your fine within 28 days or risk getting an additional 50%.
Contest ParkingEye Tickets in Under 120 Seconds
Robot lawyer DoNotPay can save you precious time and money and help you win a ParkingEye PCN appeal in less than 2 minutes. Here's how it works:
Log in to DoNotPay and go to the Ticket Disputes category. Select the Parking Ticket product.

Upload a photo of your citation.

Provide us with some details on why you believe the citation issued is a mistake.

That's it! You'll receive an appeal letter that contains the best argument to win your case.
A gentle reminder for UK users. We cannot mail the letter.
DoNotPay Works Across the Board
With DoNotPay, you can appeal parking tickets aside from ParkingEye tickets in any city, including:
What Else Can DoNotPay do?
Aside from helping you with your , DoNotPay can also help you:
Sign up for DoNotPay today to get started.