How to Dispute Your Oxfordshire PCN and Win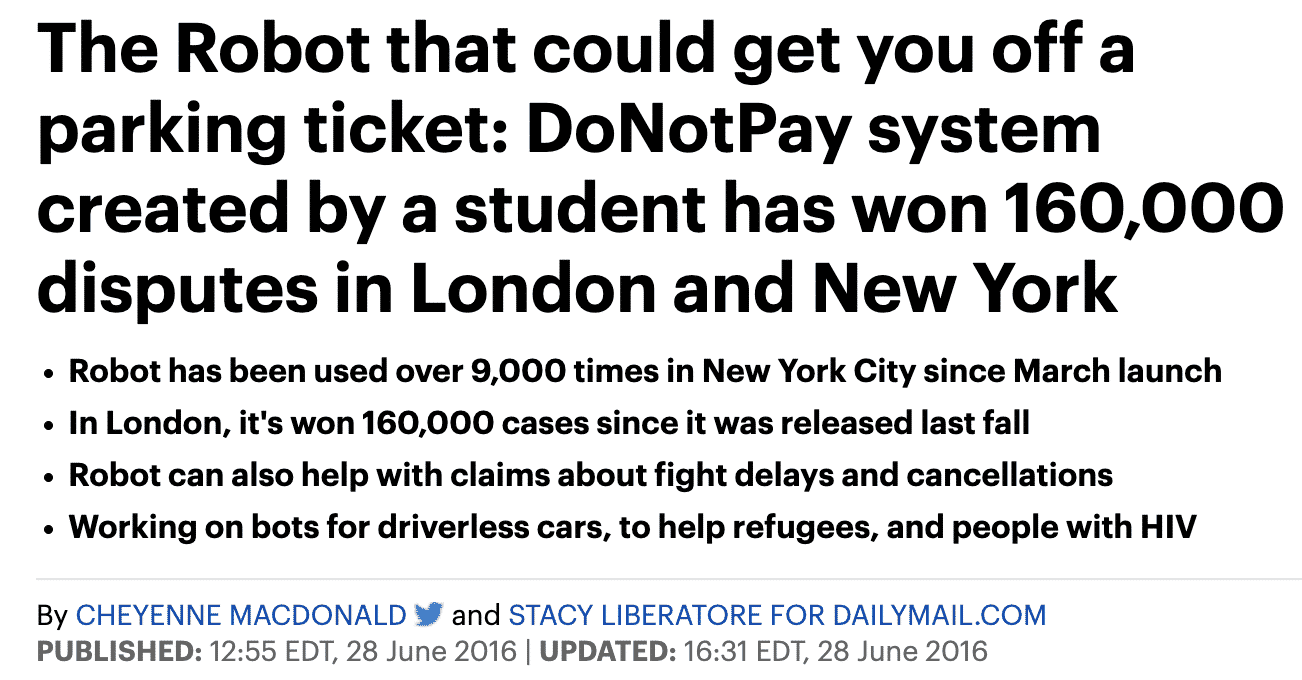 Oxfordshire County Council is responsible for upholding the laws and regulations in effect for on-street parking in Oxfordshire as well as bus lane and gate enforcement in Oxford city. If you contravene the regulations, it is likely your action will be recorded by cameras. If so, you may receive a penalty charge notice (PCN) from the council.
You may believe that paying the penalty is always the appropriate move, it may not be. For instance, if the PCN was issued in error, you may be able to appeal against it and avoid the fine. That is if you provide appropriate evidence and plead your case successfully with the council.
Challenging an can be a time-consuming, stressful process and you may have concerns about your ability to follow through. Rather than managing on your own, let DoNotPay manage your Oxfordshire PCN appeal for you.
Receiving a Parking Charge Notice in Oxfordshire

may be issued for street parking violations or you may be cited for driving through a bus lane or gate restriction. Keep in mind that the registered owner of the vehicle will be the individual cited, regardless of who parked or was operating the vehicle. Some other information you should know include:
PCN is served at the statutory charge of £60.
Fees will be reduced to £30 if paid within the first 14 days.
Even if you lose a challenge, you may be able to pay the reduced rate.
PCNs are civil offences and you won't be criminally charged.
If you wish to contest the PCN, you must do so in writing.
How to communicate with Oxfordshire County Council regarding a PCN you have received:
Mailing Address
Oxfordshire County Council PCN Processing Centre

PO Box 315

Sheffield

S98 1AE

Online
Appeal Against a PCN
*You will need a free Egress account in order to appeal an Oxfordshire County PCN online.
Should I Just Pay a Parking Fine in Oxfordshire?
That depends upon whether or not you feel you've received the PCN fairly. If you admit that you owe the fine assessed for the PCN, by all means, pay it and move on. If you're prepared to pay your fine, simply:
Collect the relevant personal data including the penalty charge notice (PCN) number from your parking ticket, car registration number and the credit or debit card number you wish to use.
Visit the PCN payment system for Oxfordshire Council
Enter the required information and submit your payment.
How Do I Challenge a Parking Fine in Oxfordshire?
If you believe that you have received a parking fine without cause, you may be able to pursue legal remedies. If you decide to challenge a PCN, remember that there are three stages to the process:
Informal Challenge - If this initial challenge to a PCN is denied, you will need to escalate the situation.
Formal representation - If your challenge has been denied, you have 28 days to pay or present formal representation to the council.
Appeal to the Traffic Penalty Tribunal - As a final attempt to challenge a PCN, you may take your case to the Traffic Penalty Tribunal. This is a no-cost service, and your case will be determined fairly.
Is Contesting a Parking Ticket in Oxfordshire Worth It?
No one wants to pay for parking tickets, especially if they're incorrect or plain wrong. But is it really worth it to fight the council? Shouldn't you just pay the fine and forget about it? No, not at all. In fact, it's always a good idea to be critical of the fines and fees the council imposes on you. After all, that money could be put to better use for your family.
What Happens if You Don't Pay or Appeal an Oxfordshire Parking Ticket?
Although it's not a pleasant thing to deal with, ignoring a parking ticket in Oxfordshire is a very bad idea. If you do not pay your assessed PCN fines, you will receive a 'notice of enforcement. This is basically a document that gives bailiffs the right to take their belongings to compensate for the amount they owe. When the bailiffs visit your home, you may be able to negotiate a payment in lieu of relinquishing your property. Ignoring a ticket long-term can result in dings to your credit report, suspension of your licence, penalties and additional fees.
Contest PCN in Oxfordshire in Less Than 2 Minutes
Do you believe that a parking ticket you've received is in error? If dealing with the Oxfordshire County Council to appeal your ticket isn't something you want to do, leave it to DoNotPay. We've helped nearly a quarter of a million people successfully appeal tickets, and our service has made headlines across the UK.
DoNotPay can help you fight a parking ticket in Oxfordshire fast:
Log in to DoNotPay and go to the Ticket Disputes category. Select the Parking Ticket product.

Upload a photo of your citation.

Provide us with some details on why you believe the citation issued is a mistake.

That's it! You'll receive an appeal letter that contains the best argument to win your case.
Once you've completed these steps and received your parking ticket appeal letter, use the contact information above to send it to the Oxfordshire council.
Can DoNotPay Appeal Parking Tickets Anywhere Else?
Absolutely. If you receive a parking violation notice while travelling in the UK, or even abroad, you can follow the same procedure noted above to appeal it. A few examples of the areas we can assist with PCNs include:
What Else Is DoNotPay Able to Do?
Appealing parking tickets in Oxfordshire and other cities is only one of the many things that DoNotPay can assist you with. In fact, you may consider this hard-working app as your personal solicitor, capable of managing a wide variety of legal tasks including:
Keep in mind that this is a limited list of services offered. Take a moment to visit DoNotPay today to learn more about this incredible product.