How to Appeal a NSL PCN the Easy Way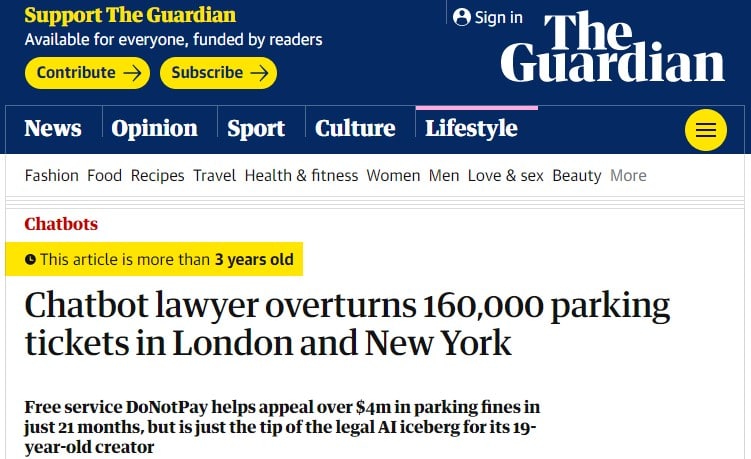 NSL is one of the largest parking enforcement agencies in the UK, providing services all over the country. In fact, NSL is so prominent that they are known to even outside the UK.
While this organisation provides a lot of benefits for the communities that it serves, it can also cause a lot of turmoil for the people who are on the receiving end of a penalty charge notice (PCN). If you have recently received a , keep reading to learn how DoNotPay can help take care of it in a timely manner.
What Is the NSL?
is the largest parking enforcement agency in the UK. They currently have over 4,000 employees and are located in over 60 different councils in the country. They work in both the private and public sectors to provide parking solutions and many other services to various communities. Some of the services that they provide include:
Automatic Number Plate Recognition (ANPR) Monitoring
Moving Traffic Enforcement
Parking Enforcement (Both Car Park and Street parking)
Blue Badge Enforcement
Permit Management
Vehicle Removal
NSL utilises the latest technology, including body-worn cameras and CCTV cameras, to monitor the roadways and parking areas.
How to Pay for an NSL PCN
If NSL catches you parking in an unauthorised zone or making any other parking violations, they could issue you a Penalty Charge Notice (PCN). Unless you plan to dispute the charges, you will need to pay the penalty charge by the date that is listed on the front of the PCN.
The time frame for when a PCN is issued after the offence may vary but this is typically within 28 days of the incident.
How you pay the fine will depend on the council in which the PCN was given. In most cases, you can pay online, by telephone, or through the mail. If you are paying through mail, you should pay with a cheque only and not cash.
Here is a look at the different ways to pay an .
Council - Lewisham

Pay Online
You can visit this site to pay online.
Pay by Post
PO Box 209, Lowton Way, Hellaby, S98 1ND
Pay by Phone
020 8787 5397

Council - Royal Parks

Pay Online
You can visit this site to pay online.
Pay by Post
Royal Parks Processing, PO Box 196, Sheffield, S98 1LX
Pay by Phone
0343 208 2089

Council - Birmingham

Pay Online
You can visit this site to pay online.
Pay by Post
PO Box 77, Birmingham B4 7WA
Pay by Phone
0121 667 4964
Additionally, you can make a payment from any counsel by visiting NSL's payment page, or by calling 0333 320 1100.
How to Dispute an NSL PCN
If you feel that you have been issued PCN by NSL and you did not deserve it, you have the right to appeal the decision. There are a few ways that you can appeal to a PCN:
Call Marston Holdings at 0333 320 1822
Visit the PCN processing in your council and request an appeal form
Go to the Parking on Private Land Appeals (POPLA) website and click on the "Download POPLA Appeal Form" tab
The exact steps that you will need to take next will vary depending on which method of appeal you chose. However, for all of the methods, you will be asked to submit your registration information and your PCN number.
Once you have submitted all of the required information, you should receive a decision in a matter of days. If your appeal has been rejected, you will have 28 days to pay the PCN charge. If it is not paid within 28 days, the amount could increase by 50%.
How DoNotPay Can Help You Dispute Your NSL PCN
DoNotPay has helped hundreds of thousands of people successfully dispute their PCNs. According to Wired, around 250,000 motorists in London and New York used DoNotPay to challenge parking fines.
We can help you too! To get started, simply follow these easy steps:
Log in to DoNotPay and go to the Ticket Disputes category. Select the Parking Ticket product.

Upload a photo of your citation.

Provide us with some details on why you believe the citation issued is a mistake.

That's it! You'll receive an appeal letter that contains the best argument to win your case.
DoNotPay Can Help With Any Type of PCN Anywhere
No matter where your PCN came from, DoNotPay can help you fight it. Some of the other PCN-related things that we can help you within the UK include:
We can also help you with PCN concerns in the US:
What Else Can DoNotPay Offer
DoNotPay is not only useful in handling parking tickets. We can also help you solve a wide range of other problems. Here are other products and services that were specifically designed to make your life easier:
Sign up with DoNotPay right now and get ready to find more convenient ways of dealing with various legal issues.