The ultimate guide to Norwegian Airlines Wi-Fi and in-flight entertainment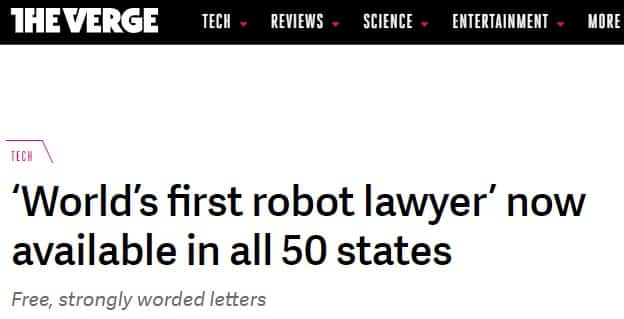 You've boarded the plane, and now you're trying to connect to the Wi-Fi. It's not working. You call a member of the crew to ask for assistance, only to be greeted with an apologetic smile and the info that, alas, Wi-Fi is not available on this flight.
Everyone who flies often has gone through this dreadful situation. You know what's next—you'll make small talk with (probably) the dullest person alive, who just happens to be sitting right next to you. You'll be cracking jokes that never really take off, wishing you'd remembered to bring a book.
If you need to work on your flight, you're likely to be even more put off. Deadlines don't understand the lack of Wi-Fi, and your boss will have your head on a silver platter if you're late again.
Even if the situation is not quite so dramatic, the fact is we need Wi-Fi on the plane. If you're flying with Norwegian Airlines, you can even get it for free!
How to connect to Wi-Fi on Norwegian Airlines flight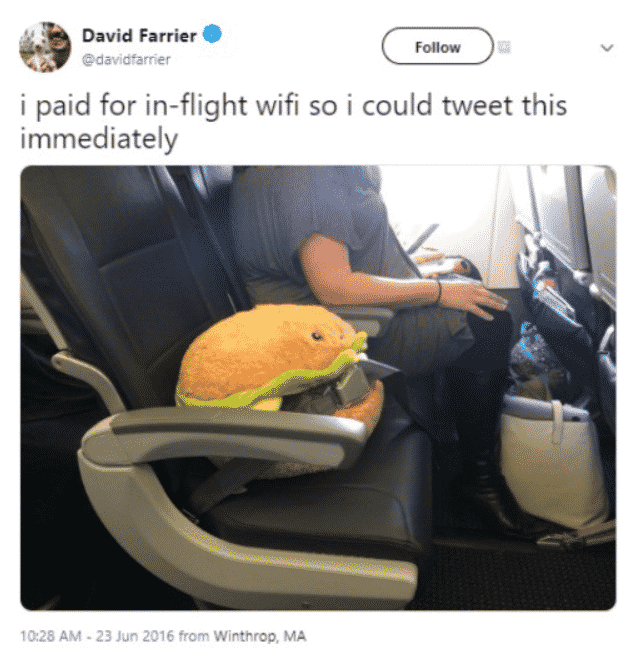 If you want to access Norwegian Airlines inflight Wi-Fi, here's how to go about it.
Enable flight mode on your device.

Enter the Wi-Fi settings and connect to the "Norwegian Internet Access" network.

The portal should load automatically when you open your web browser.

If the portal doesn't load immediately, search: norwegian.cabin.network (for Dreamliner 787-9) or wifi.norwegian.com (737-800).

Choose the package that best suits your needs.

Enter your details, and you are now able to browse the web.
In case of any issues or difficulties, ask the crew to give you a hand.
Common issues with Norwegian Airlines Wi-Fi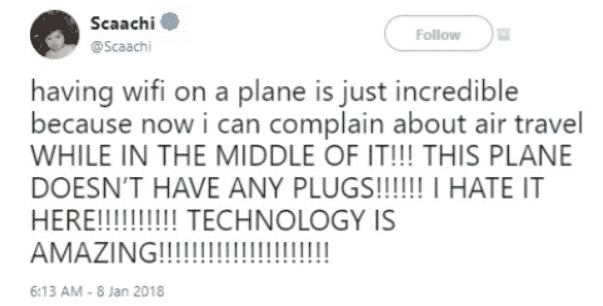 If you're flying with Norwegian Airlines, you're probably not going to be happy with the inflight Wi-Fi. There are three tariffs, and none of them fulfills its purpose well enough.
The first option is completely free. It's supposed to be enough for browsing the web and messaging, but without access to social media and music and video streaming. You can use it, but it's terribly frustrating. You need to wait for a long time for any web page to load, and you can't send images via instant messaging services.
You may not want to spend your flight being constantly irked by dreadful connection, but you don't need a whole lot of data traffic either. If that's the case, you can get the package that enables you to browse and use social media, but still doesn't allow you to stream videos or music. Its internet speed is slightly better than with the free option, but the connection is still not fast enough to let you use it without getting annoyed. Social media pages with plenty of pictures take a long time to load, but at least instant messaging is genuinely instant, without delays.
The premium package is supposed to be fast and allow you to stream video and whatnot. You can probably use it quite well if nobody else on the flight is using it. If there are more than a few users on the Wi-Fi at the same time, any video you play will go on buffering indefinitely.
All things considered, if you want a deadline you can't miss, you might want to get most of the work done before you take off. If you have to work on the plane, come up with plan B, just in case.
Can you get compensated for weak Wi-Fi on Norwegian Airlines flight?
Norwegian Airlines can boast possibly the worst customer service you'll find anywhere. They refuse to compensate for delays and cancelations, so don't even try with Wi-Fi.
If your Wi-Fi experience was underwhelming, which it probably was, you're not likely to get anything for it. Don't even count on extra mileage if you're not ready to persist. You'll have to complain until you're blue in the mouth before they give the time of the day.
Of course, you can go a step further and try to shame them on social media in hopes that they'll try to salvage what's left of their good name. This is only an option if you have a following large enough for them to feel threatened.
If you don't, though, you can try taking legal action. But even if you take the matter to a small claims court, you're not likely to win. Airlines do not have a legal obligation to compensate you for the lack of Wi-Fi, so unless you have a particularly strong case, it's all up to them.
Get compensated for poor inflight Wi-Fi experience with DoNotPay
Complaining on your own seems like too much work for too little gain, so many people give up without even trying. If you want compensation for your suffering, but don't want to invest too much time and effort, you're in luck—DoNotPay can help you get what you want. It's a half minute's work, and here's what you need to do:
Open the DoNotPay app on

your browser

.

Choose "Inflight Wi-Fi Protection."

Have a short correspondence with our chatbot and provide the info it will ask for, such as the airline with which you flew, Wi-Fi purchase number, and the internet provider on your flight. You can find all the information on your receipt.

Confirm your email address.

It'll take up to 48 hours for the app to let you know how your case is progressing.
The app helps you get the compensation you want without breaking a sweat. The process takes about 30 seconds, and the only effort you need to put in is to locate the receipt with the flight details.
Does Norwegian Airlines Wi-Fi support Netflix?
It is possible to stream Netflix with Norwegian Airlines' premium package.
How fast is Norwegian Airlines Wi-Fi?
Norwegian Airlines don't provide any official info on the speed of their internet connection. They claim that their paid packages are "faster" than the free Wi-Fi they provide, but they don't say how fast the connection is for each package.
Cost of Wi-Fi on Norwegian Airlines flight
The cost of Wi-Fi varies with every plane and flight duration. The basic Wi-Fi they offer is free. When it comes to the paid packages, here are the (unofficial) numbers.
| | |
| --- | --- |
| Social+Surf Package | $5 – $7 |
| Stream+Surf Package | $12 – $15 (for three-hour access) |
Compatible devices on Norwegian Airlines Wi-Fi
Norwegian Airlines' inflight Wi-Fi is compatible with every device that can connect to Wi-Fi.
Other Norwegian Airlines inflight entertainment
If you need a distraction, but don't specifically need Wi-Fi, you're more likely to get off the plane happy with your experience. Norwegian Airlines offer plenty of content to occupy your mind. You'll probably have the most fun with:
Movies

Games

Interactive 3D maps

N by Norwegian
Movies
From Harry Potter to Miss Congeniality, there is something for every taste. For the youngest passengers, there is a fun collection of Disney and Pixar classics.
Games
If you want something a bit more challenging than a simple movie, why not try one of the games they offer?
Interactive 3D maps
As a fun way to explore your destination before you've even arrived, interactive 3D maps are as useful as they are entertaining. You can get a pretty clear idea of what to do and where to go before you land.
N by Norwegian
With a variety of topics, from Witchy Wellness to Future Cities, N provides a plethora of thought-provoking articles for you to leaf through. The magazine is usually 130 – 160 pages long, with a lot of space dedicated to ads, but the content makes for a surprisingly amusing read.
What else can DoNotPay do?
DoNotPay can save you time and effort in many other ways. Other pesky issues that our app can take care of include:
Fighting speeding tickets

Disputing traffic tickets