Don't Miss Out on Your Favorite Switch Games! Nintendo Online Free Trial Is Right Around the Corner!
Nintendo Switch Online is a subscription service for the Nintendo Switch video game console that offers online gaming, a library of classic games, support for cloud backup, access to the Nintendo Switch phone app, and a few exclusive offers.
There are several subscription packages available, so there are a lot of options to choose from.
If you want to try out this multi-player gem and enjoy classic Nintendo games, now is the right time to subscribe to a free trial in a risk-free way.
What Does the Nintendo Switch Online Free Trial Cover?
Nintendo offers a seven-day free trial for Nintendo Switch users.
The trial gives you access to benefits such as online play and an assortment of NES™ games. To be eligible for a free trial you:
Need to have a Nintendo account

Cannot have already used a free trial in the past

Can't have a full Nintendo Switch Online subscription
You will also be required to provide your payment details when signing up.
What Nintendo Memberships Can I Choose From When Signing Up for a Switch Online Free Trial?
There are two main membership types, Individual and Family.
Type of Membership

Price
Description

Individual

$3.99 for a month

$7.99 for three months

$19.99 for a year

One Nintendo Account owner with full access to the Nintendo Switch Online service

Family

$34.99 for a year

Up to eight Nintendo Account holders with access to the Nintendo Switch Online service
How To Get a Nintendo Online Membership Free Trial

While you can subscribe to Nintendo Switch Online using several different methods, if you want to start your membership with a free trial, you have to visit Nintendo eShop on your Nintendo Switch console.
To do so, you need to have an active Nintendo account. In case you don't, make sure to create one.
How To Create a Nintendo Account
You need to have a Nintendo Account to sign up for a Nintendo Switch free trial. You have to be over 13 to create an account.
Here is how to do it:
Go to the Nintendo website

Click on the

Log In/Sign Up

button in the top right corner

Select the

Create a Nintendo Account

option

Select the

Box

reflecting your age group

Sign up using your Google, Facebook, Twitter, or Apple account or enter the data manually

Follow the steps until you create your account
How To Sign Up for Nintendo Switch Free Trial on Your Nintendo Switch Console
Here are the steps to get your trial run for Nintendo Switch Online:
Access the

Home Menu

of your Nintendo Switch Console

Find and select

Nintendo eShop

Choose the account you want to use

Open the

Main Menu

of the

Nintendo eShop

Select

Nintendo Switch Online

Choose the free trial option for the subscription you want to check out

Click on the

Proceed to Purchase

option

Provide your payment details

Follow the remaining steps
How To Get a Free Seven-Day Trial for Nintendo Online at My Nintendo
My Nintendo is a loyalty platform that rewards players for using software or buying games. The reward points can be used to get discounts or free trials.
If you are a My Nintendo member, you can redeem your points and use them to get a Nintendo Switch free trial. This only works occasionally, as rewards keep changing, so you have to check if the free trial is available.
Here are the steps to follow:
Go to the My Nintendo website

Click on the

Sign In

button in the top right corner

Click on the three horizontal lines on the left side to open the

Menu

Select

Redeem Points

Look for the

Nintendo Switch Online 7 Day Trial

option and click on it

Click on the

Redeem

button at the top of the page

Wait to get a download code for the Nintendo Switch Online 7 Day Trial

Open the

Home Menu

of your Nintendo Switch Console

Find and select

Nintendo eShop

Select the

Enter Code

option
Will the NSO Free Trial Renew Into a Paid Nintendo Switch Subscription?
During the subscription process, you will have to provide your payment details.
As soon as the trial ends, you will be charged for the full price of the subscription plan you chose. You can cancel the free trial anytime, but an even better option is to use a virtual credit card and not think about the automatic charges.
Use DoNotPay's Virtual Credit Card for No-Risk Free Trials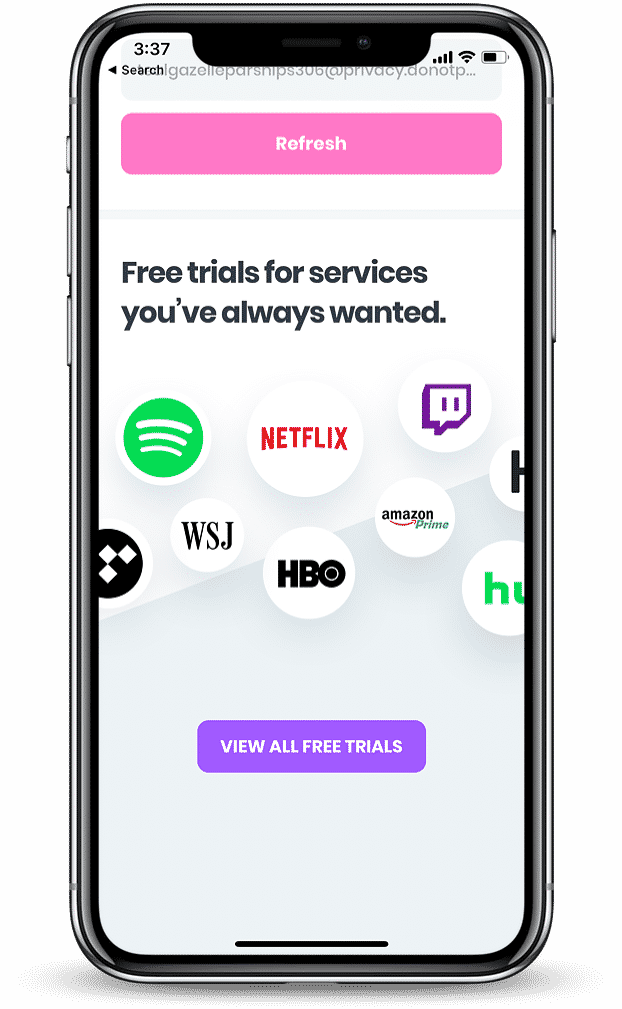 DoNotPay's free virtual credit card is not connected to your real credit card, which means there is no money to be taken from it. The card will be approved for any free trial, but once Nintendo tries to charge you, their attempt will fall flat.
Here is how to set up the service:
Open DoNotPay in your

Generate a virtual credit card number

Provide that number to Nintendo during the signup
Cancel Switch Free Trial With DoNotPay
If you already signed up for a Nintendo free trial with your actual credit card, you can prevent auto-charges by canceling the trial before it expires.
You can accomplish this by using your Switch Console, or the Nintendo website.
You can also choose a simple way and cancel Nintendo Online in minutes with DoNotPay.
Can I Get a Refund if My Nintendo Online Free Trial Renews Into a Paid Plan?

Nintendo has a tough stand on refunds for unused subscriptions. You can try to get your money back from them, but it is unlikely you will succeed.
DoNotPay offers you a better option.
Did you know that the Fair Credit Billing Act (FCBA) allows you to dispute credit card charges within 60 days of the purchase?
In case your card gets charged after the trial period expires, our app can help you get your money back.
Here is what you need to do:
Open DoNotPay in your

Tap

the File a Chargeback option

Give your bank details to our chatbot

Type in Nintendo as the name of the merchant

Follow the steps to build up your case
DoNotPay helps you by sending a dispute letter to your bank and by providing relevant Visa and Mastercard codes that can strengthen your case.
We will also get in touch with Nintendo to request a refund on your behalf.
If the company remains unresponsive, you can always use DoNotPay to sue them in small claims court and receive compensation.
If you decide to file a lawsuit, we do all the hard work: generate a demand letter, prepare and fill out necessary legal paperwork, and even write a detailed script for your court appearance.
DoNotPay Keeps Your Money in Your Hands!

DoNotPay is an administrative assistant app that takes care of bureaucratic issues.
We make signing up for other gaming free trials, like PlayStation Plus or World of Warcraft Classic free trial, a simple and safe process, but we don't stop there.
Explore the full potential of DoNotPay by opening the app in your .
Some of the tasks we can take over are:
Fighting speeding tickets

Contesting traffic tickets