How To Get Microsoft Publisher Free Trials Without Giving Your Credit Card Information

Getting a Microsoft Publisher Free trial goes a long way in getting you situated with your publishing needs at no fee. While free trials offer the best cost-effective path to managing your publishing businesses, they may carry some pitfalls. You are always prone to forgetting your free trial subscription dates. In such cases, some organizations may take advantage of this flaw to charge you on premium terms upon the lapse of your free trial.
Microsoft Publisher provides an interactive, affordable, and easy-to-use platform for all your publishing needs. Consequently, it's an excellent choice for small enterprises, ordinary users, instructors, or freelancers who need to develop publications but lack graphic design skills. They can use the tool to produce professional branding and sales materials. You can operate Microsoft Publisher as easily as Microsoft Word, but instead of text editing, you'll be modifying page layouts and graphic material.
DoNotPay can help you enjoy your 30-day Microsoft Publisher free trial without running the risk of unnecessary billing.
How Do I Get a Microsoft Publisher Free Trial?
Before considering the free trial, ensure that you have a registered Microsoft account. Publisher offers free trials only to new users, so you would not be eligible if you had made an earlier purchase on your account. This can be easy to get around if you create a new account.
To get the 30-day Microsoft Publisher free trial, you should:
Visit the Microsoft 365 webpage
Navigate to Microsoft Publisher.
Click the Try Free for 1-month link to initiate the registration process.
Submit your payment information so that if you wish to proceed past the 30 days, your information is already on the database (it allows credit cards, Paypal, or mobile money).
Hit subscribe.
Download the Desktop apps for Microsoft 365 (Microsoft package will come embedded).
Install the Microsoft 365 suite, and you are good to go.
Microsoft Publisher Free Trial Features
Publisher's free trial offers a full stack of features:
Drag-and-drop capability.
Rules and guides to align lines perfectly.
Ability to save high-resolution pictures with standard image formats.
Cloud functionality to back up data.
Image importer.
Capacity to use high-resolution photo backdrops.
Compatible with all Office 365 applications.
You can choose from numerous ready-made layouts and themes or customize your own. Publisher employs the same ribbon-style navigation menu as other Office 365 products, so if you're familiar with Word or Excel, you will have no trouble with Publisher.
Does the Microsoft Publisher Free Trial Automatically Renew Into a Paid Subscription?
The Microsoft Publisher free trial is available for a month and comes with no obligations. However, unless you cancel before the deadline, you must pay for the subscription upon the lapse of the trial period. You will have to cancel within 30 days of signing up to avoid billing. To be on the safe side, ensure you cancel 24 hours before the lapse of this period. Also, if you happen to get billed, you can use DoNotPay to request a refund.
Avoid Automatic Renewal With DoNotPay Virtual Credit Card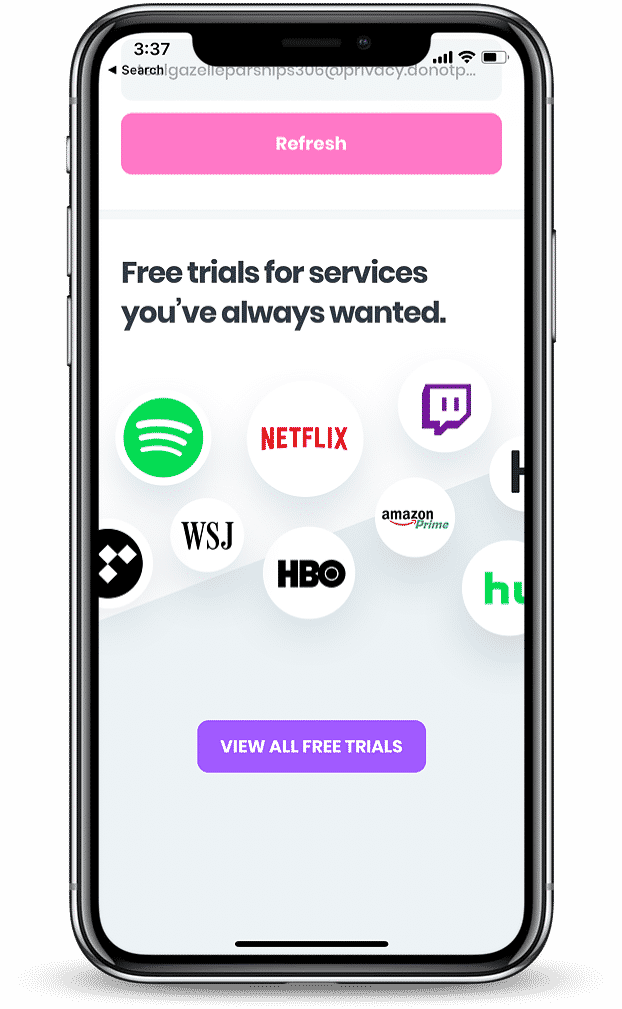 With all the information and tasks you are bombarded with daily, you may tend to forget numerous important issues. Leaving your car keys in the house, leaving doors open, you know the drill. Free trial subscriptions are no exception. While forgetting isn't a crime, it may cost you unnecessary charges. Fortunately, here at DoNotPay is here for you. With DoNotPay's free virtual credit card, unintended billing is a problem of the past. DoNotPay can generate a random number and credit card information for you. DoNotPay's virtual credit cards allow you to enroll for free trials without being charged as they essentially carry no funds in them.
Your Microsoft Publisher Free trial will lapse with no severe repercussions on your part. DoNotPay will even cancel the free trial on your behalf.
How Much Does Microsoft Publisher Cost After the Trial?
You can use Publisher with either a Business Standard ($12.50 per month/user) or a Business Premium ($20 per month/user) subscription. You may acquire the Microsoft 365 apps package as a standalone solution for $8.25 per user each month. Microsoft Publisher is priced at $139.99 on a standalone purchase.
What Are the Most Popular Alternatives to Microsoft Publisher?

Canva Enterprise

Canva provides branding tools for managing, sorting, tagging, and organizing your brand assets and templates across all platforms to ensure brand consistency. It also offers Canva design expertise tailored to your business.

With Canva enterprise, you can easily boost team productivity and collaboration as approvals are centralized and streamlined to improve the speed of your approval workflow. With multi-factor authentication, you can maintain your brand's look and feel while maintaining high security. Canva COSTS $30 a month.

Adobe Indesign

Adobe InDesign is an industry-leading design and layout application. With font from the world's leading foundries and excellent photography from Adobe Stock, you can create stunning graphic designs. With the Adobe Experience Manager, you can quickly and interactively control your design and publishing operations. Adobe Indesign costs $20 per month as part of the Adobe Suite.
 What Else Can DoNotPay Do?

DoNotPay has your interests at heart. Reach out to us today to secure your free trial and maximize productivity.