A Leap Year for Office 365—How To Cancel Office 365 Subscription Refund
Microsoft Office is a globally-renowned software pack that includes a diverse set of programs developed by Microsoft.
Office 365 is a subscription that gives customers a license to use programs such as Word, Excel, and OneNote, while also providing constant updates to these programs.
Getting a refund for the yearly subscription can be a tough nut to crack. If Microsoft doesn't cooperate, you can use DoNotPay to get your money back.
How To Request a Microsoft Office 365 Refund by Yourself
Once you've canceled your Office 365 subscription, you'll want to get your money back. There are multiple ways to request a Microsoft Office 365 refund:
| | |
| --- | --- |
| Can You Request a Refund Via | Yes/No |
| DoNotPay | Yes |
| Email | No |
| Website | Yes |
| Phone Call | Yes |
| Letter | No |
| In-Person | No |
Requesting a Microsoft Office 365 Refund via the Microsoft Website
You can use the Microsoft website to request a refund for your Office 365 subscription. To do this, you should sign in to your account and navigate to the Contact Us page. From here, you should press Get Started and you will be transferred to a new window where you can talk to a chatbot. To navigate to the refund option, you must:
Type in some variant of

I want a refund

to trigger the bot to give you refund prompts

Press

Request a refund

once the bot offers it

Press

Microsoft 365

When asked if you bought the subscription via iPhone or iPad, choose whichever is correct in your case

After pressing

No

, pick a reason for your refund request out of a list that the chatbot will present
From this point, you will receive a detailed description of how to request a refund in different cases. Some reasons don't lead to a refund link. Your best bet would be to pick the I want to cancel because I have problems installing Office option. Follow the bot's instructions and you'll be able to get a refund.
If you click Yes in the fourth step, you will have to contact iTunes support to request a refund.
Requesting a Microsoft Office 365 Refund Over the Phone
If the chatbot and website don't provide a solution, you can always contact Microsoft directly. Their customer support reps can resolve the issue and grant you a refund. To request a refund via phone, you must:
Dial 1-844-386-8965

Ask to speak to a representative

Explain your situation and why you want a refund for Office 365
Make sure you transfer important files from Office 365 cloud storage, as canceling and requesting a refund will suspend all Office 365's programs.
What Is the Microsoft 365 Refund Policy

Microsoft's policy states that all purchases are final and non-refundable, but exceptions are made frequently. After canceling Office 365, you can request a refund, but only under certain conditions:
You signed up for the annual subscription in the past 30 days

You cancel the monthly subscription up to 30 days after the last renewal
Should you cancel an active subscription, you'll be eligible for a pro-rated refund. Microsoft will reimburse you for any remaining, unused days of your yearly subscription.
It's important to note where you purchased your Office 365 subscription. Purchasing Office from the iTunes store will make it more challenging to receive a refund. You must contact iTunes support to resolve the issue if you want your money back.
Microsoft can deny any refund request that they determine to be fraudulent. While this seems like a recipe for bad interactions with customers, the company rarely denies these types of requests. If they refuse to give you a refund, you can always use DoNotPay to request a quick chargeback.
How Long Does It Take to Get an Office 365 Refund?
If you cancel within 30 days of signing up for the subscription, your refund should arrive within three to five days.
It can take a while to refund an active Office 365 subscription. You can expect Microsoft to return your funds around six to eight weeks after you've submitted your request. During this time, you will have to submit relevant documentation at the company's request.
Use DoNotPay To Get a Quick Refund for Office 365

DoNotPay offers a simple solution for requesting refunds from any company. If Microsoft customer support isn't cooperating, our handy robot lawyer app can step in and get your money back in minutes. To start using DoNotPay, open it in your . Follow these steps to get a refund for Office 365:
Sign in to DoNotPay

Go to the

Chargeback Instantly

tab and press

Get Protected

Answer the chatbot's questions regarding the transaction and merchant

Add your digital signature and confirm
DoNotPay will immediately fax the chargeback request to your bank. Our app will include all the relevant Visa and Mastercard laws that can bolster your case. If you want, the app will also contact Microsoft on your behalf.
Use a Virtual Credit Card To Avoid Being Billed After Free Trials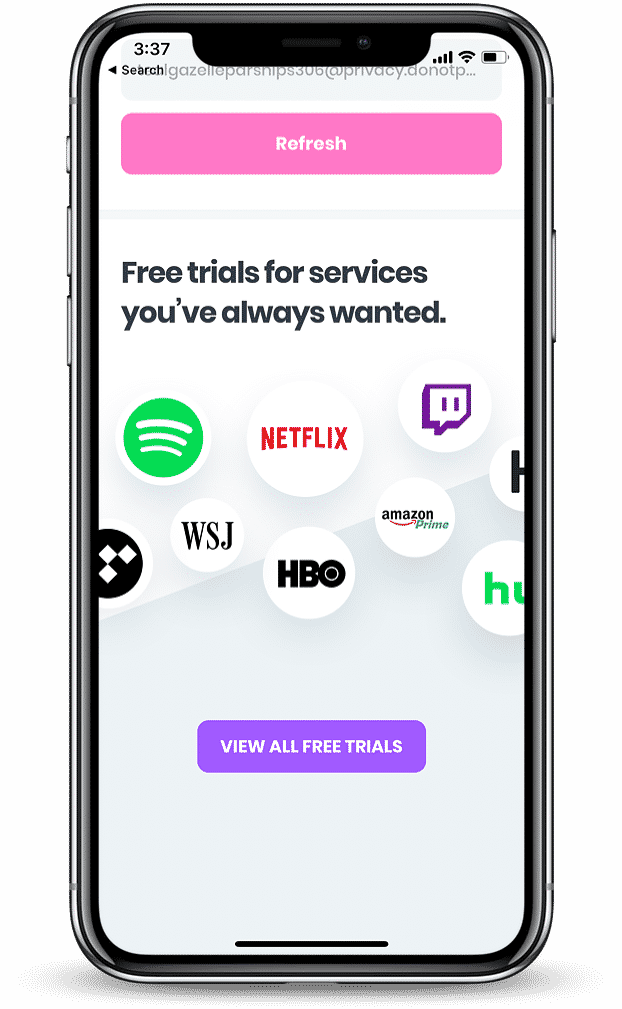 Free trials are a useful way to try out a service, but signing up for them can backfire. Plenty of users sign up for Office 365 free trials and then forget about it. At the start of the next billing period, they get charged for a paid version of the subscription.
This can be avoided by using DoNotPay's virtual credit card. It's a free service that allows you to sign up for free trials without worry. To the merchant, it's indistinguishable from a regular credit card. When they try to charge you at the end of the month, they'll come up empty-handed as there are no funds on the card.
Can I Check the Status of My Microsoft Office 365 Refund Request?
Yes, it's possible to track your refund request on the Microsoft website. Go to the Contact Us page and start chatting with the chatbot. When given the option to choose Request a refund or Check my refund status, pick the latter. It will inform you of the current progress of your refund request.
DoNotPay Can Handle Plenty of Day-To-Day Issues With Ease

The world's first robot lawyer app has a lot of tricks up its sleeve. We help our users with cumbersome and time-consuming tasks like suing someone for harassment or disputing a parking ticket.
For an average person, going to small claims court to sue Comcast is a monumental challenge. DoNotPay simplifies the process and helps users understand the civil procedure better. We'll show you what to do if you want to claim compensation for a delayed flight. You can learn a bit about your airline passenger rights along the way. If you continue using Office 365, we can help you block its persistent emails.
If require DoNotPay's services, you should open the app in your . Our handy robot lawyer app can assist in:
Disputing traffic tickets

Fighting speeding tickets