Contest Manchester Parking Ticket the Easy Way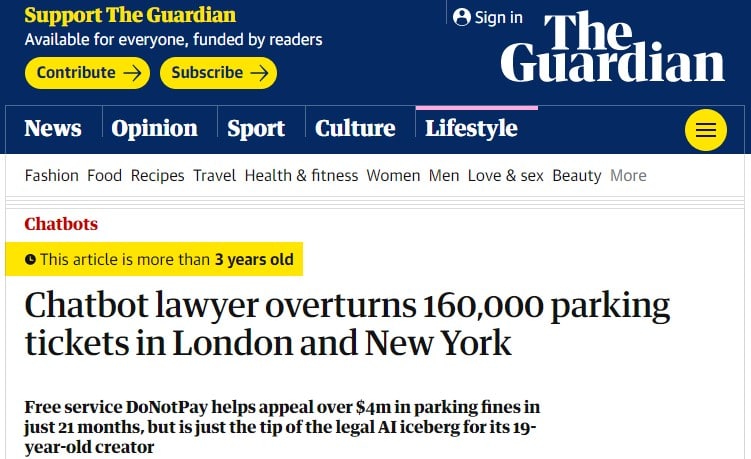 If you have ever been to Manchester, England, then you know that parking can be a bit of a nightmare. With only a few designated spots available and everyone vying for them, it is easy to unknowingly park in the wrong spot and receive a parking ticket.
As part of the city's clampdown on illegal parking, Manchester has started issuing fines to drivers who overstay their time in a pay and display parking spot. Unfortunately, many drivers have found themselves caught out by the new scheme. But help is at hand; DoNotPay can help you contest your hassle-free.
DoNotPay is an online legal robot to help people contest a variety of legal issues, including traffic tickets, and now includes the ability to contest Manchester parking tickets. The bot has already helped drivers win back millions of pounds in London and New York among many other legal issues it has helped dispute.
Receiving a Parking Charge Notice Manchester City Council
If you happen to park your car in the wrong spot in Manchester City, then you will receive a penalty charge notice from the council. These ticket fees can cost up to £90, but if you pay the PCN within 14 days, you will get a 50% discount to help you pay £45.
If you want to appeal your Manchester parking ticket, then it is best to contact the council within 28 days of receiving the notice otherwise you face the prospect of paying up.
If you want to contest the right away, DoNotPay can help you do so, and you will get your parking ticket in Manchester cancelled in no time.
Reasons to Dispute a Parking Ticket
Parking tickets are not always received with a positive attitude. But for those who have received a parking ticket as a penalty charge notice, then it becomes important to consider how to contest the charge so that you don't end up paying unnecessarily.
However, there are some situations where the ticket will go unchallenged and so you can save yourself from spending unnecessary money if you decide to take on the parking ticket in court.
Here are a few reasons why you should dispute a parking ticket in Manchester:
You were not the actual driver-if you are sure that you aren't the driver and that someone else was, then you should dispute your ticket to avoid being slapped with an illegal parking charge.
You are certain that you didn't park there-if you firmly believe that your car was not parked at the location of the parking violation, then don't pay the fine. If a parking ticket is known to have been issued wrongly, then it will be cancelled.
You have valid proof -it is advisable to present evidence that proves you were not parked. This can be as simple as a photograph of a car parked in another location with a time and date stamp on it.
The parking ticket is fraudulent-if you believe the ticket was issued by mistake, then you should dispute your Manchester parking ticket to avoid the fee.
How Do I Challenge a Parking Fine?
When you get a parking ticket in Manchester, then you will have 14 days to pay or appeal your ticket. Here is a step-by-step guide on how to do this:
Contact the Manchester city council via phone
Explain to the council officer exactly why you dispute the ticket and provide them with any proof that shows the parking fine was not in order.
If you decide to go ahead with your appeal, then you will have to pay the ticket in order to have it put on hold. If you win, then you will receive a refund of all or part of your parking fine.
If you lose, then the entire fine will be due immediately.
Manchester Parking Council Contact Information
Website
https://www.manchester.gov.uk/parking
Phone
+44 161 234 4111
Address
1 First St, Manchester M15 4FN, United Kingdom
Even though parking tickets are a nuisance to many drivers, there is little one can do about receiving one if they park illegally. If you need to contest a , DoNotPay has you covered.
How DoNotPay Can Help You Appeal Parking Tickets Manchester
DoNotPay is an online lawyer chatbot that helps users contest a number of legal issues; from housing to immigration to parking tickets, the robot lawyer will save you from spending hefty attorney fees. DoNotPay works by asking several questions and giving immediate solutions or drafting an appeal letter on the spot.
To get started, you will need to do the following:
Log-in to DoNotPay and go to the Ticket Disputes category. Select the Parking Ticket product.
Upload a photo of your citation.
Provide us with some details on why you believe the citation issued is a mistake.
That's it! You'll receive an appeal letter that contains the best argument to win your case.
DoNotPay Can Help You Fight Parking Tickets Anywhere

If you want to dispute parking fines in the UK as well as in the US, DoNotPay has several resources that can help. These include:
What Else Can DoNotPay Do?
DoNotPay will help you fight , and also help you with disputing a host of other legal issues, including:
Manchester, England is known for its great music scene, football teams, and now, its parking tickets. If you have received a Manchester City parking ticket, then it is best not to ignore it. You just need to sign up with DoNotPay, which will walk you through the process of appealing your parking ticket, making it easier for you to fight what you believe is an unfair penalty.