An In-Depth Guide to Writing and Mailing a Rent Increase Letter
Are you a landlord who needs to raise the price of rent because of inflation, property tax increase, or any other reason? While increasing rent is always tricky, knowing how to write a good rent increase letter can help a lot. If you're not sure what to include in your letter, how to format it, or when to send it, subscribe to DoNotPay and get all the answers.
Check out our article to learn how to compose your rent increase notice and find out how to mail the letters to your tenants effortlessly. 
When Should You Send Rent Increase Letters to Tenants?
Before you increase the rent, you need to make sure you're following the rules and regulations of the state you have tenants in. 
You should review the law and the original lease agreement to find answers to the following questions:
| | |
| --- | --- |
| Questions  | Brief Explanation |
| How frequently are you allowed to increase the rent? | Landlords tend to raise their rent prices once a year |
| Can you increase the rent during the term of the lease, or do you have to wait until the end of the lease? | Landlords who have long-term tenants typically have to wait until the lease expires before increasing the rent unless the lease agreement says otherwise. When it comes to month-to-month lease agreements, landlords have the right to raise their rent at the beginning of each month |
| When should you notify the tentens? | In most states, landlords are obligated to inform tenants about rent increase at least 30 days in advance |
| What is the maximum limit for a rent increase? | Most states don't impose a limit unless the unit is rent-controlled. The rent increase limit for rent-stabilized units is different in every state |
Should You Write a Friendly Rent Increase Letter?
Two main goals of the rent increase letter are:
Informing the tenant about the change in price 

Documenting that change
Writing this type of notice is challenging because you need to compose a letter that's short and formal but also polite and friendly. Tenants certainly won't be happy about the price increase, which is why they should at least feel appreciated. Make sure to show empathy through your letter without making it too long. 
You should start your letter by addressing the tenants by their name instead of writing just "Dear tenant." In the first paragraph, try to let the recipients know that you value them as tenants and explain why you need to increase the price of rent.
The way you end the letter is also important. Common formal closings—such as Yours truly, Kind regards, and similar—can be rather cold and impersonal. Instead of signing off with one of those closings, you should write something like this:
Sincerely

Thank you

All the best
What Info Should Your Notice of Rent Increase Letter Include?
While your letter should be short and straight to the point, you still need to make sure to include all the relevant info, such as:
Tenant's name

Date of writing the letter

Property address

Your name and contact info

Date the price increase will take effect

Current cost of the rent

Future cost of the rent

Your signature
You can even include a form at the bottom of the letter that a tenant can fill out and return. For example, you can include these two options:
I agree with the rent increase

I don't agree with the rent increase and will move out by X date
There are numerous rent increase letter templates online that you can use if you're not sure how to structure your letter.
How To Send the Rent Increase Letter
Once you compose the rent increase letter, you can either hand-deliver it or send it by snail mail. If you choose the second option, you need to know how to address your letter the right way.
In the upper left corner on the front of the envelope, you should write the return address like this:
First line—name

Second line—street address

Third line—city, state, and ZIP code
You should write the tenant's address in the middle of the envelope and place the stamps in the upper right corner. 
Is sending the letter by mail your only option, but you'd like to skip the trip to the post office? DoNotPay has the most convenient solution!
Don't Want To Waste Time Going to the Post Office? DoNotPay Is Here To Help!
DoNotPay's Send Mail feature can help you send your rent increase letter to the tenant without having to leave your home! With us, you can finish the entire process online and let us handle the addressing and mailing.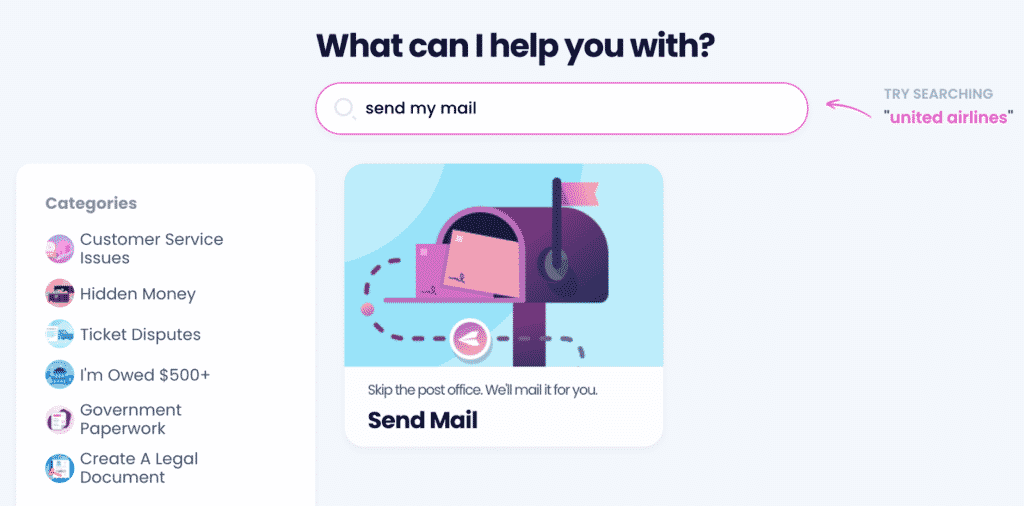 You don't even have to worry about how many stamps to purchase or how much money to bring to pay for mailing services. Your only job is to pay a small monthly fee, upload your letter, and respond to our questions. DoNotPay will handle all other issues on your behalf.  
Send your letter to the tenant hassle-free by following these simple steps:
Open the

Send Mail

product

Type in the tenant's name and address

Upload your letter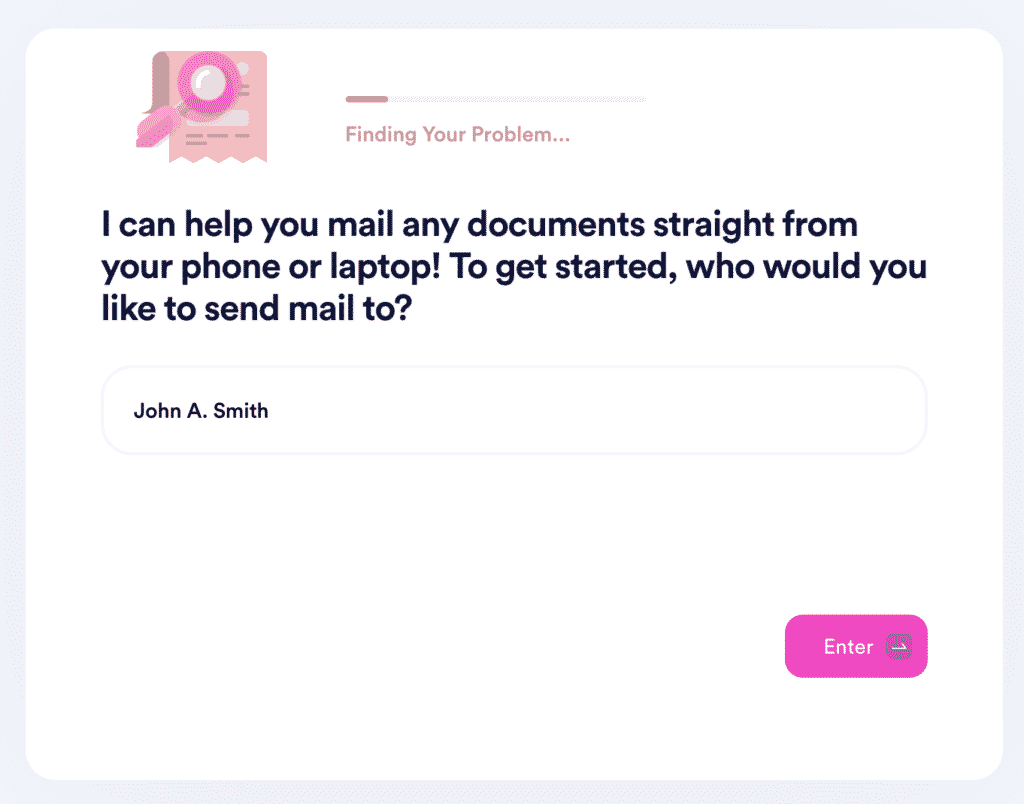 Get Rid of the Paperwork With DoNotPay
DoNotPay can help you send mail faster, but what else can you do with our app?
This digital assistant helps you manage all kinds of bureaucratic issues without ever leaving your couch. 
Our app helps you:
Money-Saving 101 With DoNotPay
Writing legal documents and solving various administrative issues is not the only help DoNotPay provides. 
Our award-winning app is the ultimate money-saving tool! Check out some of DoNotPay's useful tools:
Tool:

Description:

Virtual Credit Card

Sign up for any

free trial

without any risk of being charged when the trial period ends.

Our virtual credit card is not connected to your bank account, which means that there is the company cannot charge you for a full subscription

Connect With an Inmate

Our app helps you locate your friends or family members in prison, but we can do more than that.

You can send and receive letters from your incarcerated loved ones using only your phone or laptop

Chargeback Instantly

Get your money back from any company in a few clicks. Our app helps you bypass the company refusing to issue a refund and requests a chargeback directly from your bank

Missing Money

Do you know that you may have hundreds of dollars in unclaimed money to your name without even knowing it?

There are almost 60 billion dollars in the U.S. that are considered unclaimed, and some of that cash can be yours!

Find and claim your lost property with our app

College Fee Waiver

Get college application fees waived in a few clicks. 

Applying to any school comes with a lot of expenses, and if you're planning to apply for more than one college, the amount can go up to a few hundred dollars. Requesting fee waivers is easy with DoNotPay