How to Get MagicJack Plus Free Trial Without a Credit Card
MagicJack is an Internet-based telephone service provider facilitating low-priced calls in the United States and Canada, founded by Dan Borislow in 2007.  allows you to make local and long-distance calls to the U.S. and Canada using an existing internet connection through your phone or computer.
There are two MagicJack plans that users can subscribe to:
MagicJack Go
MagicJack Plus
MagicJack Plus offers all the MagicJack Go services but with additional features such as:
Caller ID options for both voicemail and international calls
Very low international calling rates
Free voicemail options
Free 411 calling
Free call forwarding and call waiting
No monthly bills
DoNotPay can help you sign up for the free trials with a virtual credit card cancel your subscription, among other services. Read on to understand how MagicJack operates and how to access their services for free.
Does Magicjack Offer a Free Trial?

No, MagicJack offers no official free trials. However, any local, long-distance, and international call to another MagicJack user is absolutely free. You can also access  from third-party retailers. However, you will need to be conversant with these third-party companies to learn about the free trials.
The MagicApp is also available to users free of charge.
How Much Does MagicJack Cost? 
MagicJack doesn't have any monthly subscription fees. Instead, users are supposed to pay annual membership fees to access the services. The total cost of the MagicJack services includes the package fees and the cost of purchasing the MagicJack device. 
The annual fees for the MagicJack plans are as follows:
| | |
| --- | --- |
| MagickJack Go | $35 |
| MagickJack Plus | $49.95 |
You can opt to pay for the MagicJack 5-year plan for $130, giving you a considerable discount. Should you decide to cancel your subscription early, DoNotPay can help you claim a refund.
What Are the Most Popular Alternatives to MagicJack?
Whether you use MagicJack for personal or business use, the platform might not fulfill all your needs. If you are not satisfied with MagicJack services, you can try either of these VoIP providers that offer advanced business phone systems:
OpenPhone
OpenPhone offers better international calling features than MagicJack and Google Voice. Through the free trial given to all new users, you get the chance to gauge the services offered across the different OpenPhone subscription services.
Ooma
The Ooma's Basic Service offers free calls to all U.S. phone numbers and all other Ooma account holders to all its users. The Ooma Premier has additional services such as Google Voice extensions and integration with Nest, among others.
You can enjoy all Ooma premier services before subscribing through their 2-month free trial offered to all new Ooma premier users.
Vonage
Vonage mobile allows free communication between Vonage subscribers without incurring any costs. Through Vonage's basic plan, you can access free calls to the U.S., Canada, and Mexico, and free SMS to the U.S. and Canada. 
You can upgrade your subscription to enjoy additional Auto-attendant, CRM integrations, and call recording services. New Vonage subscribers get to try the premium services through 14-day free trials before upgrading their subscription.
Google Voice
Google Voice is a product within the Google Workspace suite that allows you to choose between its three subscription options:
Google Voice also has a seven-day free trial to test the products before subscribing.
Grasshopper
Grasshopper is a perfect VoIP for small and medium-sized companies. Although lacking in the major modern features businesses need, Grasshopper offers tools such as voicemail transcriptions, call forwarding and extensions to its subscribers.
You can access these features before purchasing the seven-day free trails gifted to all new Grasshopper users.
Skip Automatic Renewal by Using the DoNotPay Virtual Credit Card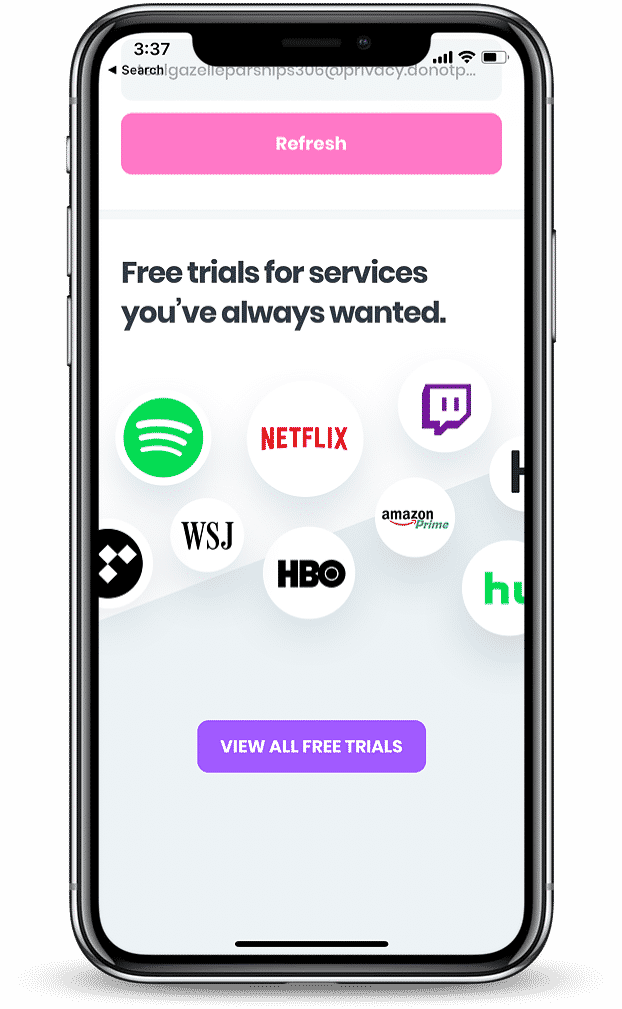 Most platforms that offer free trials require you to leave your billing information before accessing the free trial. Giving your billing information to the company empowers them to initiate automatic billing on your account if you fail to cancel the free trial in time.
To avoid these automatic bills and compromise your billing details, use DoNotPay's virtual credit card. DoNotPay has developed a fantastic tool, a Free Trial card, that allows you to subscribe for a free trial without putting your credit/debit card at risk.
Through our virtual credit card generator, you will get a random number combination that will work in place of your credit/debit card. The credit card is not linked to your bank and will therefore not leave a trace of your banking information on the platform you signed up on.
Sign up on our website to get full access to this great feature and escape future unplanned and automatic bills.
NOTE: The virtual credit card can only work on platforms that do not require pre-authorization.
What Else Can DoNotPay Help Me With?

DoNotPay is an inexhaustible well of resources. Through our platform, you can access , sue someone in a small claims court, notarize your documents, contact government representatives, and more, all in one place.
Our services are fast, efficient, and reliable. We work with government entities and private companies to shorten all your long processes to just a few clicks of the button.
Sign up on our website to enjoy the following services and more through your browser, at the comfort of your home: