Here's how you can efficiently dispute a parking ticket in Long Beach, California

Did you know that just by disputing a parking ticket in Long Beach, you have a chance to have it at least reduced, if not dropped completely? Most parking tickets go undisputed simply because people don't have the time to bother with them. DoNotPay was created to help you deal with a day's work of necessary preparations in two minutes or less.
According to Business Insider, within the first five months of operation, DoNotPay had already appealed $3,000,000 worth of parking tickets, and back then it was only available in London. Now the app will work in any city, including Long Beach, CA.
Watch how to dispute parking citations in any city
How to contest a parking citation in less than 120 seconds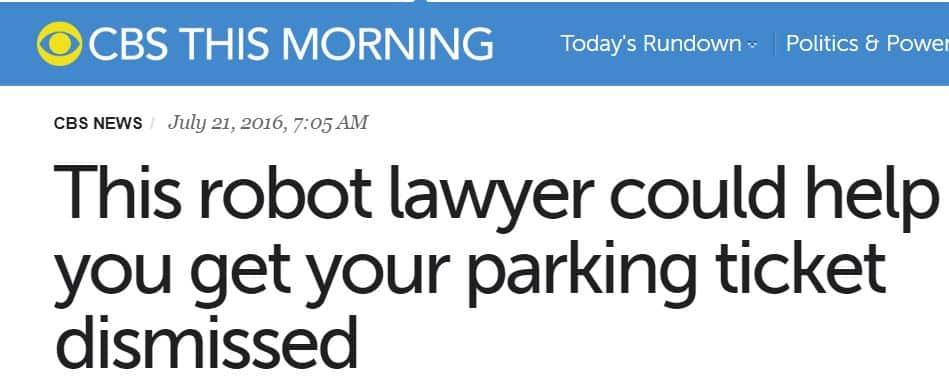 There is an option to dispute the ticket online on the official Long Beach.gov website, however, we found the link crashes more often than not, leaving a blank page, on top of the fact you'll have to do everything manually.
The app only takes a few minutes of using your phone to create a professional ticket dispute. Every time you contest a citation, the chance of the fine being retracted or lowered exists. DoNotPay will make sure you don't waste time preparing anything, and instead do everything for you, here's how it works:
Open DoNotPay in

Take a photo of the ticket and upload it

Answer basic questions about your situation to give the app an overall idea of what to do

The app will generate a written dispute in accordance with Long Beach, CA laws, meaning you don't need to research yourself or worry about the details of your answers
Pay or dispute?
| | | | | |
| --- | --- | --- | --- | --- |
| | Required Time | Possible Outcome | Most convenient method | Drawbacks and cost |
| Pay | Couple of minutes online, more for other methods | You waste money on an easily disputable ticket | Online | Full fine amount |
| Dispute | Less than 2 minutes using DoNotPay on your phone or computer | Chance of fee being lowered or ticket dismissed simply due to contesting | DoNotPay | None |
As you can see, the effort required and possible outcomes are always in favor of disputing, especially if you use DoNotPay.
Can I contest tickets from private parking companies?

Yes, DoNotPay will help you contest ALL tickets, including privately issued ones. Here are just some of the many companies DoNotPay is contesting and beating every day:
Standard Parking (and SP+)

Imperial Parking

Laz Parking

Towne Park

Douglas Parking

Ace Parking

Lanier Parking
Will I need legal representation to fight an infraction?

Technically speaking, you're not required to be represented by a lawyer or law firm to contest parking citations. The whole idea of DoNotPay is to help you do the job a lawyer would by yourself, much faster and completely free.
If you want to go the traditional route, you can scout for a lawyer, schedule a meeting and pay an admission fee, but they may not even want to take the case and could end up costing you more time and money than the tickets worth.
How much would a lawyer charge me for the service?

The average price range of a Traffic Lawyer in California is between $250-300 per hour. Considering you don't actually need one, it might be better to save the money and let DoNotPay do all the work for you.
Will parking infractions increase my insurance?
Getting parking violation fines will NOT directly affect your car's insurance. Car insurance risk is calculated based on your habits and history only while the vehicle is moving. This means parking violations won't count, but things like speeding, DUI, driving unregistered vehicles, etc. will raise your insurance rates. However, not paying parking citations and letting them accumulate over time may result in the suspension of your license, which will affect insurance in the long run.
Do parking tickets go on my driving record?
Getting a parking ticket will NOT directly impact your driving record, only traffic tickets have this effect. However, all of this is assuming that you've taken care of the tickets, not if you let them lie around and collect more debt and fines. Ignore them for too long and you may be surprised if your next car registration or re-registration gets rejected, or in some cases, your current registration suspended by the DMV. Now you're left with an unregistered car and if you try to drive it and get caught, that could cost you a lot more than the ticket ever would. Just remember to always contest your citations with DoNotPay and you'll be fine.
Can I get a fine while I'm in the car?
Yes, if the car is stopped, as long as it's not actively engaged in loading or unloading of passengers and goods, it is considered parked and thus can get fined. Although a parking officer may be kind enough to just tell you to move, every city relies on fines for their annual budget, meaning the likelihood of you getting away with just a friendly warning is low and not worth the risk. If you're going to stop your car, make sure to do it under the correct terms. The ONLY two excuses are the ones we mentioned previously.
I was visiting Long Beach and got an infraction, do I have to pay it since I don't live in the state?
Although what exactly will happen with your ticket will depend on several factors, one thing is for sure, a parking ticket WILL NOT just be forgiven and forgotten, even if you received it outside of your home state. Here's an example discussion on the topic from the advice subreddit. We would never suggest ignoring a parking ticket for these various reasons, however, contesting it with DoNotPay is always a good start to try and get yourself out of paying it, the legal way.
How much does Long Beach make from issuing parking fines?
According to a report by the Press-Telegram in 2015, parking fines are the 6th biggest source of revenue for Long Beach, CA. The city budget plans for 2020 expect to accumulate over $20,000,000 in fines and forfeitures, the majority of which primarily come from parking citations.
If I get a ticket on a rental car, can I just ignore it?
No. Although the parking ticket will not be addressed to your name, car rental companies carefully cover these situations within their policies. Among the paperwork you sign, you can be 100% sure there will be a clause stating that, in the case of receiving a parking ticket, you'll be obligated to cover for them and possibly receive penalty fees. Here's how Enterprise, the biggest car rental company in the U.S., covers these situations. Some of the things that may happen if you ignore the ticket are:
The company charging the debit or credit card used for the car rental without the need for your approval

Adding an administrative fee to the total amount of the ticket

Forwarding the case to debt collectors
How can I pay a parking infraction in Long Beach?
Online

Follow this link

, read the instructions and click "Pay Online"

By Mail

Send a check for the amount to

Parking Citations, PO Box 22766,

Long Beach,

CA 90801

In-Person

At Long Beach City Hall, Parking Citations Section, 411 W. Ocean Blvd., Lobby Level

Long Beach, CA 90802
DoNotPay helps users fight and beat tickets in any city
DoNotPay helps users fight parking tickets in every city in the US and UK. Here are a few cities we've helped users dispute the most tickets in:
Fighting Administration Is Easier With DoNotPay
Bureaucracy is a disease of the modern world, and we finally have a cure. Thanks to artificial intelligence, DoNotPay knows how to handle numerous rules and regulations and make your life so much easier.
Our bots ask you a few questions, gather the necessary info, and off they go! Filing warranty and insurance claims, requesting property tax reductions, getting access to public records, or claiming unclaimed funds under your name—you can deal with these bothersome tasks from the comfort of your home and within minutes!
If you need to get in touch with customer service representatives to ask for refunds or contact airline companies regarding compensation, our platform will make the process painless and care-free.
Don't hesitate to put our app into service if you need to contest parking tickets or avoid long lines at your local DMV!
How Else Can We Help?
Not only does DoNotPay handle bureaucracy, but it also saves you money in the process. Whether you're looking for the best learning materials for government tests or planning to comb through and cancel streaming subscriptions you don't use, DoNotPay can give a helping hand.
Our platform grows every day and comes with user-friendly features that will help you manage unpaid bills, stop copyright violation, or solve problems with credit cards faster than ever!