How to contest annoying parking tickets at Kansas University
Generally, college students already have their hands full and pockets empty, making parking tickets all the more infuriating. Joshua Browder was one of those students. Frustrated with the (seemingly intentional) difficulty of handling small legal cases, such as fighting unwarranted parking tickets, he founded DoNotPay. The app offers everyone around the U.S. a way to beat infractions in less than two minutes for FREE. According to a report by Wired, within the first few months of its existence, the app successfully overturned $5,000,000 worth of citations, while operating in just three cities. 
Watch how to dispute parking citations in any city
Here's how you can effectively contest a KU parking citation within minutes

To avoid doing the necessary preparations yourself, you can use DoNotPay to create a professional dispute in less time than it took you to read your ticket. Here's how it works:
Open the DoNotPay

web app

in your browser

Upload a clear photo of your ticket to DoNotPay

Our AI lawyer chatbot will guide you through the process with simple to answer questions

Your dispute will be automatically generated, you don't have to spend time researching or writing anything
Note that the university traffic court only allows the contesting of citations in an online form. On rare occasions, when the representatives feel they need a better understanding of the situation, they will summon you to attend a court hearing. KU also offers a one-time exclusive Ticket Forgiveness Quiz, where answering 24 questions correctly leads to a ticket being dropped.
I'm a student with not a lot of free time, is contesting a ticket even worth it?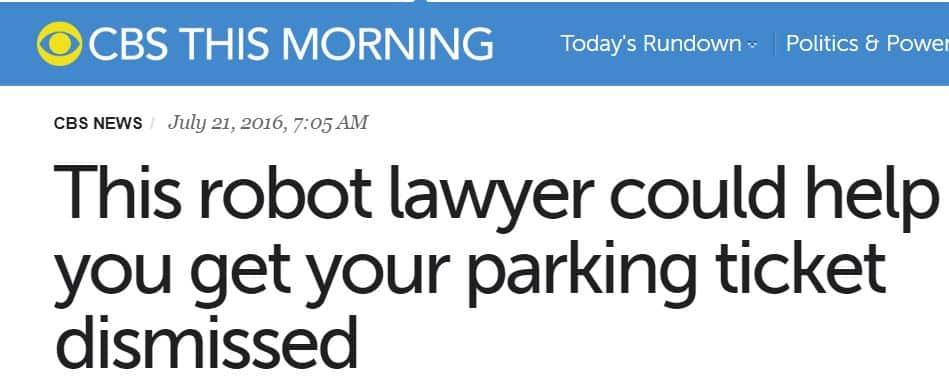 Contesting a parking ticket is always worth it, especially when done with DoNotPay. Dozens of easily refutable parking tickets are issued each day because the intentionally exhausting appeal process makes people just pay and forget about them. Our app's results have proven that, just by challenging an infraction, people gain a significant chance of the fine being either reduced or completely dropped.
How much time will I save if I use DoNotPay to create a dispute?

DoNotPay took a once complicated process and cut it down to just a few minutes on your phone or computer. Kansas University parking tickets must be contested within 14 days of issuing to be considered for appeal. Who has the luxury to waste up to an entire day on creating an appeal within two weeks' time window? 
As mentioned in the "To File an Appeal" section, your form must include evidence to support your claim and a detailed explanation of the situation, to even be considered. Instead of wasting your time gathering everything in one place, researching KU legislation and worrying about the structure of your letter, you can let DoNotPay do all the preparation for you. Then all you need to do is submit your appeal, and wait for a response.
Can DoNotPay file disputes against private parking companies?

Absolutely, we help people in all states across the country battle all forms of parking tickets. We're beating tickets from the following parking companies all the time:
Douglas Parking

Ace Parking

Lanier Parking

Standard Parking (and SP+)

Towne Park

Laz Parking

Imperial Parking (Impark)

Lanier Parking

ABM Parking Services
How much of Kansas University revenue is gained through parking tickets?

According to the official budget report by the city of Lawrence, where KU is located, a total of $759,755 was collected through parking fines, forfeitures, and penalties in 2017. To contest a Kansas University parking ticket, you must first pay it in full, and only then you can submit an appeal. If you win, the money will be refunded to you. After you're given a response, an additional $10 fee must be paid to complete the process. If you do not pay that fee within two weeks, another $10 will be added. This means that, even if the ticket is successfully disputed and dropped, KU parking still makes some money from the situation. That sounds very predatory if you ask us.
Pay vs Dispute overview
| | | | | |
| --- | --- | --- | --- | --- |
| | Cost | Best Method | Potential Outcome | Time required |
| Pay | The full ticket amount, with the possibility of other fees | Online | Paying an invalid ticket | A few minutes online, other methods are slower |
| Dispute | Completely free if done through DoNotPay | DoNotPay | Getting your ticket dropped or reduced | Two minutes on through the app |
What can happen if I don't pay for my ticket?

If you think you can get out of paying a ticket by avoiding it, you're in for a handful of possible surprises. Don't ignore your obligations, always opt for disputing with DoNotPay as your first method of defense, especially if you feel that you've been wrongfully judged. Unpaid parking citations can lead to events such as:
Additional debt and fines being added over time

Your vehicle being towed or booted

Collection agencies bothering you

Suspension of your current registration

Rejection of new registrations or re-registrations

If unpaid too long, it can end up as a debt on your credit score
Do I need a lawyer to contest my parking citation?

Since the creation of DoNotPay, hiring a traffic lawyer to fight your parking infraction has become obsolete. The world's first AI lawyer knows everything about Kansas legislation, necessary to create a viable dispute. You don't need to go through the entire process of finding a competent lawyer in your area at a reasonable price, meet up with them, and go through the case. DoNotPay will do the exact same job quicker, on the spot, and for free.
How much would a lawyer in the KU area cost?

According to ZipRecruiter, an average hourly rate for a Lawrence, KA lawyer is $46. Although most attorneys will do a free consultation and offer to contest your ticket for a fixed rate, there's no reason to pay additional fees for something you can do for free with DoNotPay.
How do I pay for my KU parking ticket?
If you've already disputed your infraction with DoNotPay and still got a negative result, the only thing left to do is pay it. The university offers three methods to do so:
Make the payment

online

Pay via mail - send to KU Parking, 1501 Irving Hill Road, Lawrence, KS, 66045

Pay in person - at the KU parking office (same as mailing address), working hours Mon. - Thur. 7:30 am to 5 pm and Fri 7:30 am to 4:30 pm
Here are some important things to note:
When making the payment, always include (send) a copy of your ticket or violation statement

KU will accept American Express, MasterCard, Discover, and Visa cards

When paying in person, apart from cards, you can use cash, checks or cashier's checks

Payment through the mail should not contain cash, but rather a check or money order payable to KU Transportation Services.

When paying with cash, only up to $1 can be paid in coin
DoNotPay helps users fight and beat tickets in any city
DoNotPay helps users fight parking tickets in every city in the US and UK. Here are a few cities we've helped users dispute the most tickets in:
Forget About Bureaucracy With DoNotPay
There's no end to what our robot lawyer can help you do. From asking for bill extensions and reducing property taxes to connecting with an inmate in a federal prison and contesting parking citations, DoNotPay can handle it all and cut through the red tape.
Need to pass a government test? Use our practice tests database to nail it. Looking to file an insurance claim? You've come to the right place. College applications drained your accounts? Request college fee waivers with our assistance.
The DoNotPay app is so versatile that it can easily locate any unclaimed funds under your name or any clinical trials that you're eligible to participate in. We can also schedule DMV appointments and take care of your small claims court documents.
Check Out What Else DoNotPay Has in Store
DoNotPay never stops upping the game. You can explore some of our latest features and see how you can access public records, receive free online fax, submit a warranty claim, or get compensation if you were a victim of a crime.
Alternatively, check out some of our most popular products that aim to reclaim your funds—from getting airline flight compensation and submitting refund and chargeback claims to canceling your unused subscriptions and getting class action cash from email, text, and robocall scammers.