Challenge Kensington PCN in Less Than Two Minutes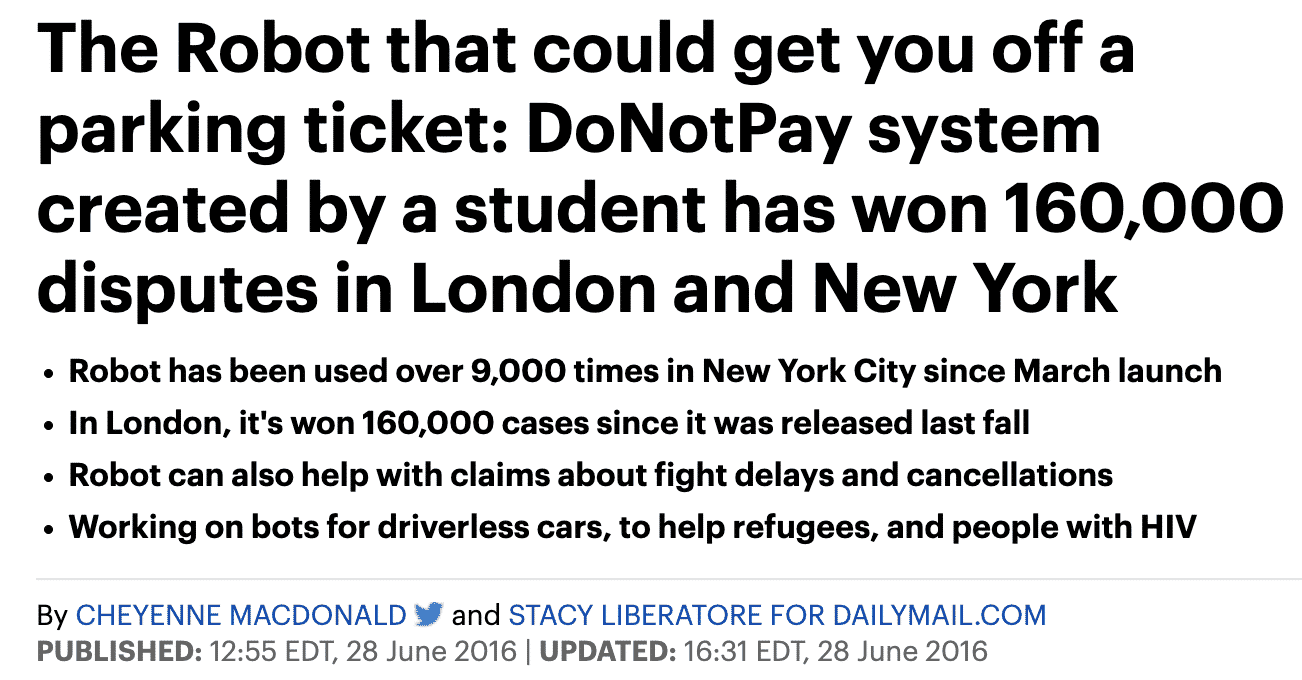 UK councils pocket millions of pounds every year in tickets, with reports suggesting that they issue more than 22,000 tickets daily. This shocking amount has made it possible for local authorities to mint money from unsuspecting car owners in the name of tickets and parking fines.
Luckily, DoNotPay can help you avoid falling prey to this scenario. With the Parking Ticket feature, you can now fight tickets, including you received unfairly. Save money and precious time in the process.
Receiving a Penalty Charge Notice in Kensington

Much like any other council, the Royal Borough of Kensington and Chelsea can also issue parking tickets. These fines are referred to as parking charge notices, although PCNs can also be given for driving offences caught on camera, including turning right where there isn't a sign.
You will receive a if you have been in contravention of a parking or traffic restriction. The PCN may be served directly to the driver by hand or post notifying you of the infringement.
The three types of PCNs include:
Parking PCN
Bus lane PCN
Moving traffic PCN
Once you receive a PCN, always go through it first to determine if the council was within their rights to issue the ticket or not. If the ticket was rightly issued, you could pay the fine. The council allows a 14-day period for citizens to pay their fine and get a 50% discount. If you feel the ticket was a mistake, you can appeal it to the relevant authorities.
How to Pay a Parking Fine in Kensington?
A Kensington PCN ranges from £80 to £130. These are the standard rates for London boroughs, but as mentioned above, if you pay the charge within 14 days from issuance, you can get a 50% discount meaning the fine would cost between £40 to £65.
You can pay your parking fine in Kensington in one of two ways:
| | |
| --- | --- |
| By phone | Call 020 7361 4380 to make your payment using a debit or credit card. |
| Online | You can also visit the city council's online portal to settle the payment. |
Always ensure your payment is correct and exact as the city council won't refund any overpayments.
How to Challenge a Parking Fine?
Although some people prefer to pay the parking fine to get done with it, it's always advisable to dispute it, especially if it was issued by mistake or unfairly. A Kensington PCN can hurt your credit score, and paying it is an admission of guilt even when you didn't make a mistake.
Therefore, contesting the fine helps your credit score and saves you money. Once you've determined that the council acted in bad faith when issuing your ticket, it's time to proceed with your dispute.
The following are the steps to take to appeal the ticket on your own:
Collect any necessary evidence, including shopping receipts if you parked at a supermarket car park, a valid pay and display ticket, or a doctor's note if medical issues caused the delay.
Make an informal appeal within 28 days from the date of ticket issuance.
A formal representation usually follows an informal appeal if you fail to pay the amount within the timeframe. A formal representation is made once the council sends you a Notice to the Owner.
If you're not satisfied with the appeal, you can make another appeal to an independent review to get an unbiased review. If the independent tribunal upholds the decision, then you will be required to pay the amount.
Contest Penalty Charge Notice in Less Than 2 Minutes
You don't have to pay for a Kensington PCN that was unfairly issued to you. You can contest the penalty charge notice with DoNotPay.
Mail Online raved about how DoNotPay won over 160,000 disputes in London and New York. The AI-powered lawyer is proven to be fast and reliable in providing solutions.
Here's all you need to do:
Log in to DoNotPay and go to the Ticket Disputes category. Select the Parking Ticket product.

Upload a photo of your citation.

Provide us with some details on why you believe the citation issued is a mistake.

That's it! You'll receive an appeal letter that contains the best argument to win your case.
It's worthy to note that we don't mail the letter to the UK. However, we make it easy for you to draft an effective letter of appeal and send your dispute on its way.
DoNotPay Works Across the Board
DoNotPay is hellbent on helping our clients fight Kensington PCN. We can handle tickets from various cities in the UK such as:
We are also successful in disputing traffic tickets in the US:
What Else Can DoNotPay Do?
DoNotPay began as a service to help clients fight parking tickets. However, we have grown to cover various services that enable our clients to battle bureaucratic hurdles over the years. Some of our services include helping our users:
Sign up today and join the thousands of users hacking their way through life.