Get a JibJab Free Trial Securely With a Virtual Credit Card

Did you know that nearly 50% of Americans are subscribed to a service? The general notion is that subscribing to a service helps you save money in the long run. However, a study shows that Americans generally waste more than $300 on services they don't use. One of those services is JibJab. JibJab is an excellent app for creating and sharing videos. But what if you want to enjoy its services without paying? DoNotPay can help you get a  and not get charged.
Does JibJab Offer a Free Trial?
No, JibJab doesn't offer a , but it does have a free account for its members with limited access to the service.
How Can I Get a JibJab Free Trial?
To join JibJab as a free member, you need to create a free account:
Visit the JibJab official website.
Click the 'Sign-Up' button at the top right corner of your screen.
You will receive a prompt asking you to create an account. Enter your details, including your name, email address, and a strong password.
Select 'Sign Up with Email.' You can also choose to create your account with Facebook.
Click the site logo on the next page at the top left corner to return to the homepage.
And that's it. You now have access to a JibJab free account with limited access. As a free account holder with JibJab, you can create a limited number of Ecards, which you can find by searching the keyword 'Free' on the site. You can also make and share all the GIFs in the mobile app.
Does the JibJab Free Trial Automatically Renew into A Paid Subscription?
When creating your free account with JibJab, you won't need to submit any of your credit card information. This means that you won't have to worry about the free account automatically renewing into a paid subscription.
Avoid Automatic Renewal With DoNotPay Virtual Credit Card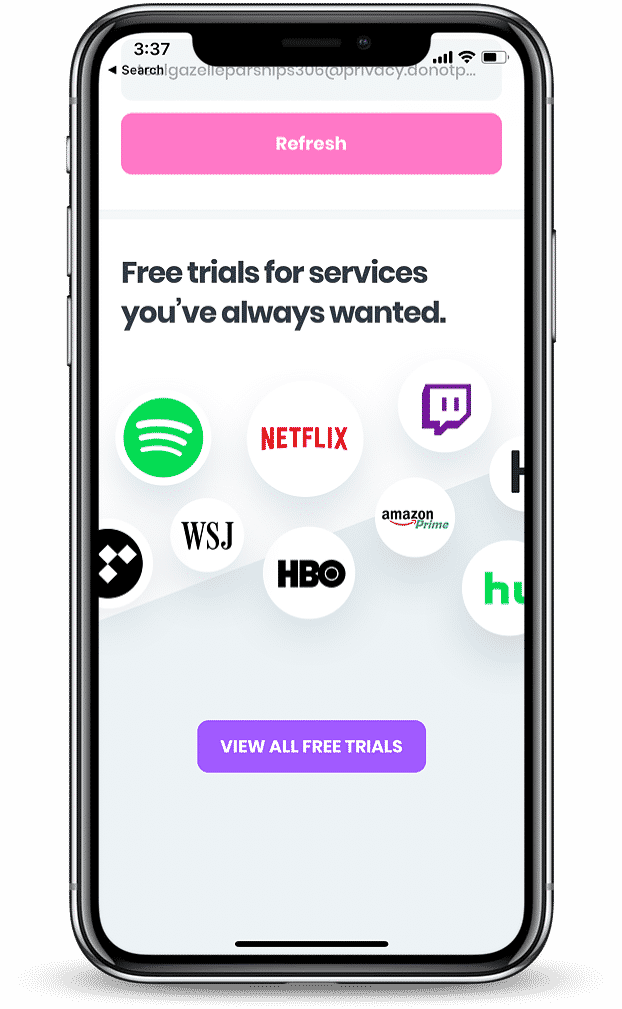 While signing up for free trials might be fun, it can have consequences if you forget to cancel the free trials within the set days. Before signing up for a free trial, you must submit your credit card details. Once your free trial is over, the service can automatically subscribe you to their programs.
This isn't an issue if it's a service you've always wanted. But if it's one that you frankly can do without, it might drain your finances and ruin your budget. Luckily, DoNotPay has virtual credit cards, which you can use to get free trials without necessarily offering up your bank information.
If you sign up for a virtual credit card, DoNotPay will generate a dummy credit card with fake details, including the CVV number, credit card number, and account information.
Here's how it works:
Search Free Trial Card on DoNotPay and enter the company you want a free trial for.
We'll automatically generate a virtual credit card that you can use for that merchant. Copy the card details shown on your screen.
Use the card to sign up for your free trial and sit back to relax and enjoy.
The credit cards come in handy if you always forget about your subscriptions. This is because they don't have any money in them. Therefore, once your trial period expires, the company won't be able to automatically subscribe you to their service as you don't have any funds on the card.
The best part about virtual credit cards is that they get deactivated immediately you use them and are safe since you don't have to give out your banking information.
How Much Does JibJab Cost After the Trial?
If you'd like to access more JibJab services that aren't available in the free membership, you can upgrade to a premium membership for only $24 per year. This translates to $2 per month billed at once.
You can purchase the premium membership on the web and the service's iOS app. Android users are unfortunately out of luck as yearly memberships aren't available in the app. Android and Apple mobile users, however, can access the company's services for $2.99 every month.
What Will JibJab's Charges Look Like on My Statement?
| | | |
| --- | --- | --- |
| CHKCARDJIBJAB.COM | CHECKCARD JJB*JIBJAB.COM US 888.9591297 | CHKCARDJIB*JIBJAB MEDIA INC 323-4006307 ca |
| CHECKCARD JIBJAB.COM | CHECKCARD PAYPAL *JIBJAB.COM 8889591297 | CHECKCARD JJB JIBJAB MEDIA INC |
| CHECKCARD JIB*JIBJAB MEDIA INC 323-4006307 ca | CHECKCARD JJB*JIBJAB | CHECKCARD jib*JibJab media ink 323-4006307 ca |
What Are the Most Popular Alternatives to JibJab?
Service              
Cost
Benefits
Elf Yourself
$4.99

Mode Videos
Download the videos to your phone

Gotfreecards
Free

Send or receive all the animated ecards on the site for free

Blue Mountain
Monthly $6.99

1 Year $29.99

2 years $39.99

Get a gift card when you send an ecard via email
Schedule when to send cards unlimited access
What Else Can DoNotPay Do?

DoNotPay can also help you cancel your JibJab membership and get a Hulu free trial without being charged. Our services cut across the board, and with the click of a button, we can help you: