How to Get Instaflex Free Trial Securely With a Virtual Credit Card

Are you searching for a way to get fast joint pain relief? Instaflex is a joint supplement claiming to quickly relieve joint discomfort, improve flexibility, and increase mobility. If you struggle with joint pain, you may be skeptical of jumping on the Instaflex craze without trying it first. Luckily, there is an  for you to try a sample before purchasing a full month's supply. However, giving out your credit card info for a free trial can be nerve-racking, especially as the number and frequency of data breaches increase.
For those nervous about freely providing their personal credit card information online, DoNotPay can help. DoNotPay offers virtual credit cards, so you can safely sign up for a free Instaflex sample or free trials from any service. With a free virtual credit card, you can keep your personal info secure and enjoy free trials without the fear of getting charged automatically.
What is the Instaflex Free Trial? 
Instaflex offers a  sample of their powerful, doctor-formulated joint supplement. The Instaflex website states that Instaflex Advanced is equipped with key ingredients that provide customers relief in as few as 7 days. While it is advertised as a free sample, you must pay for shipping and handling and any required taxes. 
When claiming the Instaflex Advanced free trial, you will receive:
14-day supply of Instaflex
A free gift of Instaflex Pain Relief Cream (current gift offer, may vary)
How to Request an Instaflex Free Trial on Your Own 
Ready to see how fast Instaflex can help your joints? Follow the steps below to claim a free sample of Instaflex to try it out before you commit to a recurring monthly supply.
Visit www.instaflex.com
Click on the "Claim My Sample Now" button at the top of the webpage.
Provide your name, contact information, and shipping address.
Input your credit card information to pay the shipping cost and, if applicable, taxes.
Agree to Subscription Terms and complete your order.
Receive your 14-day Instaflex Advanced sample.
If you do not cancel Instaflex within 18 days, you will be charged the monthly cost to receive a 30-day supply of the popular joint supplement.
Does the Instaflex Advanced Free Sample Automatically Renew Into a Paid Subscription?
Yes, when claiming your free trial of Instaflex Advanced, you must agree to their "Subscription Terms."  provides a free 14-day sample of Instaflex, but you also must sign up for their popular subscription program. Once you sign up, you'll receive automatic 30-day shipments of Instaflex each month. You can cancel within 18 days of your Instaflex free trial request to prevent unwanted automatic payments. 
What Does the Instaflex Subscription Cost? 
If you forget to cancel your Instaflex subscription after getting the free sample, or you choose to continue receiving joint relief support, your credit card will be charged $69.99 and $4.99 for shipping each month. 
How to Cancel My Instaflex Subscription 
Instaflex allows you to cancel your subscription hassle-free at any time. There are two ways to cancel your Instaflex subscription after getting your free sample or if you no longer wish to receive the supplement each month.
| | |
| --- | --- |
| Email | support@instaflex.com |
| Contact Number | 1-800-436-0920 |
If you have trouble canceling your Instaflex subscription on your own or do not have the time to contact customer support, contact DoNotPay to contact the company on your behalf and get your subscription canceled quickly and easily.
Use DoNotPay's Virtual Credit Card to Avoid Automatic Payments After Your Instaflex Free Trial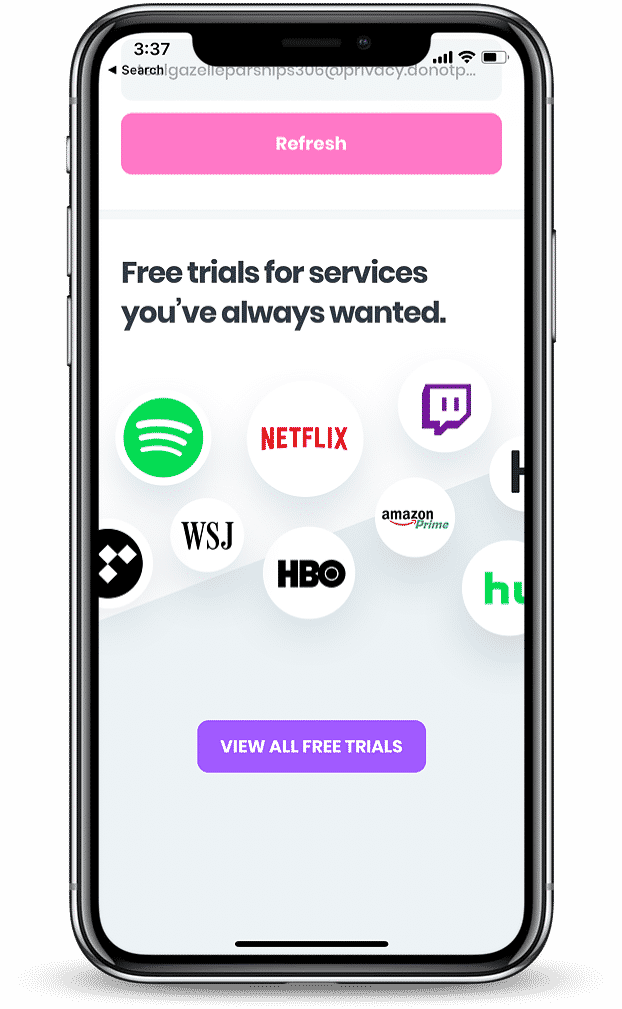 While Instaflex allows 18 days to cancel your subscription if you forget to cancel within that time, the unwanted monthly charge after your free trial could greatly affect your budget. Instaflex does also allow a 30-day return policy for unused purchased bottles, but contacting the company to request a refund and shipping back the product can be time-consuming and frustrating. Since companies usually use free trials to attract new customers, they do not always make it easy to cancel. Therefore, the best option for avoiding the unwanted charge altogether is using a Virtual Credit Card. 
DoNotPay's Virtual Credit Card service allows you to sign up for the free Instaflex sample without worrying about getting charged after the trial ends. Using a virtual credit card to sign up for free trials allows you to bypass authentication with the one-time-use card number. After the number is used for starting the free trial, the card is deactivated and not usable again. Therefore, when a company tries to automatically charge the card to renew the subscription after the trial, it does not go through, resulting in you being unsubscribed (even if you forget to cancel).
Search free trial card on DoNotPay and enter the company you want a free trial for.
We'll automatically generate a virtual credit card that you can use for that merchant. Copy the card details shown on your screen.
Use the card to sign up for your free trial and sit back to relax and enjoy!
While you can get a  with DoNotPay's virtual credit cards, it also works with any free trial offers. Contact us to take control of your personal credit card info and stop unwanted payments when trying out services.
Other Ways DoNotPay Can Help You Save Money

Ensuring you don't get charged for enjoying free trials is just one of the many ways DoNotPay can help you save.