How to Get Affordable Dental Care
While most Americans can afford basic dental work like cleaning and fillings, many are unable to meet the high costs of dental procedures as they become more complex. Root canals, implants, bridges, and TMJs can cost thousands of dollars even if you have insurance cover.
However, there are many affordable dental clinics across the US, including medical insurance programs and local health departments. With the right guidance, you can easily find affordable clinics near you and get the most out of them. In this guide, we'll discuss what affordable dental care entails and how you can find cheap dental care clinics near you. 
Affordable Dental Care for Low-Income Individuals
It's difficult to manage dental and orthodontic costs, especially if you don't have insurance. The average cost of dental implants is $3000-$4500, tooth extraction is $200 to $4000, dentures are $600 to $4000, root canal is $300 to $2000, and dental veneers are $925 to $2000 per tooth, etc.
However, with research, it's possible to get low-cost or even free dental care. Several types of clinics offer low-cost services compared to other clinics, and you might as well take advantage of these institutions to get affordable, professional dental care.
Common places to get low-cost dental care include dental schools, free, non-profit, donated clinics, and government coverage.
Dental Schools

Approach nearby dental schools and inquire if they accept patients. They may take you through a screening process to see if you're eligible before matching you with a student who needs training. You'll receive quality dental care as a certified dentist or an inspector will be present during the entire process.

Free Clinics 

There are thousands of community clinics nationwide that offer low-cost dental care. Free dental care is often provided by charities, professional dental organizations, and faith-based groups. However, the number of people on their waitlist can be long, while others only serve the elderly and people with disabilities.

Federal Government Programs

The federal government also provides three solutions that cover people with different needs: Medicaid, Medicare, and Children's Health Insurance Program. (CHIP)

Medicaid only provides limited dental cover, but Medicare can provide free or low-cost dental care for eligible people. It provides care for the elderly and people with disabilities and without medical cover. 

Non-Profit Clinics

Some clinics are staffed with volunteer dentists and specialists to help people with low incomes without insurance acquire dental care. They work on a first-come, first-serve basis and charge for services rendered based on your ability to pay.

Premium Plans

Some dental clinics offer dental premiums to cover a percentage of your dental services. They may cover diagnostic and preventive care, including x-rays, exams, and cleaning. If you want implants, root canals, and other expensive services, you may pay less than half when you have a premium cover.
Who Qualifies for Affordable Dental Care?
Most clinics offer free and low-cost dental services to people with low income and without insurance. However, some clinics may go further by requiring patients to be over 65 or to have disabilities or chronic illnesses. CHIP, a federal government program, requires patients to be under 19 years of age and to be without medical insurance.
Get Affordable Dental Care With the Help of DoNotPay
Sometimes it can be difficult to find the right dental clinics that provide the services you want. If you're struggling to find a clinic that can provide other services except for check-ups, cleaning, and pulling, then you might need the help of DoNotPay.
Here's how you can use DoNotPay to find free dental clinics:
1. Go to the DoNotPay website and search "dentist" on DoNotPay products.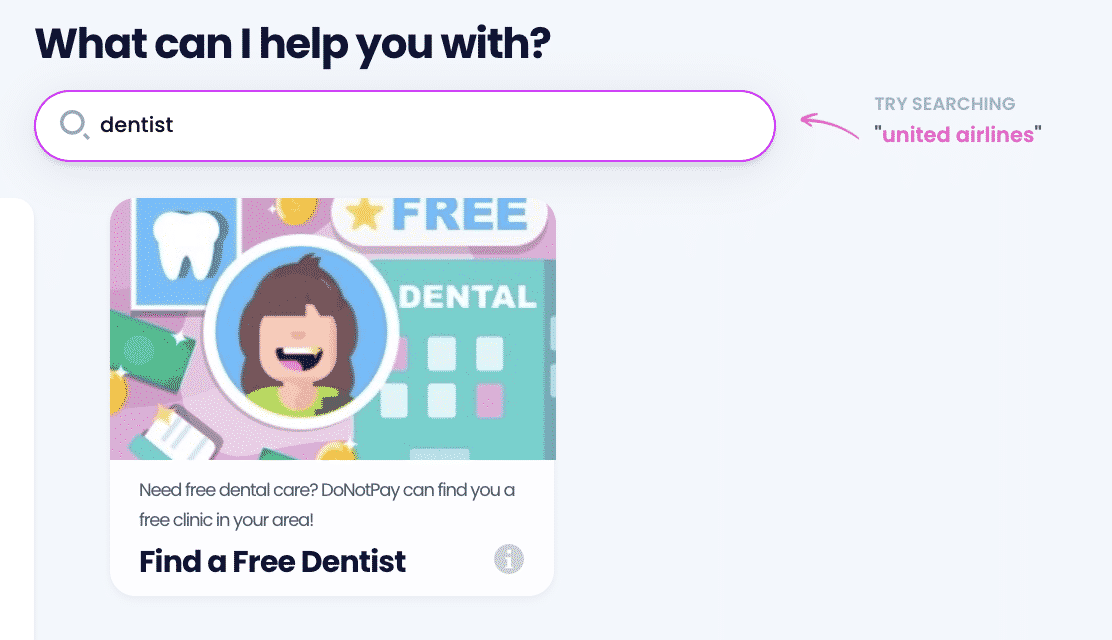 2. Enter your current address, so we can find the clinic nearest to you.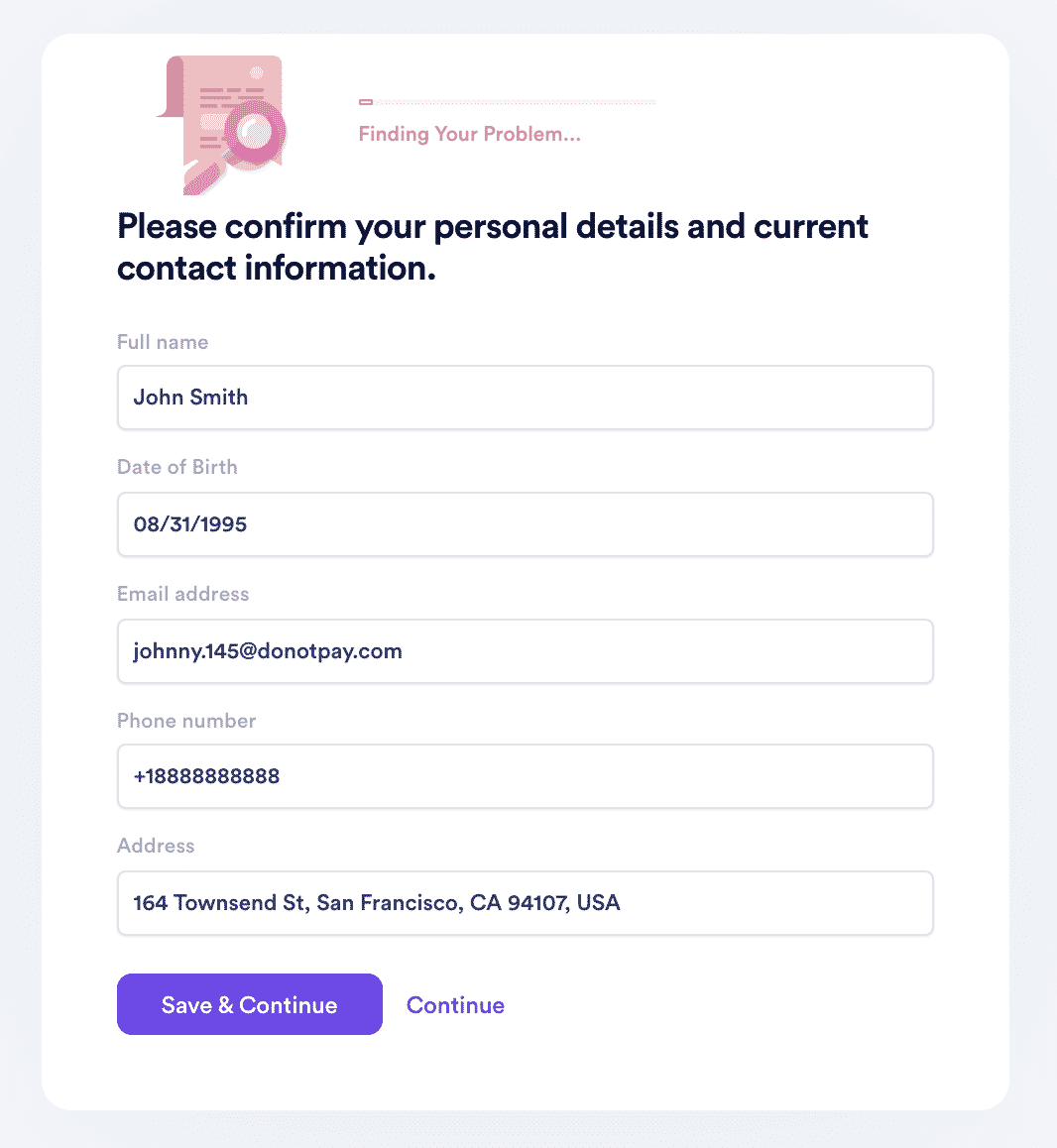 3. Next, choose if you would like to ask a question about your eligibility, receive a quote for a specific procedure, or set up an appointment.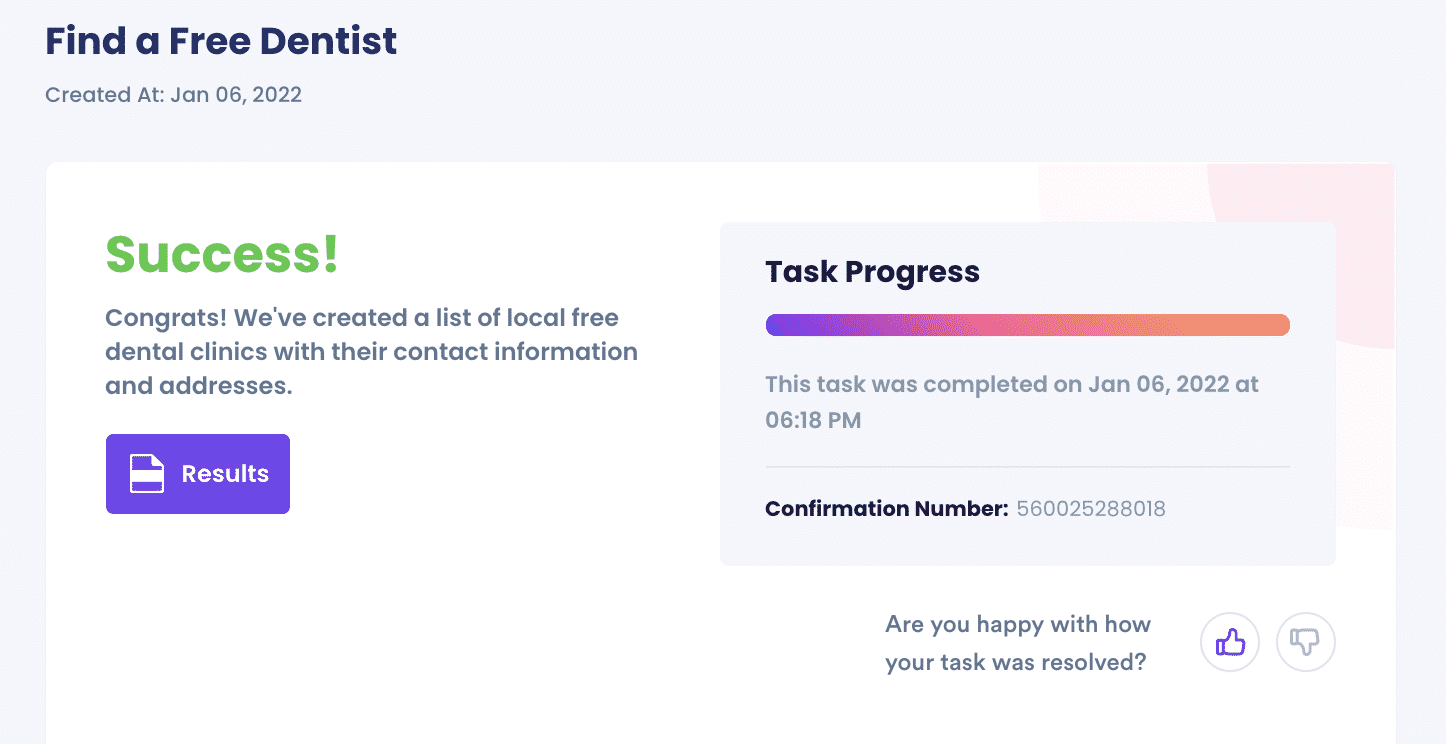 And that's it! DoNotPay will contact the clinic on your behalf and get back to you with the information you requested.
Why Use DoNotPay to Get Affordable Dental Care?
DoNotPay is a versatile product that's designed to help you solve most issues in your life. We have a track record of satisfied customers who find our services:
Fast—You don't have to spend hours trying to search for the nearest dental clinics that offer the services you want.
Easy—You don't have to struggle to fill out tedious forms or take thousands of dental exams to see if you're eligible for free or low-cost dental care.
Successful—You can rest assured knowing we'll find the most suitable clinics for you and recommend them to you, saving you time and energy.
DoNotPay Works Across All Companies With the Click of a Button
If you feel that you want to find the best dental clinics that offer premium cover, DoNotPay can help you find the services you need.
We can help you find:
What Else Can DoNotPay Do?
Helping you find an affordable dentist near you isn't the only thing DoNotPay can do. DoNotPay is a legal resource that you can use to fight legal issues, find solutions to basic problems, or file complaints against someone.
Some top resources you might be interested in are:
Affordable Dental Care — Frequently Asked Questions
At what age can you get free dental treatment?
States are required to provide dental benefits to children (18 and younger) covered by Medicaid and the CHIP (Children's Health Insurance Program). Dental treatment services include:
Pain and infection relief
Restoration of teeth
Dental health maintenance
How can I fix my teeth for cheap?
You can look for community dental clinics that offer cheap dental services. Alternatively, you can use DoNotPay to find a free/cheap dental clinic in your area.
Where can I find affordable dental care without insurance?
Dental schools and community health centers are typically good for finding cheap dental care, even without insurance. Otherwise, you can try using DoNotPay to find a cheap or free dental clinic in your area!