Concert Ticket Scams: How to Tell If Ticketmaster Concert Tickets Are Fake
Aventus did a survey involving 1000 Americans. 12% of them had ever been victims of fake ticket scams. Most scams occur online as it is easier to scam a person online than in person.
Ticket scams come in many shapes and forms. You may buy a ticket online through Craigslist, SeatGeek, or EventBrite only to never receive it. You may receive the ticket, but it ends up being a counterfeit. You may purchase a ticket from Ticketmaster only to discover that the same ticket was resold to many other people. Or, you may get a real ticket, but when you use it, you find out that it had been canceled for one reason or another. These variants make the an uphill task. But that's why we're here, to show you how to identify fakes and show you the way forward.
How to Spot Fake Ticketmaster Tickets
Thanks to quality printers becoming a dime a dozen, fake tickets are becoming more sophisticated by the day. Consequently, it is now harder to separate the wheat from the chaff. Fortunately, more often than not, scammers will miss out on details found on the authentic tickets.
Here are some features that can help you tell if your ticket is fake:
Look at the spelling of each word. Real tickets never have spelling mistakes.
Real tickets have a valid website link related to the event. In fake tickets, these links may have errors or characters that are prohibited in link addresses.
Look at the dates on your ticket. Ticketmaster avoids commas when writing their dates.
Genuine Ticketmaster tickets are printed on both the front and back. Fake tickets may only be printed on one side.
The quality of paper in real and fake tickets vary. The former uses high-quality paper.
Once you receive your e-ticket, contact the venue to confirm the validity of your e-ticket number.
Is Ticketmaster a Scam?
Ticketmaster is a global ticket marketplace. It sold 480 million tickets to its customers who span 28 countries. Ticketmaster is not a scam, but some third-party sellers on the platform are. For this reason, Ticketmaster advises customers to only buy verified tickets directly from them or their parent company, Live Nation.
But why are ticket scams so common? CNBC reports that bot behavior enables ticket scams. Bots buy out tickets. Scalpers then resell them at unscrupulously high prices. As a fan who so longingly wanted to attend the concert, you will have no option but to buy the ticket from auxiliary resellers. A good number of these resellers are scammers.
How to Contact Ticketmaster if You Have Been Scammed
If you have fallen victim to a phony website posing as Ticketmaster you can contact:
| | |
| --- | --- |
| To Check on Your Order | https://my.ticketmaster.com/orders/ |
| Email | spoof@ticketmaster.com |
| Support Website | https://help.ticketmaster.com/s/article/How-do-I-contact-Customer-Service?language=en_US |
If your concern pertains to your order on their website, log in to your account, select the order, and indicate that you need help with that order. Provide them with your number as well.
What to Do If You Have Been Scammed
As much as it would be easier to suck it up and continue with life like nothing happened, you would just be allowing the scammers to thrive. You deserve to get your money back, and the scammers should get their just deserts. Though we cannot guarantee that this will happen, the following measures are worth taking.
Request your bank for a chargeback. If you used your debit or credit card to pay, your bank might be able to retrieve your money.
Did you pay in cash via the U.S. mail service? If yes, phone 877-876-2455 and request the U.S. Postal Inspection Service to intercept your package.
For this to work, you will need to contact them asap before the recipient gets their hands on the package.
Report the scam to relevant authorities like the police and the FTC. For the latter, you can file your report online or call the number (877) 382-4357.
Seek the help and expertise of DoNotPay.
Scammed on Ticketmaster? How DoNotPay Helps.
The world's first robot lawyer can also sort out your ticket scam matters. Furthermore, it does that in three easy steps:
1. Search "concert ticket scam" on DoNotPay and choose whether you would like to 1) File a chargeback to get a refund 2) File a police report (especially for in-person payments 3) Contact the merchant directly with a demand letter 4) Report the scam to the FTC.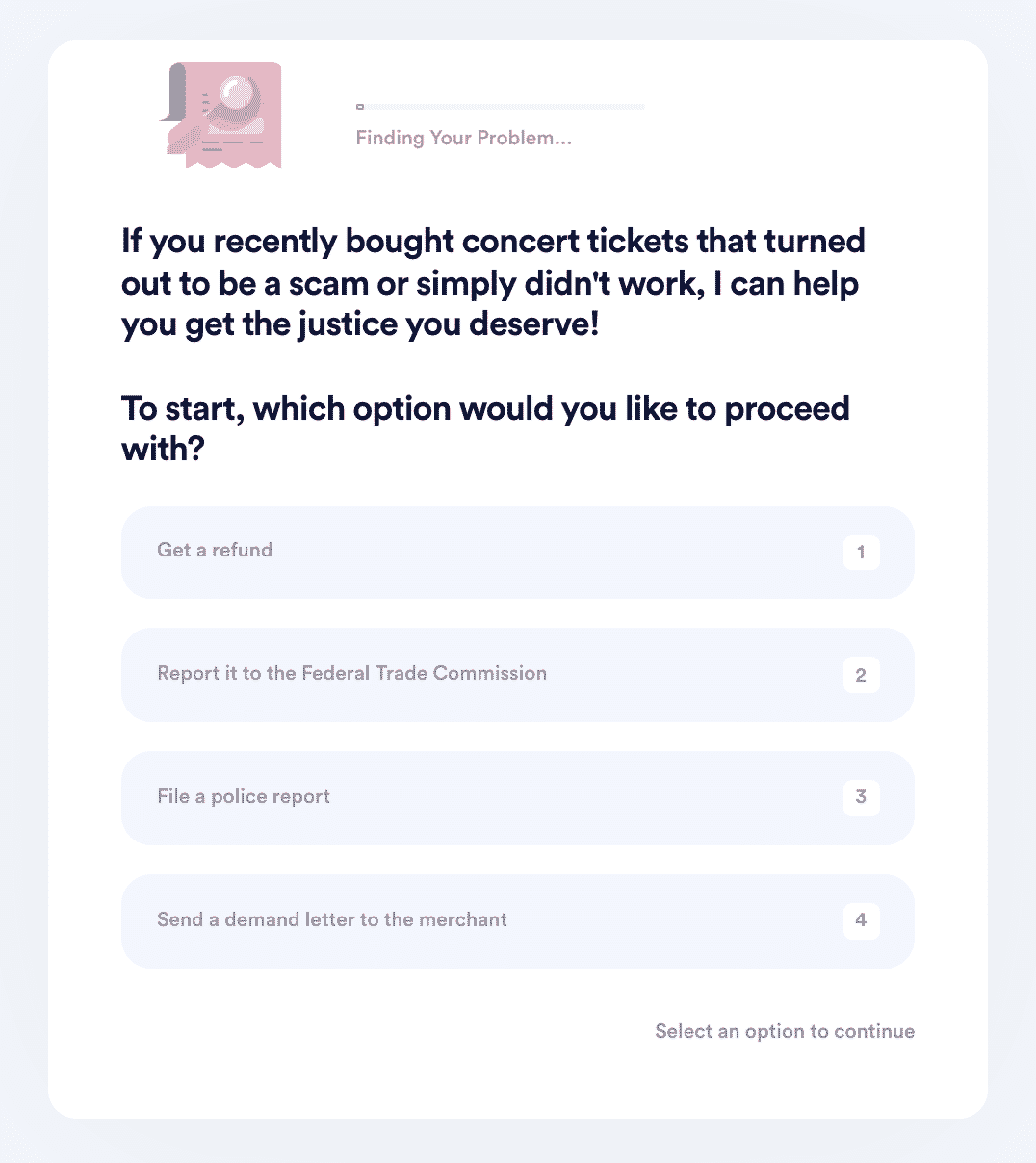 2. Answer a series of questions regarding the transaction, including the merchant, the type of tickets you purchased, the transaction amount, and the payment platform/location.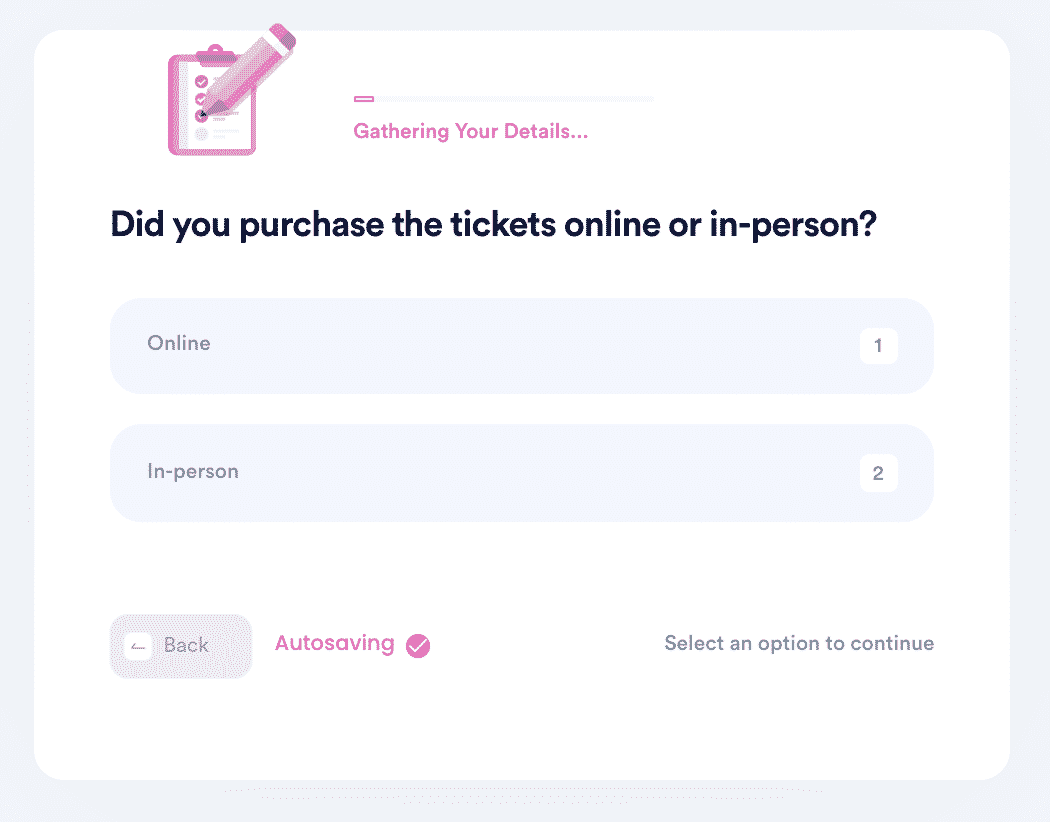 3. Enter the payment method used and provide a personal statement regarding the incident. Upload any evidence you have and provide your e-signature.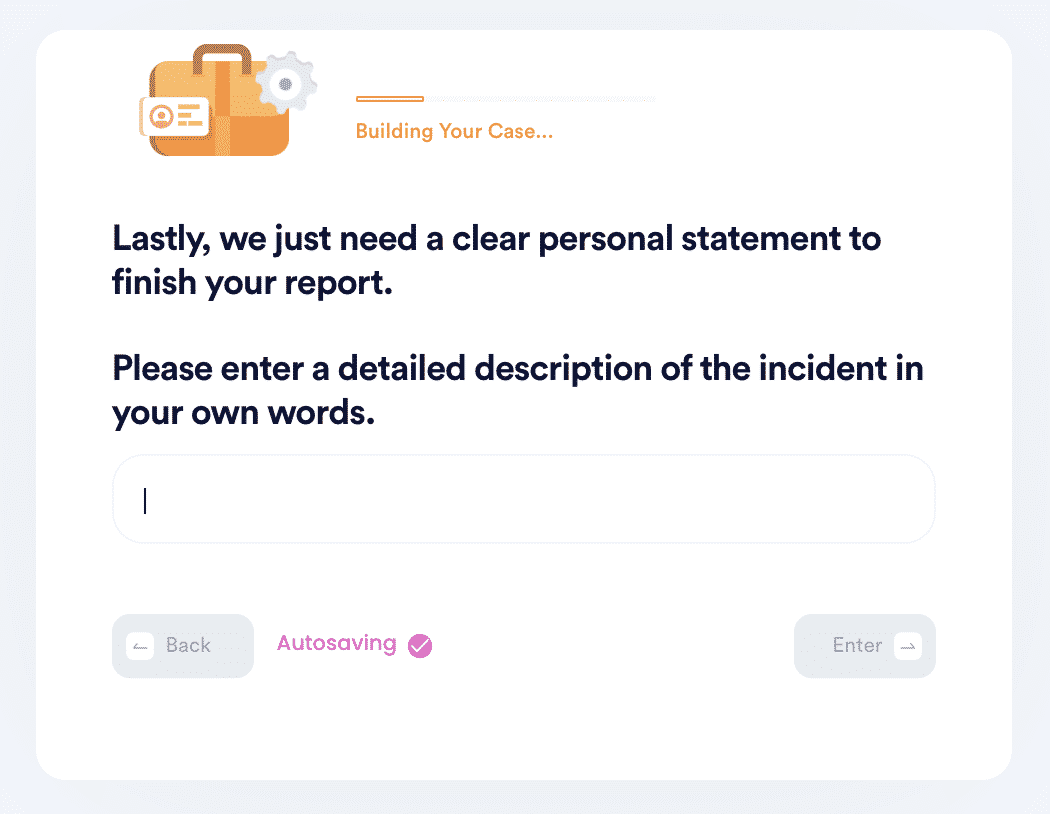 The Pros of Using DoNotPay to Solve Your Ticketmaster Ticket Scam Issues
DoNotPay is fast. When it comes to reporting the scam or getting back your money, time is of the essence. DoNotPay comes in handy as it does this in minutes.
Using DoNotPay is as easy as three steps. Once you fill in all the requisite details, your work is done. Now it's our turn.
At DoNotPay, we put our money where our mouth is. We shall follow the route you want us to take to the very end.
What Else Can DoNotPay Do?
There's way more than are fake that DoNotPay can help you with.