Overnight Mail Cost Explained—How Much Does It Cost To Overnight a Letter?
If you need to mail a letter, document, or package urgently, overnight mail is one of the best solutions to do so. Are you wondering how much overnight mail costs? Our guide is here to provide an in-depth guide to understanding priority express mail prices.
and find answers to all of your mail-related questions. We will help you learn how to start and end a letter and provide a solution to mailing a letter without going to the post office!
How Much Does It Cost To Send a Letter Overnight?
The cost of mailing a letter overnight depends on multiple factors, including:
The shipping carrier you choose—The most popular carriers in the U.S. are:

The U.S. Postal Service (USPS)

Package dimensions

Package weight

Shipping distance
UPS, USPS, and FedEx charge different prices for their overnight shipping services, but they also offer different benefits. Our guide will explain in detail what each of these carriers offers to help you make an informed decision.
UPS Overnight Letter Cost
UPS offers three overnight shipping options:
| | |
| --- | --- |
| Overnight Shipping Services | Delivery Time |
| UPS Next Day Air Early | 8 a.m.–9.30 a.m. |
| UPS Next Day Air | 10.30 a.m.–12 p.m. |
| UPS Next Day Air Saver | 3 p.m.–4.30 p.m. |
The price will depend on the service you choose. The UPS Next Day Air Early service is the most expensive one. You can check out an estimated price for your letter by using the UPS calculator.
USPS Express Mail Cost
USPS offers overnight to two-day shipping through their Priority Mail Express service. Other than fast shipping 24 hours a day, 365 days a year, this service also includes:
Free package pickup

USPS tracking

Up to $100 insurance in case your letter or package gets lost or damaged

Proof of delivery signature record
The weight of the item can't exceed 70 lbs. The combined girth and length can't be more than 108 inches. You can also purchase a Priority Mail Express Flat Rate Envelope and pay the same price no matter the weight of the package. The prices for overnight shipping start from $26.35.
FedEx Overnight Letter Cost
FedEx also offers three overnight delivery services:
Early morning

—guarantees delivery the next business day between 8 a.m. and 9.30 a.m. to most locations

Mid-morning

—your letter will be delivered the next business day between 10.30 a.m. and 12 p.m. (or 4 p.m. in some rural areas)

Afternoon

—the recipient will get the letter the next business day between 4.30 p.m. and 8 p.m.
You can use FedEx overnight shipping for packages that aren't heavier than 150 lbs or longer than 119 inches. Use the FedEx calculator to check how much you need to pay for their overnight service.
Why Do People Pay for Overnight Shipping Instead of Sending an Email?
Writing an email or a text message is free and more convenient than relying on postal mail, but—in some cases—sending physical mail can be the only option. For example, LA Fitness allows its users to cancel memberships only by sending their cancellation forms by mail. Some people choose to pay extra for the overnight shipping, while some don't mind the longer shipping period.
Americans also consider snail mail to be a safer option for sending important documents, such as:
Legal documents

Business contracts

Court papers

Resignations

Cover letters

Recommendation letters

Application and cancellation forms

Private letters
Some people prefer sending physical letters because it's more personal.
Is Snail Mail Convenient?
Even though the majority of people still rely heavily on snail mail, the process of sending something via mail is far from simple. First, you have to purchase an envelope that's the right size, and then you need to worry about:
Once your letter is ready, you need to lose time going to the post office and potentially spending hours waiting in lines.
DoNotPay—The Most Convenient Way To Mail Letters
DoNotPay wants to make everyday challenges easier to overcome. We've created the Send Mail feature to help you send physical letters without having to think about stamps, envelopes, and trips to the post office.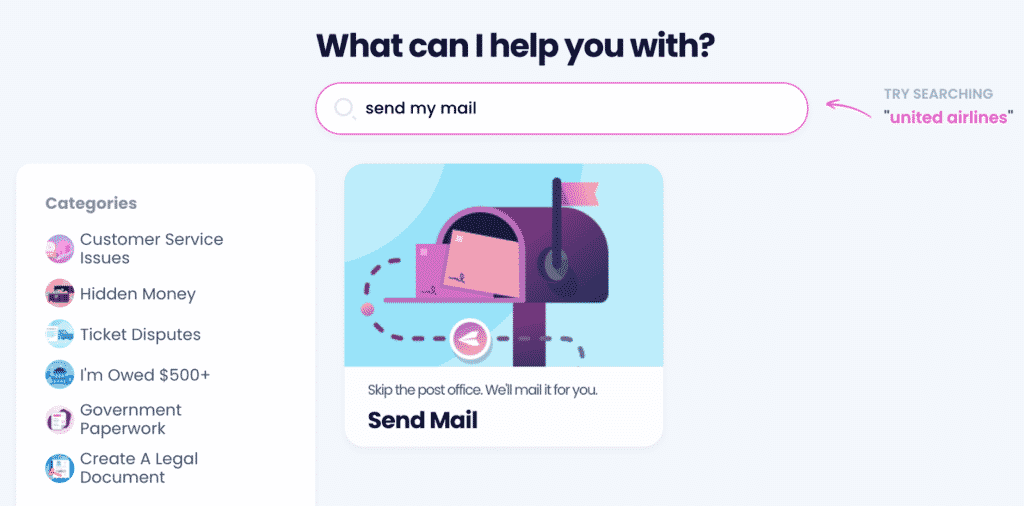 To mail your letters from the comfort of your home, follow these steps:
Pick our

Send Mail

product

Answer our questions

Upload your document
We will print your letter, address it, and take care of everything else right away.
Need Help Formatting Your Letters? Check Out Our Guide!
While informal letters don't have to follow any specific structure, formatting a business letter can be tricky. Here are some pointers that can make your formal letter easier to write:
Include your personal info—such as your name, address, city, ZIP code, phone number, and email address—at the beginning of the letter

Write the date

Add the recipient's info, including his or her name, title, company, address, city, and ZIP code

Start your letter with a formal greeting. These are some appropriate greetings you can use:

Dear Sir or Madam

To Whom It Might Concern

Dear Mr./Ms. + last name

Dear Hiring Manager

Tell the reader why you're writing the letter in the introductory paragraph

Provide more details in the following paragraphs. Keep your sentences clear and short

Conclude the letter by thanking the recipient and indicate that you're expecting the answer

Sign off the letter with a formal closing, such as:

Regards

Yours sincerely

Kind regards

Respectfully

Sign the letter (include a typed and handwritten signature)
Save Some Coins With DoNotPay
Are various subscriptions and memberships burning a hole in your pocket? DoNotPay can help you cancel all of your memberships in a matter of minutes without having to contact customer service reps.
Next time you want to register for a free trial, prevent unexpected costs with our virtual credit card. Once the trial is over, you'll be unsubscribed right away because our virtual credit card doesn't contain any money. We will also generate a random email address you can use if you want to protect your privacy and avoid spam marketing emails.
Do you need help claiming warranties and insurance policies? DoNotPay can help with that too.
Should you need assistance requesting refunds for purchased products, canceled flights, or late deliveries, we've got your back!
Avoid wasting money on lawyers—DoNotPay is here to help you sue anyone in small claims court and create numerous legal documents in the blink of an eye!
DoNotPay Can Help You Earn Money Too
DoNotPay users can save hundreds of dollars thanks to our app, but did you know that we can help you earn a few bucks as well? Our app enables you to claim missing money under your name or file your application for paid clinical trials in less than five minutes.
You can even get compensation for reporting robocalls or apply for a crime victims compensation program in your state by signing up for our app and following a few simple steps.