How to Dispute Your Hackney PCN in Just Two Minutes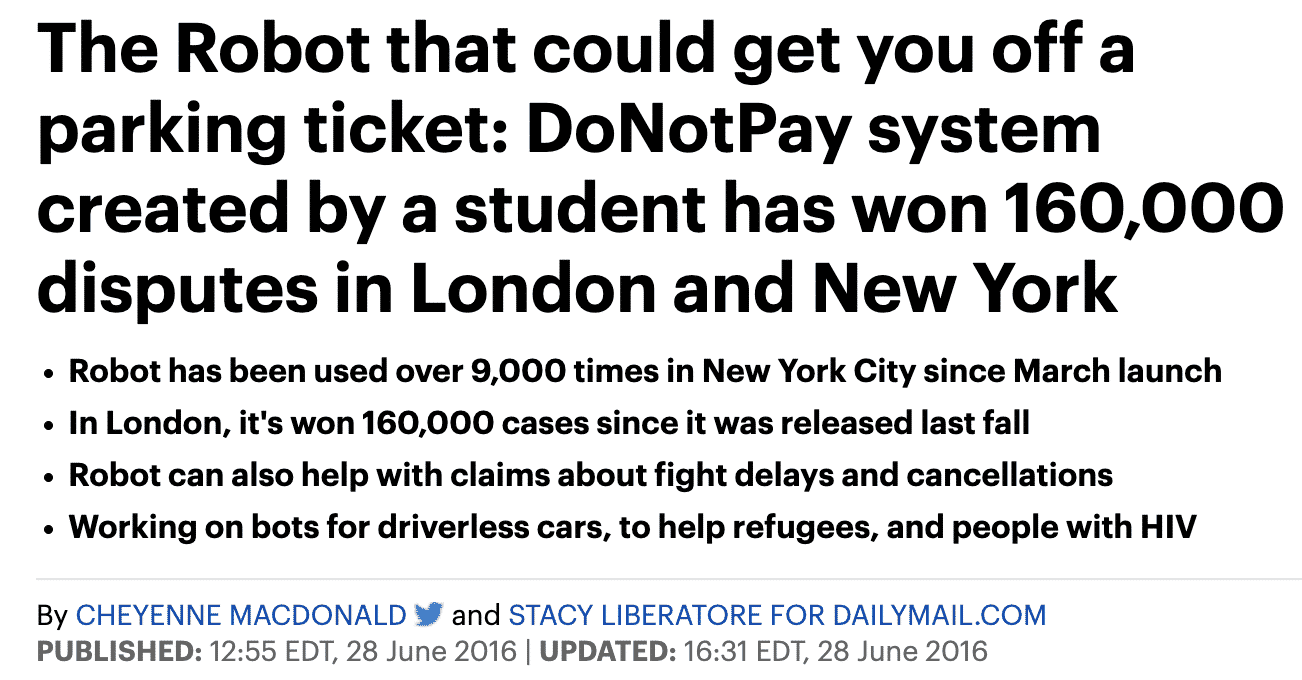 A parking charge is acquired when you have been accused of a parking violation. For a , you can receive different types of charges depending on whether your vehicle has caused an obstruction or has simply been parked longer than permitted in a specific area. If you feel that you haven't committed the stated violation, you can make an appeal.
The process to appeal your parking fine will vary from city to city. No matter where you received a parking fine, DoNotPay can help you take the next steps in appealing the decision. DoNotPay can help with parking tickets issued in places such as:
How to Pay a Parking Fine in Hackney

If you received a , you would need to follow these steps in order to pay your fine.
Visit the Hackney Council Website - In order to start the process of paying your parking fine, you will want to first visit the council website.
Navigate to the Payment Portal - The Hackney Council provides the ability for parking fines to be paid online through the payment portal. You may also be able to pay the fine through alternative methods.
Pay Within the Time Frame for Savings - In some cases, you can reduce the amount that you have to pay for your parking offence. Typical costs for PCNs in Hackney are either £80 or £130, depending on the type of PCN you receive. If you pay the penalty within 14 or 21 days (depending on what's listed on the ticket), you will be able to reduce your fine by 50%.
How Can I Challenge a Parking Fine?
If you want to dispute a Hackney PCN you have received, you can go online to the council website and go to the Dispute Your Penalty Charge page. The council does not accept disputes by phone or email.
You can use the website to submit a dispute, and evidence and check to make sure your dispute has been received. The website also provides any evidence that led to issuing the PCN, such as photos, videos, or detailed reports.
If you are unsure that you qualify to file a dispute, the website has a FAQ that will help you determine your ability to file an appeal to your ticket.
Reasons for Disputing a Parking Fine
You should not have to pay a parking fine that you think was issued to you in error. There are many successfully with you having to pay the charge. Some of these reasons may include:
The vehicle not belonging to you or that you weren't driving it at the time of the offence
Missing or confusing road signs
Missing or confusing road markings
Your vehicle was stolen at the time of the offence
What Happens if You Don't Pay a Fine in Hackney?
Like many other councils in the UK, if you choose to not pay your fine or forget to pay it, you may be subject to additional costs. Hackney provides the ability to reduce the cost of the ticket if you pay within either 14 or 21 days, depending on the ticket type. After that, you will have to pay the full cost of the fine.
After 28 days, you may be subject to additional charges being added to your fine. If you continue to ignore the situation, you could pay much more, or you may have to face the council in court. If it gets to the point where an enforcement agent must get involved, you will not only have to pay serious fines, but you may also be subject to goods being removed from your property to pay the fine.
Get Help Appealing Parking Fines With DoNotPay
Parking fines shouldn't have to haunt you or your driving record. If you are faced with a parking fine and don't know what steps to take next, DoNotPay can help you get started with the appeals process. Wired raved about how this robo-lawyer has successfully overturned parking fines.
DoNotPay can help you fight your parking ticket as you do the steps below:
Log-in to DoNotPay and go to the Ticket Disputes category. Select the Parking Ticket product.

Upload a photo of your citation.

Provide us with some details on why you believe the citation issued is a mistake.

That's it! You'll receive an appeal letter that contains the best argument to win your case.
It's really that simple! You can use the carefully crafted appeal letter to serve as your argument when you challenge your ticket.
How Else Can DoNotPay Help?
There are many ways that DoNotPay can help you take care of your most common tasks. Some of the tasks that DoNotPay can help with include:
These are just a few examples of what DoNotPay can help with when you need to get things done. Sign up today and discover this gem of a robot lawyer by yourself.