How to Get a GoDaddy Free Trial Without Giving Your Credit Card Info

If you are starting your own business, or you want to reach more customers with your existing business, you may want to check out the  to build your website.  But before you hop on the free website building bandwagon, there are some things you need to know.
Many companies offer free trials with the expectation that you will become a paying customer once the trial period ends.  Some require credit card information up front, in order for you to get a peek into their product or service.  They count on you forgetting to cancel your trial subscription, so they begin charging your card, with perhaps a product or service you do not want.  DoNotPay can help with our virtual credit card.  We make it easy for you to sign up for a free trial and never worry about getting charged!
How Can I Get a Free Website Builder Trial From GoDaddy?
GoDaddy is one of the best known names for creating and maintaining websites.  To assure that you find their website easy to use, they offer a free trial that allows you to create a website in less than an hour.  And you can do it all for free!  However, after the 30 trial period is over, you must pay for one of their four plans that range anywhere from $5 to $25 per month.
Choose to build a blog, an informational website, or even a simple online store for free.  They focus on helping beginners get a website set up, and their instructions are easy to follow.  This is how you start your free website builder on GoDaddy:
Go to the GoDaddy webpage.
Click on the "Start for Free" button that you find under the Studio section.
You will need to create an account unless you already have one.
You will be asked what your account is about and what to call it.
Click on the "Get Started" button, and you are all set to start designing your website.
You will be able to choose from stock templates or design your own. Keep in mind, you will not be able to use the website after your thirty days free trial without choosing a plan and giving your credit card information.  Free sites do not allow a custom domain as well.
What Are GoDaddy's Plans, and What Do They Cost?
Like many web-building and software companies, GoDaddy offers plans to fit the simplest to the more complex needs of its customers.  They offer four paid plans, as the options increase, so does the price.
They do offer a free option, but it must use the godaddysites.com domain, and an ad will be displayed at the top of all pages. Features are limited.
 

Basic plan

 

$10 per month

The basic plan allows use of your own domain name and removes the GoDaddy ads. A small number of social media posts and email marketing sends are included.
      Standard plan
     $15 per month
Includes some advanced SEO features, 500 emails and 20 social media posts.
 

Premium plan

      $20 per month
Includes 25000 emails and unlimited social media posts, options for online appointments and accepting payments.
 

Ecommerce plan

 

      $25 per month

Includes payment processing and abandoned cart recovery
DoNotPay Can Help You Avoid Charges When Free Trials Expire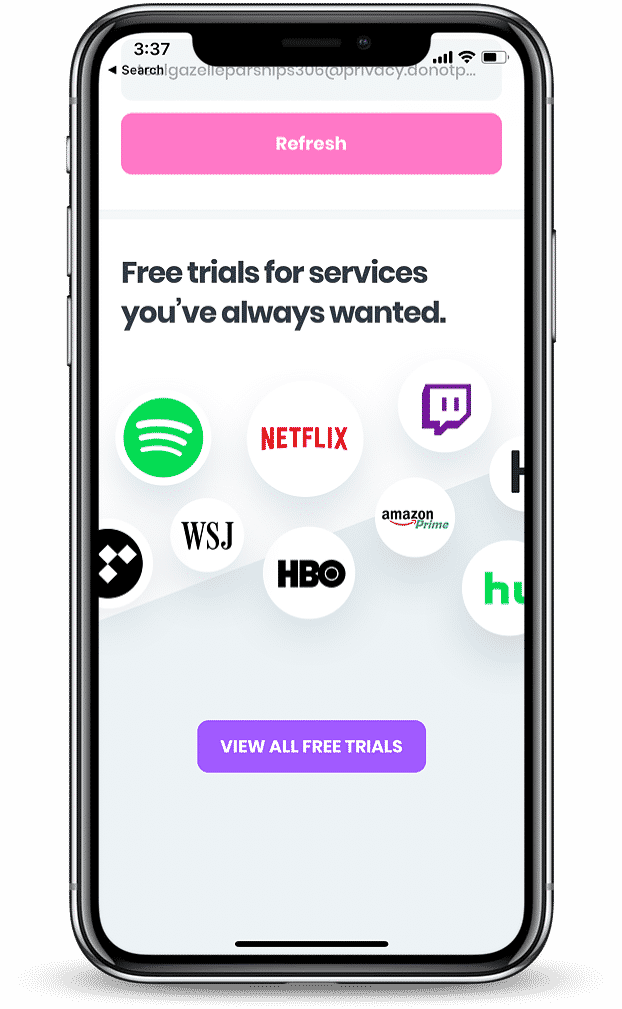 Though GoDaddy does not require credit card information before signing up for a  many companies do.  Subscription services, software free trials, and many others require you to give up your credit or debit card information before having access to the free trial.  Companies do this, banking on the fact that we are all busy and tend to forget to cancel.  They charge your card automatically, getting you to pay for a product or service that you do not want.
DoNotPay has designed a virtual credit card to avoid those charges.  If you have to add credit card info to take advantage of a free trial, here is all you need to do:
Search DoNotPay for a Free Trial Card.  Enter the company you are getting the free trial for.
DoNotPay will automatically generate a number and credit card information and show it on your screen.
Use the number to procure the free trial and sit back and enjoy!
DoNotPay generates the numbers for verification purposes.  No charges or purchases can be made on the card.  The card will be deactivated after one use.  Want additional free trials?  DoNotPay can generate additional virtual credit cards so you can keep your personal information safe and never get charged!
Can DoNotPay Help Me Get a Refund From GoDaddy?
You bet! DoNotPay can help get you:
And if you are getting your inbox filled up with GoDaddy spam, we can help with that too! We make it quick and easy and work hard to get you the best outcome for your case.
What Else Can DoNotPay Do for Me?

DoNotPay can help with just about any of the problems you face every day!  Not just with virtual credit cards, but in many other ways as well.  Here are just a few of the things we can help with:
Let DoNotPay help you solve your problems and live your best life!