Can a FOIA Request Be Denied? We Have the Scoop!
The Freedom of Information Act of 1966 was established to make sure federal documents are available to the public. If you wish to access such documents, you'll need to send a FOIA request. What happens after you file your request? Can a FOIA request be denied? DoNotPay answers these questions and shows you how to submit a fail-safe FOIA request.
Why Do
FOIA Requests
Get
Denied
?
The agency you send a FOIA request to has the right to deny your request.
This may happen if one or more of the nine FOIA exemptions apply to the records you wish to access. You may also be denied access to records if the agency determines that no documents are compatible with your request.
Your request may be denied either partially or fully. With partial rejection, you will get a document not containing information exempted from disclosure. In cases like this, the agency will withhold info, which constitutes a denial under the FOIA.
Sometimes, you can get the complete records and not be satisfied with the results because they don't contain all the info you expected to see.
What Are the FOIA Exemptions?
You can avoid getting a rejected FOIA request if you are careful what information you are looking for. This means you should not ask to see any records that are a part of the nine exemptions of FOIA. Here is a brief overview:
Exemption
The Info It Contains

Exemption 1

Classified information dealing with national security

Exemption 2

Internal rules of an agency

Exemption 3

Forbidden records because of other federal laws

Exemption 4

Confidential info regarding commercial and trade secrets

Exemption 5

Confidential information between agencies that are connected with legal privileges:

Attorney-Client Privilege

Deliberative Process Privilege

Attorney-Work Product Privilege

Exemption 6

Personal documentation that threatens to invade a person's privacy (medical records, for example)

Exemption 7

Law enforcement records

Exemption 8

Financial institution info and bank supervision

Exemption 9

Geological and geophysical information
If you follow these rules and your request still gets denied, you'll need to take some action.
What Should You Do if Your
FOIA Request
Gets
Denied
?
If you experience any problems with your request, you have the right to file an administrative appeal. You should first get in touch with the FOIA professional dealing with the request or the agency's FOIA Public Liaison. This may result in you resolving the issues without the need to file an appeal.
If that is not the case, you can file an appeal with a simple procedure. Follow these steps:
Compose a formal letter

State that you are appealing the decision made on your request

Include the info about your request

Add your contact information

Send the letter to the agency's designated appeal authority via mail or email
You don't have to pay a fee for filing an appeal. After the appellate reviews your case, they will inform you of the final decision. If you are still not satisfied with the results, you may ask for judicial review.
Make Sure You Send a Proper FOIA Request With DoNotPay
The best way to get access to the info you want without any obstacles is to draft a high-quality request. How you decide to do so is crucial. With DoNotPay, you can be sure everything is done according to law.
Proceed as follows:
Access DoNotPay from a

Find and open the

FOIA

feature

Tell us if you're dealing with a federal or state agency

Type in the name of the agency you want to send a request to

Inform us if you wish to ask for a fee waiver or

expedited processing
DoNotPay will send the request letter to the agency of your choice immediately.
We also have the answers to all the questions you may have about requesting to see information about yourself. If you need assistance with finding a FOIA template, you can also count on DoNotPay to guide you through the process.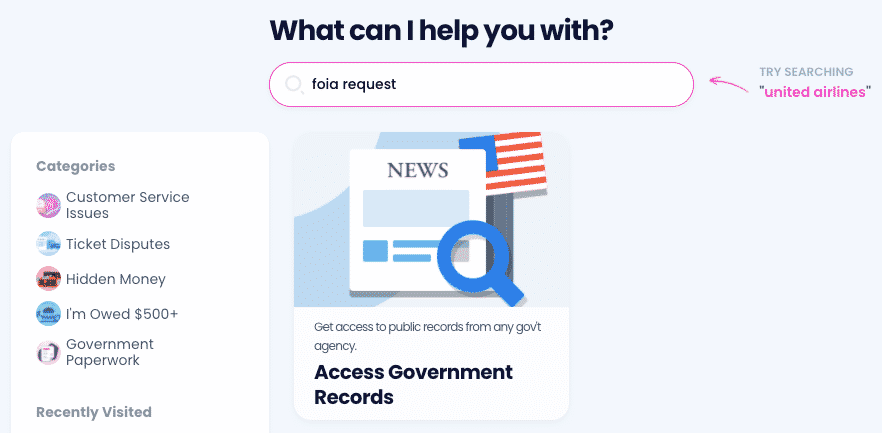 DoNotPay's FOIA Feature Works With Any Agency
can help you send proper FOIA request forms to local, state, and federal agencies. Check out our guides to sending FOIA requests to some of the most prominent institutions:
Internal Revenue Service (IRS)
We can also assist you in accessing military and police reports. If you don't know how to check the status of your FOIA request, we'll help you find the easiest way.
That's not all! DoNotPay has guides to submitting FOIA requests in states such as Indiana, Arkansas, California, New York, Massachusetts, or Pennsylvania.
DoNotPay Is the Champion of Customer Advocacy
If you've never experienced an issue with a purchased item, you should consider yourself extremely lucky. When shopping goes wrong, you usually have to brace yourself for unpleasant and annoying exchanges with customer support centers.
DoNotPay is here to make exercising your consumer rights easy. Long holds when calling customer service reps and incessant marketing spam emails can stay in the past. We will help you avoid irritating text messages from online retailers by teaching you how to bypass phone verification when signing up.
Ask for refunds, claim warranties, fix credit card issues, or sue retailers in small claims court—these are just some of the services our platform provides.
With DoNotPay, you can start free trials for new services risk-free. If you want to get out existing subscriptions, canceling them has never been easier!
Wait, There's More!
Our full portfolio includes features as diverse as contacting inmates and requesting college application fee waivers for students from low-income families.
If you have a problem with bureaucracy, the chances are DoNotPay knows how to fix it with your minimal involvement.
Leave the grunt work and unnecessary expenses behind. We will help you pass various government tests with flying colors, find unclaimed money in all states, or get out of parking tickets before you know it!