Learn How To Send a
CIA FOIA
Request in a Jiffy
Accessing records from the Central Intelligence Agency (CIA) is simpler than you may think. According to the Freedom of Information Act of 1966, everyone has the right to request to see public records from various agencies. 
There are several exemptions, but other than that, you should have no issues in finding out what you want. You can send a CIA FOIA request in a few ways, but the best solution available is DoNotPay.
Use DoNotPay To Send a
CIA Freedom of Information Act
Request
If you'd like to send the FOIA request to the CIA fast and without trouble, you should choose DoNotPay to do so. The procedure is straightforward and consists of five simple steps you need to perform:
Access DoNotPay from any

web browser

Find and choose the

FOIA

feature

Indicate that you are dealing with a federal agency

Enter

CIA

as the name of the agency

Tell us if you'd like to request a fee waiver or

expedited processing
We will send the request letter to the CIA the moment you finish completing our simple questionnaire.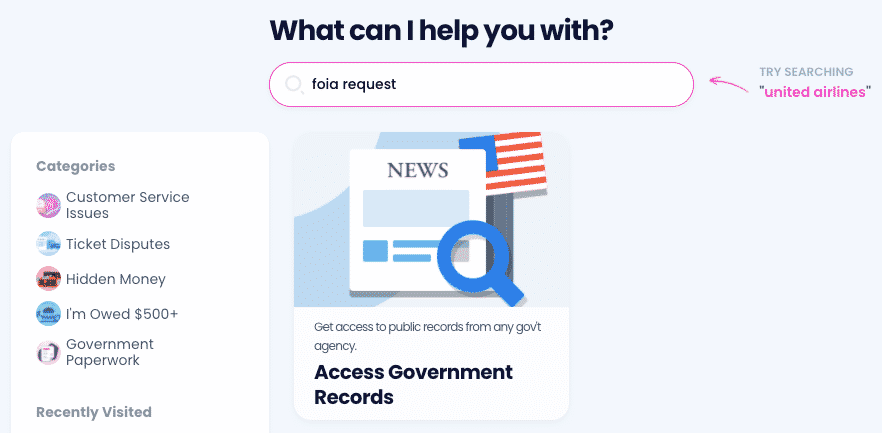 How Can You Submit a
CIA FOIA
Request on Your Own?
The Central Intelligence Agency requires people to send their FOIA requests the old-fashioned way, and you only have a couple of options. If you choose to go through with the process on your own, prepare yourself for waiting a long time to complete it. Here are your options:
| | |
| --- | --- |
| Can You File a CIA FOIA Request Via? | Yes/No |
| DoNotPay | Yes |
| Mail | Yes |
| Fax | Yes |
| Phone | No |
| Email | No |
| In Person | No |
How To Submit a FOIA CIA Request via Mail
To access the desired information from the CIA, you'll need to send the request letter via mail. Heed these instructions:
Address the letter to

Information and Privacy Coordinator, Central Intelligence Agency, Washington, D.C. 20505

Describe the information you are searching for in detail

Explain why you need those records

Indicate the amount of money you are willing to spend on fees

Enter your contact information

Send the request letter
How To Submit a FOIA CIA Request via Fax
You may also send a FOIA CIA request by fax. These are the steps you'll need to follow:
Write the request letter

Provide a detailed description of the info you want to access

Explain the reason for requesting that info

Tell the agency what amount you are willing to spend on fees

Leave your contact information, such as your name and address

Send the fax to

703-613-3007
If you are a U.S. citizen or a lawfully admitted alien, you can request info on yourself or another living person from the CIA database.
How To Check the Status of Your
CIA FOIA
Request
A couple of factors can affect how fast the CIA will process your FOIA request. The most important one is the complexity of your request. Simple requests are easier to process than complex ones due to the volume of material the CIA needs to search through. 
Sometimes the location of records requires communication between more agencies, and that can take more time. If you become impatient, you can check the status of your request. To do so, you only need to:
Visit the

CIA Request Status

page

Enter the FOIA reference number in the textbox

Solve the CAPTCHA challenge

Click on the

Search

button
In case you have additional questions about the FOIA request status, call CIA at (703) 613-1287.
How Much Does It Cost To Send a CIA FOIA Request?
If you are looking for information on yourself, the CIA won't charge you at all. For any other researcher category, the agency has specific fees as seen in the list below:
News Media

—no charge for the first 100 pages and 10 cents per page for the rest

Commercial

—$18 per hour for manual search and $11-27 per hour for computer search

Educational and Scientific

—no charge for the first 100 pages and 10 cents per page for the rest
You may even request a fee waiver from the CIA if the info you are looking for is:
Of public interest, contributing significantly to public understanding of the operations or activities of the U.S. Government

Not going to be used for commercial purposes
Can You File an Appeal if CIA Denies Your FOIA Request?
If your FOIA request is denied and you don't agree with the CIA's decision, the FOIA allows you to file an appeal to the Agency Release Panel (ARP) in the care of the Coordinator. You have to file an appeal within 45 days of the CIA's initial decision. 
Send the appeal to the Information and Privacy Coordinator, Central Intelligence Agency, Washington, D.C. 20505.
Agencies Will Receive Your FOIA Requests in Under Five Minutes With DoNotPay
Don't stop at the CIA—DoNotPay can assist you in sending FOIA requests to numerous other agencies. The list below contains some of the most popular agencies people want to access records from:
DoNotPay also has all the info about the FOIA request templates and knows how FOIAonline works.
DoNotPay Is Your Pocket-Sized Treasurer
To pay or to DoNotPay—that is the question! Our nifty app finds money where you didn't even know you had it.
With our app, you can avoid college application fees, cancel unused subscriptions, explore free trials, and get out of paying for unfair parking tickets. 
We can also help you with high bills by composing due date extension letters or reducing property taxes, just as we can locate missing money that you can reclaim in any state you've ever lived. 
To top it all, we'll even assist you in requesting compensation from any airline—whether it is for poor in-flight Wi-Fi, a delayed, or a canceled flight.
Can't Find Your Head in All the Paperwork? DoNotPay Sorts It Out for You!
You no longer have to cash out on pricy legal advisors to do simple paperwork for you—our app can draft legal documents for you in a matter of minutes! 
We can write small claims court scripts, dispute letters for chargebacks and refunds, personalized letters to connect with inmates, DMCA takedown notices for copyright protection, and cease and desist letters for stalking and harassment protection. 
If you need to get a DMV appointment before taking a driving exam or any other government test, we're there to schedule it in your stead!