A Rundown on Requesting FOIA Military Records
You may want to access military records for government benefits or historical research. Regardless of your reasons, this article will assist you in filing any FOIA requests for military records.
Does the Freedom of Information Act Apply to Military Records?
The Freedom of Information Act (FOIA), passed in 1966, allows all citizens to request access to federal agencies' records. Agencies cannot disclose any info that is part of FOIA exemptions (e.g., classified info regarding national security or an agency's internal practices).
The general public can access certain military records by filing FOIA requests, including:
Name

Salary

Service number

Branch of service

Dates of service

Final duty status

Transcript of courts-martial trials

Awards and decorations

Final rank

Photographs

Assignments and geographical locations

Source of commission

Military education level

Promotion sequence number

Place of entrance and separation

Place of birth and burial of a deceased veteran

Date and geographical location of a veteran's death
Are There Any FOIA or Public Military Service Records Online?
Certain veterans' and military documents are available on the National Archives and Records Administration (NARA) website. You can also browse the National Archives catalog and the Archival Databases (AAD) system of the National Archives. This way, you may find what you're looking for without filing a FOIA request.
How To File the Freedom of Information Act Requests for Military Service
The National Personnel Records Center (NPRC) is part of NARA. The NPCR holds military records you can access by submitting a FOIA request.
You can start your request online, print it out, and file it. You can also download the standard request form, complete it, and send it to the NPRC.
Can I Write My Own FOIA Request Letter?
If you prefer to write your own request letter, you can do that too. Your letter should include:
Veteran's full name

Date and place of birth

Service number or Social Security number

Branch of service

Dates of service

Obituary/copy of death certificate/letter from a funeral home (if you are the veteran's next of kin)
Where Do I Send My FOIA Military Records Request?
Regardless of how you compose your FOIA request, you can send it via fax or mail. Typically, you should send your request to the NPRC's main location, but you can check the list of all locations of military service records.
Check out the NPCR details in the table below:
NPCR Fax Number
NPCR Mailing Address

314-801-9195

National Personnel Records Center

Military Personnel Records

1 Archives Drive

St. Louis, MO 63138
Send a FOIA Request for Military Records With DoNotPay
Would you like to fill in a FOIA request form and submit it online? It's possible with our app!
DoNotPay is an all-in-one tool for sending any FOIA requests, whether they're on yourself or someone else. We will ask you a few questions regarding the records you wish to obtain, and we'll draft and send the letter in your stead.
Here's how it works:
Open DoNotPay in a

Locate our

FOIA

feature

Type in

Military Records

in the search bar

Indicate

whether you want to apply for

expedited processing

or a fee waiver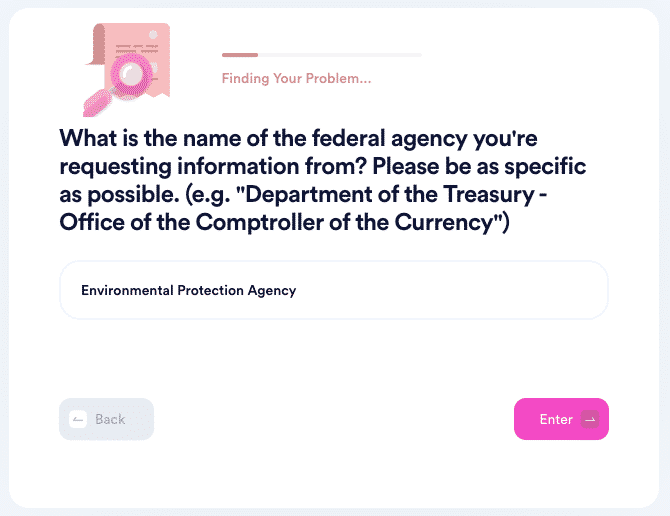 If you have any questions, you can count on our help! We can answer questions regarding FOIA fees or appeals and show you how to find the best FOIA request templates.
's learning center boasts a myriad of articles dedicated to specific federal agencies and their FOIA request processes, such as:
Internal Revenue Service (IRS)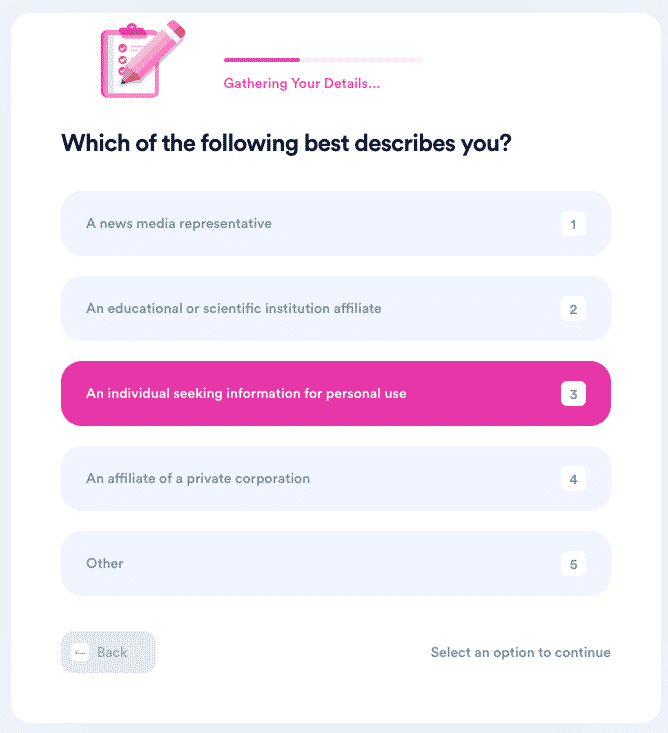 When Will the NPRC Process My FOIA Request?
The NPRC responds to most FOIA requests within ten days, but the response time varies depending on the requests' complexity. The center receives between 4,000 and 5,000 requests each day, so delays are possible.
How Can I Check the Status of My FOIA Request?
You can check your FOIA request status:
Online

Via phone
To check your status online, you can visit the Check request status page and enter your service request number. You should receive this number in an acknowledgment letter or see it when you fill in your request form online.
If you can't find your request number, you should complete the online status update request form. You'll need to provide:
Your name, address, and phone number

Veteran's branch of service
If you prefer to check your FOIA status via phone, you should call the NPRC's customer service line at 314-801-0800 between 7 a.m. and 5 p.m. CST. The customer service receives a high volume of calls, so you may have to be on hold for a long time.
Admin Issues Giving You a Headache? Resolve Them With DoNotPay!
Scheduling a DMV appointment, applying for clinical trials, requesting refunds from companies, and getting in touch with your loved ones in prison are all difficult and time-consuming tasks. You have to take many steps before you can get any of these over with, and that's why our robot lawyer app is here to help.
No matter if you need assistance with appealing parking tickets, signing up for free trials, canceling various subscription services, or maybe preparing for government tests, DoNotPay will provide you with easy solutions.
Having Financial Struggles? Rely on the World's First Robot Lawyer
Many Americans struggle to make their ends meet at the end of each month. With that in mind, we've created plenty of features that will save you both time and money in the most efficient way.
Using our AI-driven app, you can get help with bills, get refunds from airlines, find unclaimed money in any state, or earn off annoying robocalls or stalkers and harassers. If you want to fight for your right, DoNotPay will also assist you in suing any person or company in small claims court.
No matter the admin task at hand, our robot lawyer will provide swift and effective assistance.