North Carolina Freedom of Information Act—How To File a Request

North Carolina Freedom of Information Act (FOIA), also known as Public Records Law, guarantees that every FOIA requester will get the information they ask for. The FOIA was established in 1966, but the North Carolina Freedom of Information Act was passed in 1935.
We will tell you all you need to know about the FOIA fees, appeals, requests, exemptions, and request statuses. Our platform will also show you the best and fastest way to file a FOIA request.
North Carolina Freedom of Information Act—Details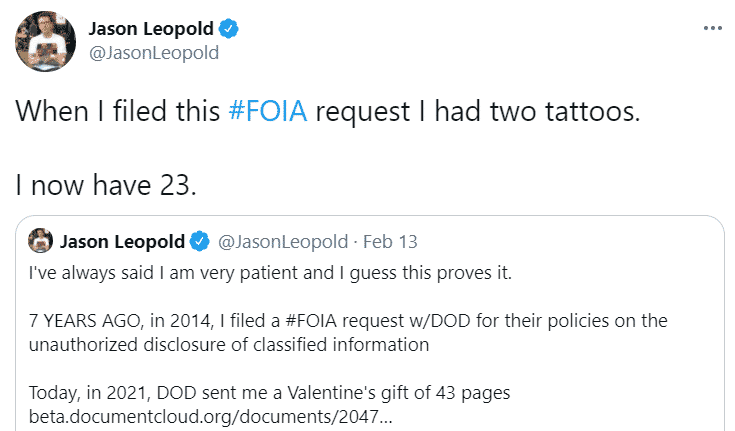 The FOIA or Public Records Law in North Carolina stipulates that individuals who make FOIA requests never have to state a purpose. The law also doesn't restrict the use of the disclosed information.
Check out the table below for more information:
Details
Description

The basis of the FOIA

Any public records or information that are paid by taxpayer money belong to the people

The requesters

The NC FOIA clearly states that any person can request public records

Fees

There are two different kinds of fees for two types of searches:

Uncertified copies for which the agency can charge the actual cost of duplication, but not labor

A detailed and time-consuming search that could incur additional charges

Response time

North Carolina has no strict policy about the response time and no absolute deadline for responding to your request

Exemptions

North Carolina has three main exemptions to the FOIA:

Intelligence information

Criminal investigations

Confidential legal communications records and documents 

These documents aren't available to the public. The agency that holds the documents has to take the confidential information out of the document

Filing a FOIA request on yourself

You can file a FOIA request on yourself, but you'll need to prove your identity
How To File a North Carolina FOIA Request

The method of filing a FOIA request will depend on the specific agency you need information from. There aren't particular guidelines for filing the request.
In most cases, you'll be able to file your FOIA request online, but some agencies will need you to mail a written request.
Some of the general steps for filing FOIA requests are listed below. To file a request, you'll need to:
Check whether the agency has already posted the information

Do the research and provide details of the document you're seeking

Fill out the

FOIA request form

or write your own request letter—you can find an NC

sample

FOIA request online or use our

template

to write your own

Submit the request using the suitable method that the agency accepts
How To File an NC Freedom of Information Act Request With DoNotPay

The process of requesting information under the FOIA can be time- and energy-consuming, especially if you're requesting multiple files from various agencies.
DoNotPay has created an automated feature that will help you file your requests fast and easily. You'll only need to open our platform in any web browser and provide us with some essential information. We'll do the rest on your behalf.
Follow these steps to file your NC Freedom of Information Act request with DoNotPay:
Find the FOIA feature in the DoNotPay app

Choose the type of agency—

state

or

federal

Enter the agency's name and detailed information about the records you need

Indicate if you qualify for a fee waiver or

expedited processing

Submit your request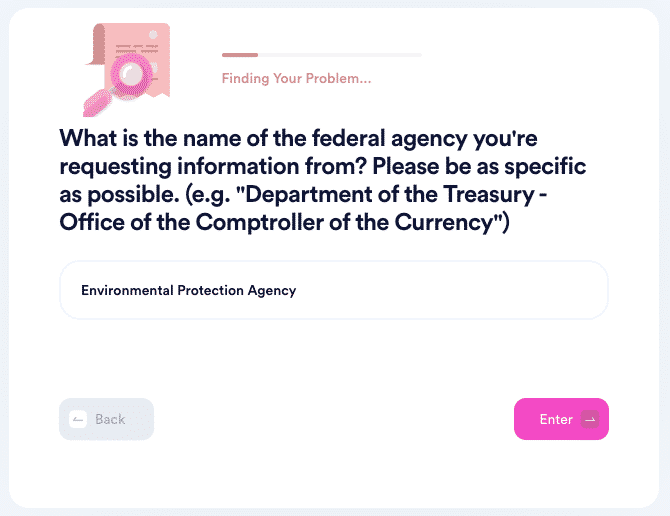 When you finish this process, DoNotPay will generate your FOIA request letter. We will send it to the agency on your behalf.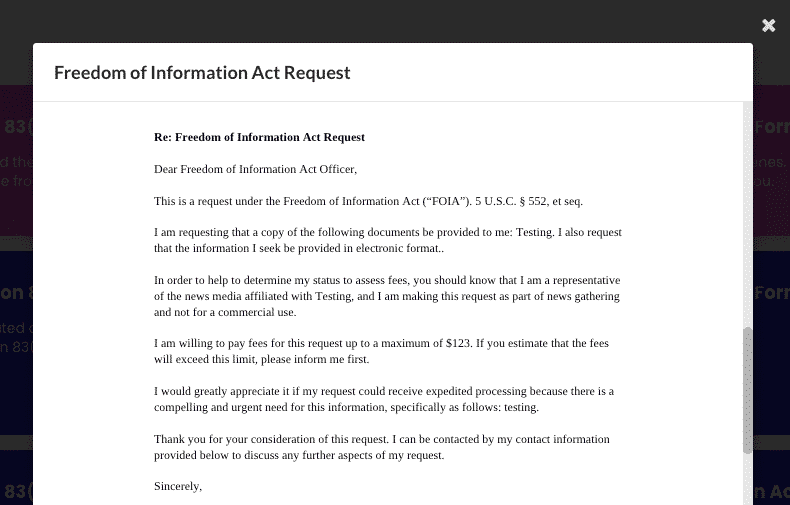 Find Out What Other Agencies DoNotPay Can Help With
One of the strongest suits of DoNotPay's FOIA feature is that we can help you file a FOIA request with local and state agencies. If you need police reports or military records in any state, we can help you.
Check out the table below to see some of the states and agencies our platform can help you with:
What To Do if the Agency Denies Your Request?
If the agency rejects your FOIA request, you can file an appeal. You'll need to find the appeals office contact information on the particular agency's website and follow these steps:
Mark your letter and envelope or an email subject with

The FOIA Appeal

Include your FOIA request number

Attach the copies of your original request and the rejection letter from the agency

Explain your reasons for appealing

Send it to the specific agency's appeals office
Take Advantage of DoNotPay's Time-Saving Features!
DoNotPay comes with a wide array of useful features that will help you overcome any administrative issue in no time. As the world's first robot lawyer, DoNotPay can tackle just about any bureaucratic task that people dread.
You can do anything from reporting stalking and harassment, signing up for free trials, and scheduling a DMV appointment to jumping the customer service phone queue, dealing with high bills, and protecting your creative work from copyright infringement with our app's assistance.
If you want to connect with an inmate, sign up for a clinical trial, report spam emails, or sue any company or person in small claims court, you can count on DoNotPay to provide you with the necessary guidance.
Use Our App To Get Rid of Unwanted Admin Hurdles
Do you want to say goodbye to spam text messages or protect yourself from stalking and harassment? Are you looking for a way to end robocalls and earn off them? DoNotPay can help!
As soon as you sign up for our app, you'll be able to do anything from avoiding phone number verification with our handy burner numbers to acing government tests stress-free!