The FOIA Response Time Explained
While there is a time limit which federal agencies should adhere to, the time to respond to FOIA requests varies depending on:
The agency in question

Its workload

Request backlog

The complexity of the request

Broad requests

Specific requests and those demanding fewer pages of records

Extensive requests seeking a higher volume of records or those from multiple locations
There are steps both the agency and you can take to streamline the FOIA processing time.
This article will explain the nitty-gritty details about the FOIA response time. It will also advise you on your options if your request is delayed and offer hacks that will fast-track the FOIA requesting process next time.
How Long Does an Agency Have To Respond to a FOIA Request?
According to the Freedom of Information Act, federal agencies must respond to FOIA requests within 20 working days. The 20-day period starts on the day the agency receives your request. If the request arrives after 5 p.m., the processing period begins the following day.
Extending the FOIA Request Response Time
Although FOIA means allowing the general public access to federal agencies' records—except for certain FOIA exemptions—some circumstances may impede the process of getting the records, including:
A department needs to search for and collect records elsewhere (e.g., a field office or other entity)

Your request entails a large number of records that the agency must locate and review

The agency has to consult with another agency due to the substantial interest in the information you're requesting
These situations call for an extension. If an agency requires an extension, it should notify you in writing and ask you to limit or modify your request. Another option is to agree upon a different time limit for the request processing.
Expedited Processing Explained
An agency should respond to your FOIA request faster than the standard time limit if you request expedited processing. The agency has ten days after the date of your expedited processing request to accept or deny it.
The FOIA states that it's up to the agency in question to decide whether to allow expedited processing. The cases that include a threat to someone's life or safety or the urgency to inform the public about certain records have the best chances of success.
What Can I Do During the FOIA Processing Time?
When an agency receives your FOIA request, it should send you an acknowledgment letter with your FOIA tracking number. While you wait for the response to your request, you can check its status.
If you want to check your FOIA status, you can:
Visit the agency's website

Contact the agency in question and ask about it
In case you're not sure how to contact an agency, you can find the contact info on the agency's website.
In terms of checking your status online, typically, agencies have a web page where you should enter your request number and view the status.
What if the FOIA Response Time Exceeds 20 Days?
If a federal agency goes beyond the 20-day period without responding to your FOIA request, you can do the following:
Contact the FOIA professional handling your request (the acknowledgment letter should have the contact info) and ask about the delay
More often than not, an informal discussion with the agency's FOIA professional should do the trick.
Skip the Freedom of Information Act Request Delay With DoNotPay
Even without expedited processing, there is a way to do your best to ensure a quick response from a federal agency—DoNotPay.
Since the main reasons responses take so much time are the complexity and broadness of requests, we have created a feature that will make your request as specific as possible.
Our FOIA Request feature relies on AI-powered technology. A chatbot will ask you questions to collect the necessary info for your FOIA request letter.
Here's how it works:
Visit DoNotPay in a

web browser

Enter

FOIA

in the search box

Type in the name of the agency you want to send the request to

Say if you'd like a fee waiver or expedited processing
Once we create your request letter, we'll send it to your chosen agency on your behalf.
You can use DoNotPay to send requests to state or local agencies as well.
Turn to our learning center for more guides on FOIA fees, request forms, and requests on yourself. Even if you'll use DoNotPay or file your request online, check out our FOIA request templates.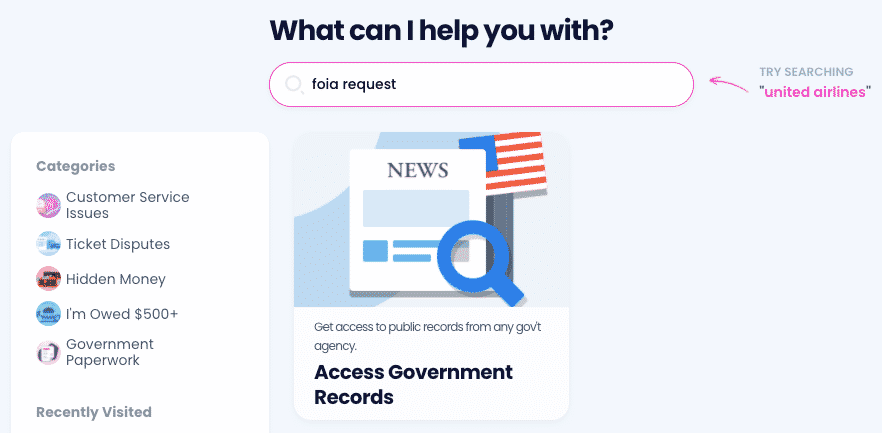 Use DoNotPay To Send Your FOIA Requests to Any Agency in Any State
DoNotPay is the perfect pocket assistant for any FOIA request in the U.S. Check out our FOIA guides that will come in handy for any agency or state, including: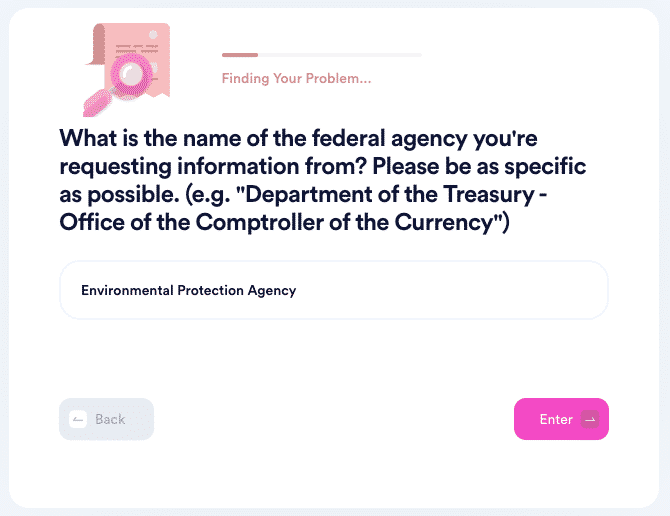 Fighting Administration Is Easier With DoNotPay 
Bureaucracy is a disease of the modern world, and we finally have a cure. Thanks to artificial intelligence, DoNotPay knows how to handle numerous rules and regulations and make your life so much easier. 
Our bots ask you a few questions, gather the necessary info, and off they go! Filing warranty and insurance claims, requesting property tax reductions, getting access to public records, or claiming unclaimed funds under your name—you can deal with these bothersome tasks from the comfort of your home and within minutes!
If you need to get in touch with customer service representatives to ask for refunds or contact airline companies regarding compensation, our platform will make the process painless and care-free.
Don't hesitate to put our app into service if you need to contest parking tickets or avoid long lines at your local DMV!
How Else Can We Help?
Not only does DoNotPay handle bureaucracy, but it also saves you money in the process. Whether you're looking for the best learning materials for government tests or planning to comb through and cancel streaming subscriptions you don't use, DoNotPay can give a helping hand.
Our platform grows every day and comes with user-friendly features that will help you manage unpaid bills, stop copyright violation, or solve problems with credit cards faster than ever!