FCC FOIA Requests From A to Z

If you need records held by the Federal Communications Commission (FCC), you can request them under the Freedom of Information Act (FOIA). Since this law was enacted in 1966, it has pushed federal agencies to reveal government-related information if citizens request to access them. 
The main step towards getting the desired records is submitting an FCC FOIA request. The purpose of this manual is to teach you how to do it properly and avoid the administrative fuss by using DoNotPay. Besides these handy tips, our app can offer you the best advice on:
Are There Any Exemptions to the FCC FOIA Program?

Not all the information you request is subject to disclosure, as FCC protects certain records based on nine FOIA exemptions. The institution can deny your request if you demand the records that:
Are related to national defense or foreign policy materials

Refer to internal personnel rules, practices, and communications

Are protected from disclosure by any other statute

Contain information about trade secrets or confidential commercial and financial actions

Include inter-agency and intra-agency written communication

Refer to medical or personnel files whose disclosure may bring someone's privacy into question

Represent the information collected for law enforcement use

Relate to any examinations or operations that concern financial institutions

Include information regarding oil wells
FCC FOIA Request Fees

The fees you may need to pay for accessing the desired public records depend on what group of requesters you belong to. You can be charged per search hour or the number of duplicated pages. 
In general, a one-hour search fee goes from $16.61 to $92.99, depending on the salary level of the staff that participates in the search for your records. The first 100 pages of the requested records are free of charge, but each page that exceeds this limit will cost you $0.10. 
Below is the table that explains how the fees that FCC proposes apply in different cases:
| | |
| --- | --- |
| Requester Type | You Pay |
| Commercial use requesters | Full direct fees linked with the search and duplication expenses |
| Educational institutions, news media representatives, and non-commercial scientific institutions | Duplication fees only, if the number of pages exceeds 100 |
| All other requesters | Only if the search time exceeds two hours or if the requested records have more than 100 pages |
How Can You Submit Your FCC FOIA Request on Your Own?

FCC proposes two request submission methods—by:
Requesting FCC Records via Mail
If you wish to submit a written FOIA request to FCC, you can do it by sending it to the official address of the institution:
Federal Communications Commission
45 L Street NE
Washington, D.C. 20554
Requesting FCC Records via Online Form
Another request method you can opt for is completing an online form using FOIAonline. Here's how you can do it:
Go to the

FOIAonline home page

Click on the

Create Request

tab and choose

Begin

Select

Federal Communications Commission

as the name of the agency

Set your request type to

FOIA

Enter your contact information—email address, address of residence, fax and phone number, etc.

Choose the fee amount you are ready to pay

Write a description of the requested information

Disclose additional information and attach supporting documents if necessary

Preview and submit the form
Submit Your FOIA Request With DoNotPay Without Paperwork
Most people find composing a request letter on their own challenging, especially if they aren't sure what details they should include. If you want to avoid submitting an incomplete petition, give our app a chance—we will help you demand records with zero effort.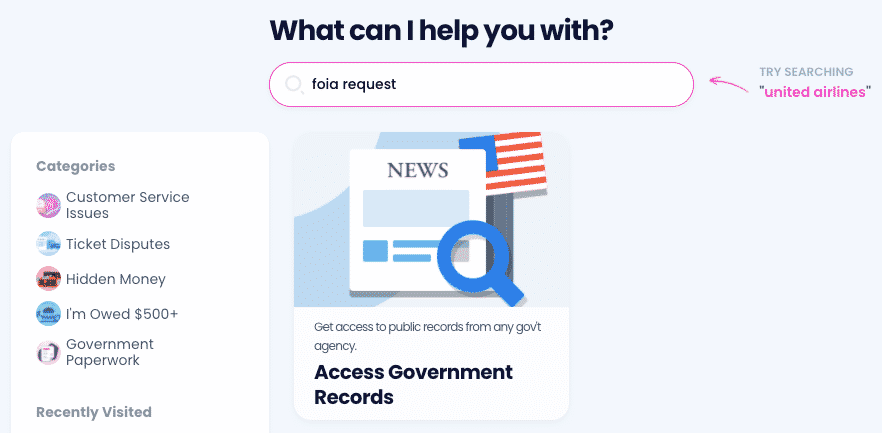 Answer a few simple questions our chatbot asks you, and DoNotPay will file a FOIA request on your behalf within minutes! You don't need to sign loads of paperwork anymore or complete other tiresome tasks—we do all the grunt work.
To submit your FCC FOIA request with our help, proceed as follows:
Open DoNotPay in any

web browser

and navigate to the

FOIA

section

Choose

Federal Agency

Select

Federal Communications Commission

as your agency and describe the records you want to access

Choose whether you want to take advantage of fee waivers or

expedited processing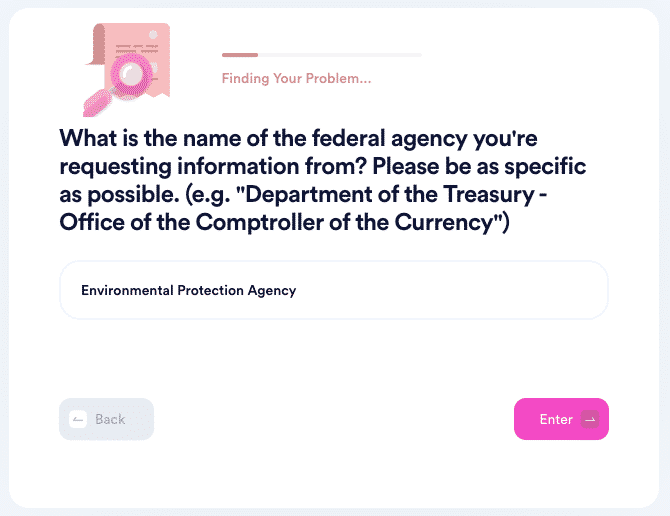 DoNotPay will create a request letter with all the relevant information and forward it to FCC right away. You can perform this procedure for any other federal institution, including:
Does DoNotPay Handle Only FOIA Requests to Federal Agencies?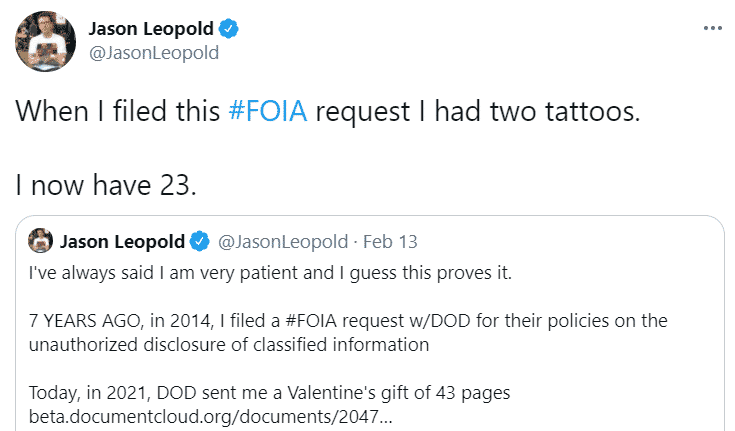 Besides federal agencies' acts, DoNotPay's extensive database contains all noteworthy state laws. Thanks to this service, you can demand public information in any U.S. state, including:
Our Robot Lawyer Gets Rid of All Admin Tasks
What makes DoNotPay so unique is that it helps you get back what is rightfully yours in many different ways. You can appeal parking tickets, find unclaimed money, demand a refund for canceled or delayed flights, get help with bills you cannot pay, or get your college application fees waived with the help of our platform.
If you're sick and tired of annoying robocalls, spam emails, copyright violations, text message spam, or stalkers and harassers, DoNotPay can assist you in getting rid of them once and for all
DoNotPay Can Help You Save Money
Have you ever subscribed to a service's free trial you forgot about after a few days? Many Americans have, which is why DoNotPay has a free trial feature that will help you avoid getting charged once the trial is over.
If you want us to scan all your active memberships and help you not pay for the ones you don't use, connect your email address or credit card to DoNotPay. Our cancel feature will ensure that you don't waste your money on subscriptions you don't even remember exist.
If a merchant charges you once the free trial is over, though, you can use our robot lawyer to request a refund and skip the phone queue when doing so.
In case a company refuses to grant you a refund, you can also use our app to sue them in small claims court.