The Easiest Way to Dispute Your Edinburgh Parking Tickets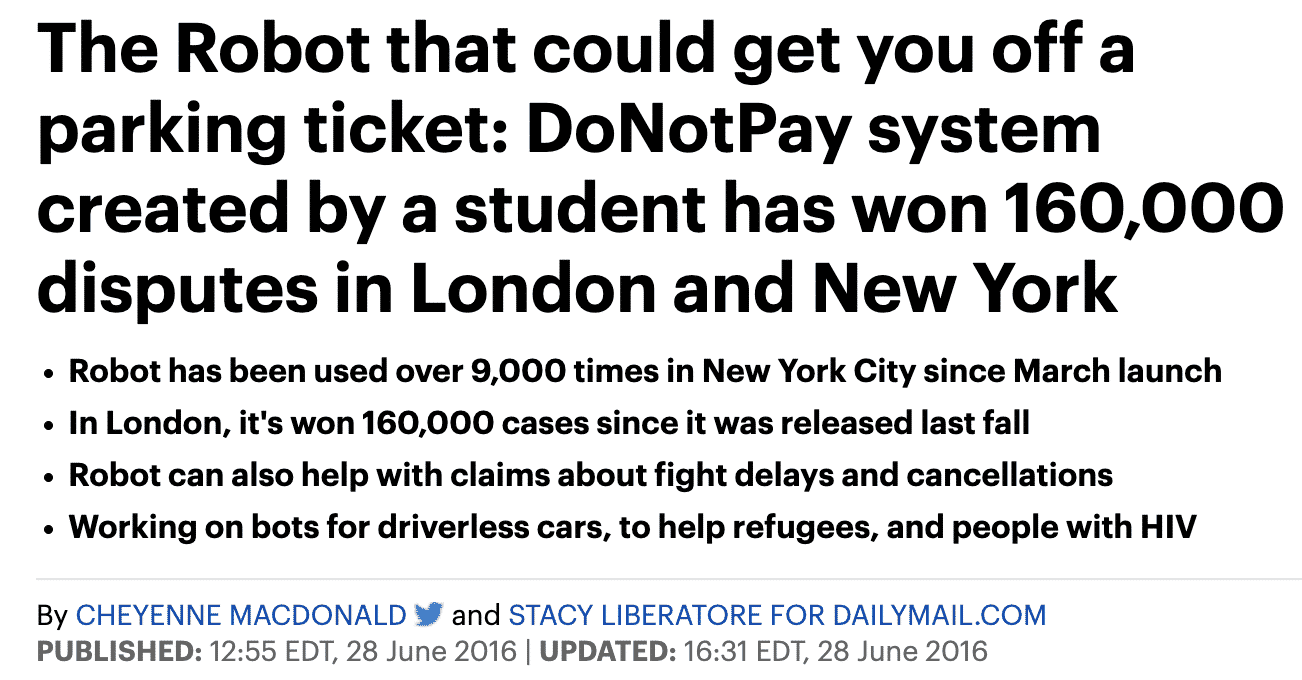 You've officially received an Edinburgh City Council parking ticket. And even if you agree with the citation, you're still likely frustrated. Now, you have to figure out what to do about paying for the Edinburgh parking ticket, which by itself can be a stressful proposition. But what if you disagree with the Edinburgh parking ticket? Is there a process for appealing these citations with the Edinburgh City Council directly? And a few quick searches online only leave you more confused about how to proceed.
The truth is, Edinburgh parking tickets are disputable, and you have every right to raise an appeal if you feel you've been cited incorrectly or unjustly. And while the thought of dealing with forms, official processes and maybe even a tribunal just makes paying the fine sound so much simpler. Don't rush to decide just yet. DoNotPay has a super easy and convenient way to handle your . And it doesn't involve a solicitor, nor does it take any longer than 120 seconds to complete.
What You Need to Know About Edinburgh Parking Tickets

Receiving an will lead you to a few next-step options. But first, it's critical that you understand what your specific citation is for, what timeline applies and what language you need to heed. Receiving an Edinburgh Penalty Charge Notice (PCN) or parking ticket is a civil offence, so you can breathe a little knowing your violation isn't criminal in any way. However, you only have a specified amount of time to respond before you begin to incur additional expenses.
Start by connecting with the Edinburgh City Council, which is responsible for issuing your Edinburgh parking tickets.
How to Pay Your Edinburgh Parking Ticket
If you're in complete agreement with the reasons for the Edinburgh parking ticket, you'll want to go ahead and pay. The Edinburgh City Council makes paying your parking tickets or PCNs easy with a few different ways to submit payment.
Pay Online
The Edinburgh City Council suggests that paying your Edinburgh parking tickets online is the easiest way. There you can also see any images taken related to your parking violation or bus lane notice.
Pay online here: Parking Ticket Viewer
Pay by Phone
With a credit or debit card in hand, you can call the Edinburgh City Council about your parking tickets. Payment can be made with MasterCard, Visa, Maestro and Delta.
Call to pay: 0131 627 0014
Pay by Post
You can mail payment to the Edinburgh Parking Services department. They advise you to write the parking ticket number or bus lane charge number on the back of your cheque or postal order.
Mail to: The City of Edinburgh Council (Parking Services,) Lowton Way, P.O. Box 208, Hellaby, Sheffield, S98 1LS
Pay in Person
You can additionally pay using a credit or debit card, in person, at the City of Edinburgh Council Customer Hub. They are no longer accepting cash payments.
Visit: 249 High Street, Edinburgh, EH1 1YJ
What if You Disagree With Your Edinburgh Parking Ticket?
If you disagree with your Edinburgh parking ticket, you can dispute it. Connect with the Edinburgh City Council online to see what steps to take when challenging a PCN or parking ticket.
You can:
Should your formal appeal ultimately get rejected, you'll be notified with a 'notice of rejection' letter. This letter will outline the Edinburgh City Council's parking ticket review decision, which you can again challenge via an independent tribunal. Appeals can be submitted with your evidence in writing to the Traffic Penalty Tribunal for that outside of London and via the London Tribunals for those within London city limits.
NOTE: Should the tribunal find you're liable for paying your PCN, you have 28 days to do so before falling subject to court proceedings, a 50% increase in fines, and court costs.
Don't Ignore Your Edinburgh City Council Parking Tickets
Regardless of your decision to pay or dispute your Edinburgh parking tickets, do so quickly. If you ignore your Edinburgh City Council parking tickets or allow them to lapse beyond the provided timelines to act, it could end up costing you. Neglecting payment could result in:
Licence penalty points added
Increased fines or even doubling of totals
Court order for appearance
Bailiff's assuming your property
Negatively affected credit rating
Contest to Edinburgh Parking Tickets in Less Than 120 Seconds With DoNotPay
That's not a typo. It's how fast you can appeal your Edinburgh parking tickets. Recently, DoNotPay has successfully managed to remedy over 200,000 parking tickets. Let's add your recent parking ticket to that roster of success stories. Check out this story in the Daily Mail and see how we helped one student unbury from a pile of parking tickets.
Here's how you can get started:
DoNotPay can help you fight your Edinburgh Council parking ticket (again, for UK users, we cannot mail the letter)
Log in to DoNotPay and go to the Ticket Disputes category. Select the Parking Ticket product.

Upload a photo of your citation.

Provide us with some details on why you believe the citation issued is a mistake.

That's it! You'll receive an appeal letter that contains the best argument to win your case.
It really will be that simple. You can then use the carefully crafted appeal letter we generate to serve as your argument when you challenge your Edinburgh parking ticket.
But What About Private Parking Tickets?
DoNotPay can certainly help you challenge private parking citations, in addition to Edinburgh parking tickets. If you have a Parking Charge Notice leveraged from a private entity, you still have the right to an appeal. And because most of these parking lot companies are members of the ATA (Accredited Trade Association,) much of the appeals process is the same as an official council challenge.
To prepare for your appeal, have evidence to support your defense, including:
Any photos to document available or unavailable signage
Images of any involved parking meters
Witness statements from passers-by or those with you at the time
DoNotPay Can Dispute Parking Tickets in the US and Other UK PCNs
In addition to appealing your Edinburgh parking tickets, DoNotPay works on your behalf to dispute the following tickets and PCNs.
UK PCNs
US Parking Tickets
DoNotPay Does More Than Edinburgh Parking Tickets
Once you get out from under all your Edinburgh parking tickets, you can explore some of the other game-changing solutions DoNotPay has to offer.
See how our products can help you:
Don't let that get you down. Instead, let DoNotPay help and then check out all the other revolutionary tasks our products can simplify for you.