How to Get a Dropbox Free Trial Easily and Securely With a Virtual Credit Card

Dropbox is a file hosting service that offers various cloud storage services, including personal and client software and file synchronization. Dropbox is operated by Dropbox Inc. and is headquartered in San Fransisco, California.
All new customers get a . However, you're expected to enter your payment information and confirm on signing up, especially if you're not going for the base storage plan.
For users thinking about using Dropbox but are concerned about paying for the free trial, DoNotPay has the perfect solution.
Does Dropbox Offer a Free Trial?
Yes, . In fact, there are two free trial options. For personal use, Dropbox has a 2GB storage free trial. You don't have to submit your payment details or pay for anything in this trial. The trial period ends when you exhaust the 2GB of space, at which point you will need to upgrade.
In the professional package, you get a free trial of 100GB for 30 days. In this free trial, you have to select your plan and your billing cycle before accessing the 100GB free trial for 30 days. You will also need to add your card information when signing up. A small amount might be deducted to verify its credibility.
How Can I Get a Dropbox Free Trial?
How you get the Dropbox free trial depends on the type of account you want. For the personal account (basic plan):
Head to the Dropbox homepage and click get started.
On the next page, select your preferred plan. For an individual account, select the basic plan, which offers a 2GB trial until the 2GB storage space is exhausted.
Fill in your details, including the email and password, and you're set.
The basic plan doesn't require you to add your credit card information.
To sign up for the free trial of the business plan:
Head to the Dropbox business plans page.
Select your preferred plan and click "Try for Free."
Select your preferred billing cycle, then fill out your details to create your account.
Before you can access the trial, you will also need to enter your payment details and be billed immediately.
Once you complete the signup process, the trial period will begin immediately. You will also be billed for the subscribed plan instantly.
Does the Dropbox Free Trial Automatically Renew Into a Paid Subscription?
Yes. Dropbox will transition into paid subscription immediately after the free trial. Unfortunately, because you pay beforehand for the service, you can't avoid being charged. However, you can cancel the service to avoid incurring further charges after your current billing cycle.
In most cases, you don't get a Dropbox refund for the plan you had subscribed to. After canceling, you have to wait for the current billing to expire before being downgraded. However, you will still have access to your files, but you can't share or add new files.
Avoid Automatic Dropbox Subscription Renewal With DoNotPay's Free Virtual Credit Card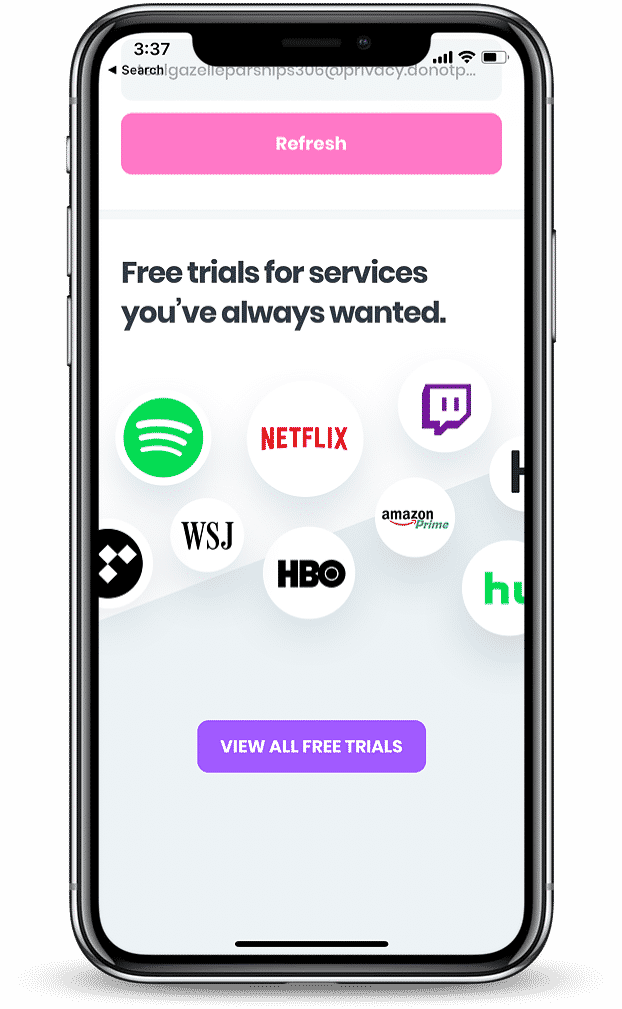 In most cases, users who sign up for free trials don't intend to sign up. However, most services require that you select a plan and pay for it before starting using the free trial. Most people get caught up in the experience. They forget to cancel the free trial and end up spending substantially on services they don't need.
You can save yourself the trouble and the losses that can follow if you forget to cancel your Dropbox free trial by signing up for DoNotPay's virtual credit cards. The virtual credit cards are simple but a stroke of genius. Here's how they work:
You get the virtual credit card on DoNotPay. The platform generates random credit card information and number that you can use to sign up on Dropbox.
Once the service confirms the credit card details, you can go ahead and start enjoying your free trial.
Since the card doesn't have any money, you don't have to worry about canceling the free trial. The service will unsubscribe you automatically, since there is no money to renew the subscription.
DoNotPay virtual credit cards are free and will work for most services. You don't have to worry about losing money when you forget to cancel your free trial within the right time.
How Much Does Dropbox Cost After the Free Trial
Dropbox has individual and business plans that vary to suit different needs. The plans cost as follows:
| | |
| --- | --- |
| Plan | Monthly Cost |
| Basic | Free |
| Plus | $9.99 |
| Family | $16.99 |
| Business | $16.58 |
| Professional + eSign | $24.99 |
| Standard | $12.50/per user |
| Standard+DocSend | $50/user |
| Advanced | $20/user |
What Are the Most Popular Alternatives to Dropbox? Service
Cost
Feature/Benefit
pCloud
$4.17 per month

Sync folders
File link sharing
Versioning
10GB free storage

Google Drive
$5-$10 per month

For medium and large businesses and freelancers
File Syncing
File storage
15GB free storage

One Drive
$1.99 per month for 50GB

For businesses (medium and large) and freelancers.
High-speed connectivity and collaboration
5GB free storage

Amazon Drive
$15 per month

For businesses and freelancers
Copying at the block level
Amazing GUI
5GB free storage
What Else Does DoNotPay Offer?

Besides helping you get Dropbox free trials without paying, you can also use DoNotPay for:
Let DoNotPay help you deal with everyday problems that take up time the easy way.  DoNotPay to learn more about how we can help with your problem.