Appeal a Croydon Penalty Charge Notice in Two Minutes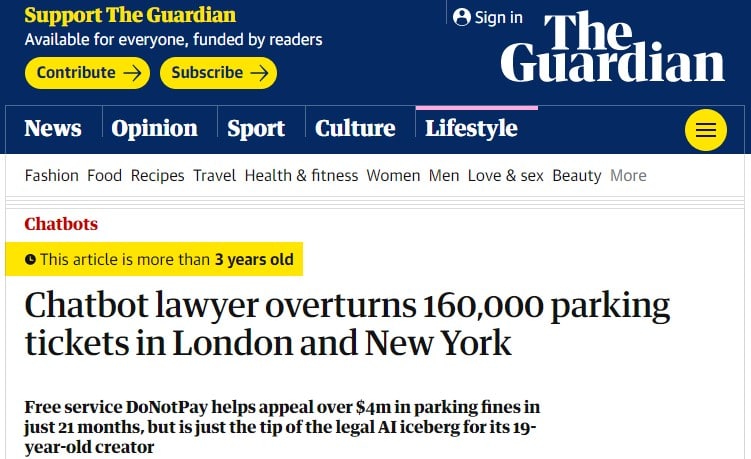 Croydon is a large town in South London, England. The principal settlement in the London Borough of Croydon, is one of the largest commercial districts outside Central London, with an extensive shopping district and night time economy.
However, Croydon has a major problem with parking. On-street parking is often difficult to find, and there are very few off-street parking options. This has led to a number of problems, including congestion and illegal parking. In addition, the town centre is not well served by public transport, making it difficult for residents and businesses to get around.
When parked unlawfully in Croydon, you can be issued a . If you no longer wish to dispute the fine, DoNotPay can guide you on how to make the payment.
If you believe you have been unfairly fined and you are questioning its validity, you can appeal the PCN online, by telephone, or by post with the procedures covered in this article. DoNotPay can also solve this issue for you quicker and easier than if you were to do it yourself.
When Is a Croydon PCN Issued?

A is issued in Croydon if a vehicle is parked as:
Less serious contraventions
Parking after the expiry of a pay and display ticket.
Parking for longer than the maximum permitted time in a parking bay.
Parking without clearly displaying a pay and display ticket in a pay and display car park.
Not parking correctly within the bay markings.
Leaving your engine running while stationary.
More serious contraventions
Parking in a suspended parking bay or a disabled bay without a Blue Badge.
Stopping on a pedestrian crossing area marked with white zig-zag markings, or on a school keep clear marking.
Parking or loading/unloading where these activities are prohibited (i.e. on yellow lines with loading restrictions)
parking without displaying a valid permit or pay and display ticket in a shared permit/pay and display bay.
What Are the Fees for a Croydon PCN?
Croydon's PCN fees are based on where the PCN is issued.
Fine for Band A Roads
Less serious contraventions
£80
Discount if paid within 14 days
£40
More serious contraventions
£130
Discount if paid within 14 days
£65
Band B roads are identified as:
Auckland Road, SE19
Central Hill, SE19
Church Road, SE19
Crown Dale, SE19
Crown Lane, SW16
Fox Hill, SE19
Green Lane, Thornton Heath
Green Lane, Purley
Hermitage Lane, SW16
King Henry's Drive, CR0
Lansdowne Place, SE19
Skid Hill Lane, West Wickham
Westow Hill, SE19
Fine for Band B Roads
Less serious contraventions
£60
Discount if paid within 14 days
£30
More serious contraventions
£110
Discount if paid within 14 days
£55
What Are Reasons to Dispute a Croydon PCN?
The following reasons may justify an appeal to overturn your Croydon PCN:
The PCN was not issued correctly.
The traffic signs were not clear or visible.
You were not the driver of the vehicle.
There is evidence that the ticket was issued in error.
You believe that you have a valid defence under the law.
You were parked for a very short period of time.
You were dealing with a medical emergency.
How to Appeal a Croydon PCN
If you believe you were issued a PCN unfairly, you have 14 days from the date of issue to appeal against it. By law, appeals must be made in writing with an explanation of why you believe the PCN was wrongly issued and your contravention code number.
How to Appeal a PCN Online:
Navigate to the Croydon government website page.
Click on the green Appeal online box.
Enter your PCN number and contravention code number. Click Continue.
Follow the prompts as directed to submit your appeal.
You may also email your appeal to pcn@croydon.gov.uk. Include your PCN reference number and residential address.
Note: Phone appeals are NOT accepted.
What Happens After You Submit Your Appeal
Upon receiving your appeal, you will receive photographic evidence of your parking contravention. Allow 24 hours for the photographic evidence to be available online. If your appeal is approved, your PCN will be cancelled and you will no longer owe the fine. However, should your appeal be rejected, you have the following options:
Pay the discounted fee if your objection was received within 14 days of the PCN.
Pay the full fee if it is outside the 14-day window, but within 28 days of receipt of the PCN.
Appeal to the Independent Parking and Traffic Adjudicators within 28 days of notice of the rejection. The adjudicator's decision will be final for you and the council. If the appeal is unsuccessful, you will owe the full charge of the PCN.
How DoNotPay Can Help You Dispute Your Croydon PCN
Appealing your Croydon PCN can be a tedious and time-consuming experience. However, DoNotPay's innovative Parking Ticket product can do all the work for you. Wired reported that more than 250,000 people used DoNotPay to challenge parking fines in London and New York.
We can take care of your Parking Charge Notice too. Here's how to get started:
Log in to DoNotPay and go to the Ticket Disputes category. Select the Parking Ticket product.

Upload a photo of your citation.

Provide us with some details on why you believe the citation issued is a mistake.

That's it! You'll receive an appeal letter that contains the best argument to win your case.
It's really that simple. You can use the carefully crafted appeal letter to serve as your argument when you challenge your ticket (Note: we cannot mail the letter for UK users).
DoNotPay Can Appeal Parking Tickets in the US And Other PCNs in the UK
In addition to helping you appeal a Croydon PCN, DoNotPay works with other PCNs across the UK. We have handled:
If you are situated in the US, we can also assist with parking tickets in:
What Else Can DoNotPay Do?
DoNotPay can help you with other common administrative issues, including:
Dealing with breach of contract problems
With hundreds of thousands of cases solved, DoNotPay clearly levels the playing field for everyone. You can read more about DoNotPay's success with legal issues in BBC News, Evening Standard, and DailyMail.com!