How to Easily Challenge a PCN From Your Phone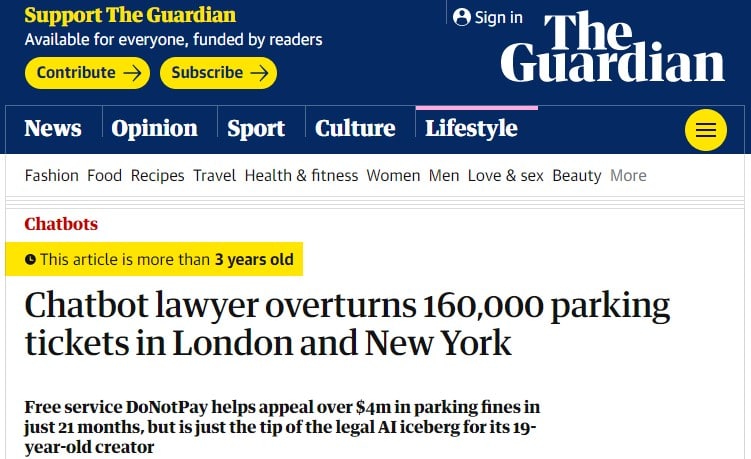 The rules of the road were created for a reason. There are rules for both parking and driving that help to keep everyone on the roadways safe. If you are caught violating any of these rules, you will receive a Penalty Charge Notice (PCN).
In most cases, people choose to pay their PCN quickly and be done with the entire situation. However, if you feel that you did not deserve to receive the PCN, you have a right to dispute the allegations made against you. Sometimes, disputing a PCN can be a confusing and frustrating process. However, DoNotPay has a simple way to make a stress-free task.
The AI-powered chatbot can also assist you with other PCN related issues such as:
How Will a PCN Affect my Driving Record?
Unlike other traffic violations, a parking violation will not get any points added to your license. This means that your driving record will in no way be affected by the PCN that you received.
In most cases, a PCN is issued when there is a parking violation. However, sometimes you may get issued a for minor traffic violations, such as driving in a bus lane. Even if you get a PCN for a bus lane violation, you will still not have any points added to your license.
How Much Does a PCN Cost?
The amount that you are charged for a parking violation differs from council to council. For the most part, the larger areas will have the highest fines. London has one of the most expensive PNC charges in the UK. Here is a look at how much you can expect to pay for a PCN in various parts of the country.
| | |
| --- | --- |
| Council | PNC Fee |
| London | £130 |
| Birmingham | £120 |
| Islington | £90 |
| Glasgow | £60 |
In most cases, if you pay the PCN within 14 days, the amount will be reduced by 50%. If you do not pay the fine within 28 days, the amount could increase by 50%.
How to Dispute a PCN?
If you feel that you were incorrectly issued a PCN, you have the right to l that issued the notice. You must act fast, however. If you wait longer than 14 days to appeal, you could end up having to pay higher penalty fees.
Below are the different types of appeals available to you:
1. Informal Appeal
To make an informal appeal, you will need to write a letter to the council that issued the PCN. The letter doesn't have to be anything fancy and there is no need to learn a bunch of legal jargon and phrases. It just needs to explain why you believe a PCN was incorrectly issued to you. You could include any evidence you have, such as pictures or eyewitness testimony.
Here are some other items that the letter must include:
The PCN number
Date the PCN was issued
Your home address
Your vehicle registration number
If the PCN was handed to you by an officer, or you found it on your windshield, you have 14 days from the date it was received to file an informal appeal. If the PCN was sent to you by post, you have 28 days to appeal.
2. Formal Appeal
If you do not pay the amount within 14 days, you will receive a Notice to Owner letter. Once you have received this letter, you will be able to make a formal appeal. To do this, you will need to go to the processing department in your council and fill out a form entitled "Formal Representations." Once you have done this, you will still have 28 days to pay the notice.
3. Tribunal Appeal
If your initial appeal is rejected, you will be sent a "notice of rejection" letter. If you don't agree with the decision, you can further appeal it at an independent tribunal. There is no charge to appeal the council's decision. Also, you don't have to show up in person. You can appeal at the tribunal through a letter. You will file the appeal with the tribunal that resides in the same part of the country where the contravention occurred.
This includes:
How to Challenge a PCN With the Help of DoNotPay
Over the years, DoNotPay has helped thousands of people successfully appeal their PCN decisions. If you are unsure what to say in the appeal letter, or where to start, we are here to help.
To get started, follow these simple steps:
Log in to DoNotPay and go to the Ticket Disputes category. Select the Parking Ticket product.

Upload a photo of your citation.

Provide us with some details on why you believe the citation issued is a mistake.

That's it! You'll receive an appeal letter that contains the best argument to win your case.
It is as simple as that. Once you have submitted all of the required information, DoNotPay will create a customized appeal letter on your behalf.
More Help With Parking Tickets?
We not only can help you appeal your PCN, but our parking ticket services can work with almost any entity and in other countries as well.
Here are some related articles for contesting tickets in the US:
Other services Offered by DoNotPay
DoNotPay not only offers products that will help you deal with your parking tickets, but we also offer a wide range of other products and services as well. Here are a few that might pique your interest:
If you need help completing a task, sign up today and check out the full list of services that we offer.