How to Cancel TiVo Subscription without Termination Fees
TiVo is a digital video recording service with over 22 million subscribers that provides its customers with features to record each new episode of their favorite series automatically. The company tries to keep up with the technological developments by including support for major streaming services.
How Can You Cancel Your TiVo Subscription?
If you are not happy with your Tivo subscription, there are several methods to get rid of it.
| | |
| --- | --- |
| Can You Cancel With | Yes / No |
| DoNotPay | Yes |
| Email | No |
| Phone | Yes |
| Letter | No |
| In-person | No |
| Company website | Yes |
How to Cancel TiVo Over the Phone
You can cancel any recurring TiVo subscription by contacting their customer service. The number you can call is 1-877-367-8486. Have your account info prepared before calling because the TiVo representative will ask you to confirm some data.
How to Cancel TiVo Online
You can cancel TiVo online by accessing your account.
Here are the steps to do it:
Go to the TiVo website

Click on the Sign In button in the top right corner

Scroll down until you reach the Active TiVo Devices section

Pick the device that you want to cancel

Click Cancel Service
How to Cancel TiVo With DoNotPay

Your best option to cancel your TiVo account and to manage other subscriptions is to use DoNotPay.
Canceling a subscription with our app is a straightforward method, and it will only take you a few minutes. Here are the steps:
Access DoNotPay from your

Click on the Find Hidden Money feature

Type in TiVo as the name of the service
DoNotPay will let you know as soon as we cancel your subscription.
We can also help you get rid of other unwanted services that you pay for. DoNotPay can monitor all your active subscriptions and find the ones you don't use. You only need to connect your bank account or email address to the app, and let us help you save your money.
Does TiVo Offer Free Trials?

TiVo often has free trials for many of its products. Trials range from seven days to a month, depending on the product. Regardless of the type, if you sign up for a free trial, it will switch to a full plan as soon as the trial period ends. Since you are required to leave your payment info, your card will get charged when the full paid plan starts.
Use DoNotPay's Virtual Credit Card for Free Trials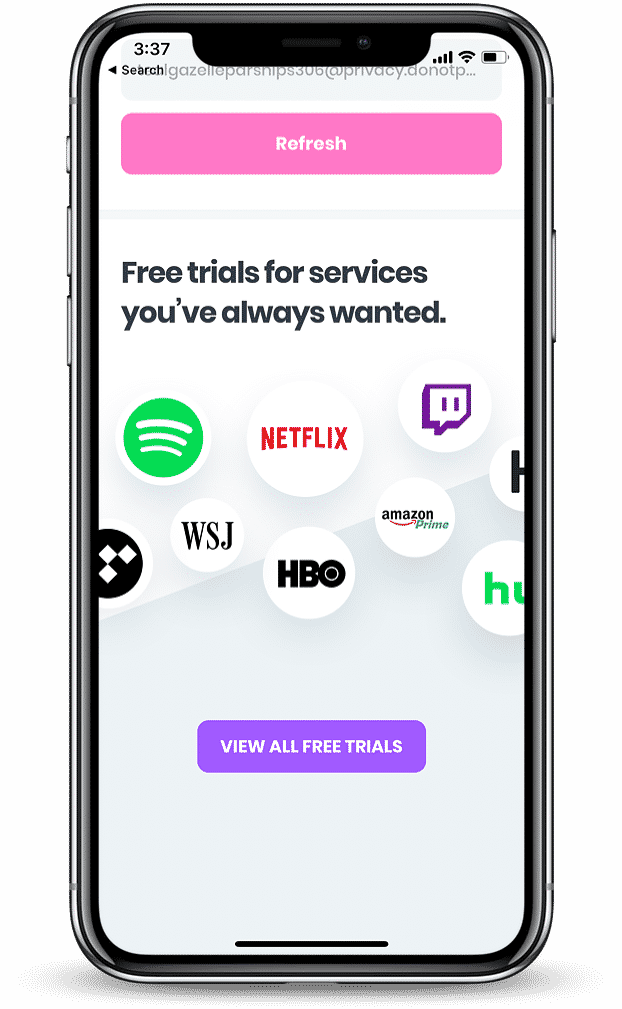 Whether you decided to try another Tivo product or go full-digital and sign up for a Netflix free trial, our free virtual credit card is a must-have tool.
DoNotPay's virtual credit card can help you by:
Creating a random credit card number

—looks legitimate to companies, but is not connected to your bank account

Approving free trials automatically

—you can sign up to any service

Rejecting any real transaction

—when the trial switches to a full paid plan, the company cannot charge your card, since there is no money on it
Does TiVo Prorate Their Cancelations?
With TiVo, you can get a full refund if you cancel your subscription within 30 days from activating it. After that period, you are entitled to no refunds regardless of when you decide to cancel.
There is one exception—if you sign up for a minimum commitment term of at least a year and decide to cancel your subscription before the end of your minimum commitment term, you will pay only the early termination fee.
Does TiVo Subscription Auto-Renew?
Yes, there is an auto-renewal process. Your account will get charged at the end of each subscription term.
Will TiVo Allow Me to Pause My Membership?
No, there is no option to pause.
What Do Tivo Charges Look Like on a Bank Statement?
Some examples of TiVo charges are:
| | | |
| --- | --- | --- |
| TIVO | TIV*TIVO SERVIC | TIV*TIVO SERVICE 877-367-8486 CA |
| TIV*TIVO SERVICE CA | TIVO INC. TIVO INC. 1-877-367-8486 CA | TIVO (877)367-8486 CA |
| : TIV*TIVO SERVICE 877-367-8486 CA | TIV*TIVO SERVICE 877-367-8486 CA 95002 USA | TIV*TIVO SERVICE 877-367-8486, CA, US |
| Signature Pymt TIV*TIVO SERVICE CA #9811 | DEBIT CARD PURCHASE - TIV*TIVO SERVICE xxx-xxx-8486 CA | TIV*TIVO SER |
| TIV*TIVO SERVICE 877-367-8486 CA 95002 US | TIV*TIVO SERVICE XXX-XXX-8486 CA | at ATM #054569 TIV*TIVO SERVICE |
| TIV*TIVO SERVICE | TIV*TIVO SERVIC 4980 | TIVO INC. TIVO |
| TIV*TIVO SERVICE | INC.1-877-367-8486 CA | 877-367-8486 CA |
How Can DoNotPay Make Your Life Easier?

DoNotPay is the ultimate app to deal with various everyday tasks. This virtual tool can be your pocket assistant and help you manage various issues like learning how to get a PayPal refund, managing to reach Amazon customer service, or canceling different services like Spotify, Netflix, or iPhone Upgrade Program.
Access DoNotPay from your and check out some of the tasks we can help you with: