Canceling Services With DoNotPay Is Neat—Cancel Neat With Our Help
Neat is a cloud-based accounting company that helps businesses deal with their financial data. The company tracks, manages, and centralizes data and prepares it for taxes.
Neat supports over 100,000 small businesses all across North America.
Some customers complained about their services not working and customer support being unhelpful.
If you had a similar experience and are disappointed in Neat, we'll help you cancel your account in a flash.
How To Cancel Neat by Yourself
The only way to cancel Neat by yourself is through their website. You can follow the steps below to do so:
Log in to your account

Click on the downward-facing arrow or your name

Select

Billing Settings

Click on the

Do Not Renew

button

Give the reason for your cancellation by checking the box next to it

Hit

Submit

Wait for the cancellation verification that will pop up after you click on Submit
Cancel Your Neat Account With DoNotPay

Canceling Neat through their website seems quick and simple but, according to some negative reviews, the company will try to avoid your cancellation request at any cost. Sometimes it works, and sometimes it doesn't.
If you want to avoid the trouble that could potentially come with canceling this service by yourself, DoNotPay can help you. With our app, you'll be able to cancel any service in these three simple steps:
Log in to your account

Click on

Find Hidden Money

Enter

Neat

as the service you're canceling
We'll cancel the service on your behalf within 48 hours and send you an email verification.
To access this option, open DoNotPay in your and create an account if you don't already have one.
DoNotPay can also cancel other similar services for you, such as QuickBooks and Hubstaff.
Does Neat's Free Trial Auto-Renew Into a Paid Subscription?
Neat has a free trial that lasts for 15 days, and they automatically renew your subscription after it ends. You'll need to cancel Neat before that if you want to avoid getting charged.
You can do so by using DoNotPay's free virtual credit card.
Use DoNotPay's Amazing Virtual Credit Card Feature To Stop Unwanted Charges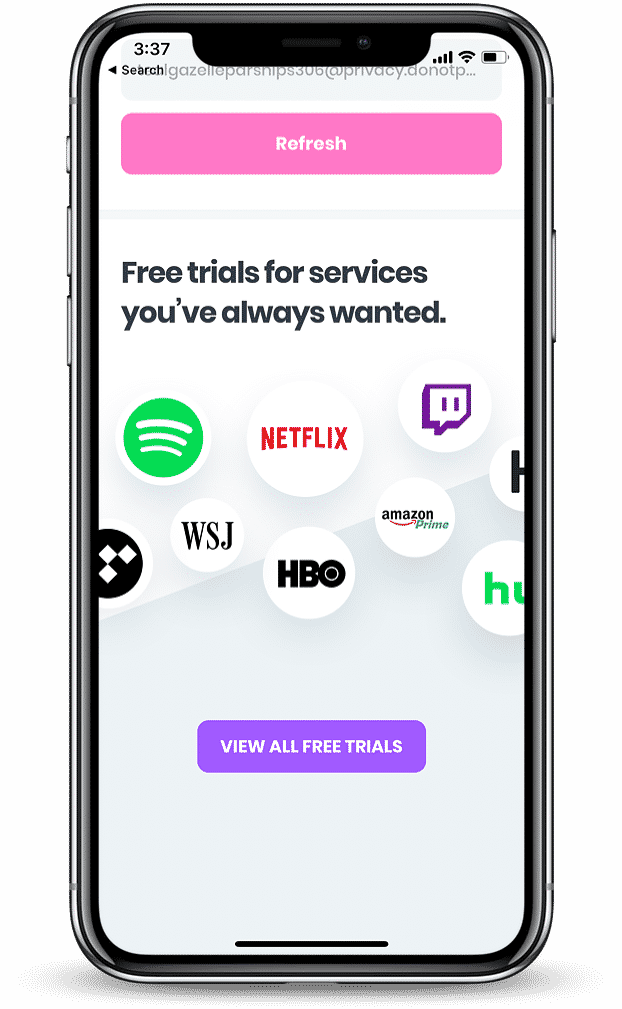 You never have to worry about being charged after a free trial again because DoNotPay has an amazing feature for you—virtual credit cards.
A virtual credit card is a temporary, randomly generated account number that holds no funds. When you sign up for a free trial with it, the merchant sees the card as authentic, and after your trial period expires, the company cancels your account because they're unable to charge you.
Does Neat Prorate Cancellations?
No, Neat doesn't prorate cancellations. For monthly plans, they will cancel your account a day before your next billing period. You should be able to use their services normally until then, even though some customer complaints say that, after they canceled their accounts, Neat disabled all services for them.
Are There Any Alternatives to Neat?
Saying goodbye to good and useful services because they don't work for you anymore can give you a headache. No need to be disappointed—check out some of the new services that might work better in the table below:
Service
Price
Benefits

Sage

Starts at $10/month

Excellent for project, expense, and compliance management

Suitable for big businesses

QuickBooks

Starts at $25/month

Free trial

Various business templates

Customizable documents
Do You Know How Many Active Subscriptions You Have?

An average American spends around $200 a month on subscriptions they don't use, according to a survey. If you think you're one of them, use DoNotPay to monitor and cancel the services that drain your money.
Connect your email or your bank account to our app, and we will:
List your active subscriptions

Show you the ones that you're not using

Cancel the ones you tell us to
Use DoNotPay To Improve Your Day

DoNotPay offers a variety of features that are intended to make your life easier. We can do anything from helping you start free trials with our virtual credit cards that get instantly approved to getting refunds from any company—including the ones that grant no refunds.
Open DoNotPay in your and see how else our app can be of service to you.
We can help you with:
Fighting speeding citations

Appealing traffic tickets