Zoom In on the Best Method To Cancel LegalZoom!
LegalZoom is an online legal company that offers a range of services, many of which are focused on creating legal documentation.
Some LegalZoom products can be purchased with a one-off payment but most are membership-based.
How To Cancel Your LegalZoom Membership?
You can cancel your LegalZoom membership in several different ways.
| | |
| --- | --- |
| Can You Cancel With | Yes / No |
| DoNotPay | Yes |
| Email | Yes |
| Phone | Yes |
| Letter | No |
| In person | No |
| Company website | Yes |
Cancel Your Membership on the LegalZoom Website
You can get out of your LegalZoom membership by deactivating your account on the company's website. Here is how to do it:
Go to the LegalZoom website

Click on

MyAccount

in the top right corner

Sign in using your email and password

Click on the tab with the name of your plan

Click on

Manage My Account

in the top left corner

Follow the prompts to cancel your membership
Cancel Your LegalZoom Membership Over the Phone
Another option is to contact LegalZoom customer support and ask them to cancel your account.
You can reach them at 877-818-8787, every business day from 5 a.m. until 7 p.m.
The customer support agent will guide you through the process. Once you complete all the steps your account will be canceled and you will receive a confirmation email.
Cancel Your LegalZoom Membership via Email
You can deactivate your LegalZoom account by emailing customer service at advantagesupport@legalzoom.com.
Make sure to include the following details in the email:
A cancellation request

Your account info

Contact details
Cancel Your LegalZoom Membership Quickly With DoNotPay

DoNotPay is a powerful tool capable of getting any unwanted subscription out of your way. Our app will deactivate your LegalZoom membership in just a few clicks.
Here is how to do it:
Open DoNotPay in your

Tap

Find Hidden Money

Type in LegalZoom as the name of the service
DoNotPay will send you a notification as soon as it cancels your subscription.
We can also track down all your subscriptions and assist you with canceling those you don't use. You only need to connect your email or bank account to DoNotPay. The app will do all the hard work for you.
Will My LegalZoom Subscription Renew Automatically?
It depends on the type of product or service you subscribed to, but most LegalZoom subscriptions renew for a new billing term.
Some membership plans are billed monthly, but in most services, you have to sign up for a six-month or an annual plan. These plans are billed once or twice a year unless you cancel your membership. Your credit card will be charged for each renewal term.
Can I Get a Prorated Refund From LegalZoom if I Cancel My Subscription?

LegalZoom may offer refunds in certain cases, and if you believe you are entitled to one, you should contact the company at 800-773-0888.
How Do LegalZoom Free Trials Work?

LegalZoom often offers promotions and free trials for new customers. When signing up for a free trial, you are required to provide the company with your credit card details. After the trial ends, your account will be charged for the full price of the plan you picked at the signup.
DoNotPay can help you cancel your LegalZoom free trial before you get charged. The process is the same as canceling your membership.
We can also protect you from getting charged for free trials in the future!
DoNotPay's Virtual Credit Card—No More Unwanted Charges!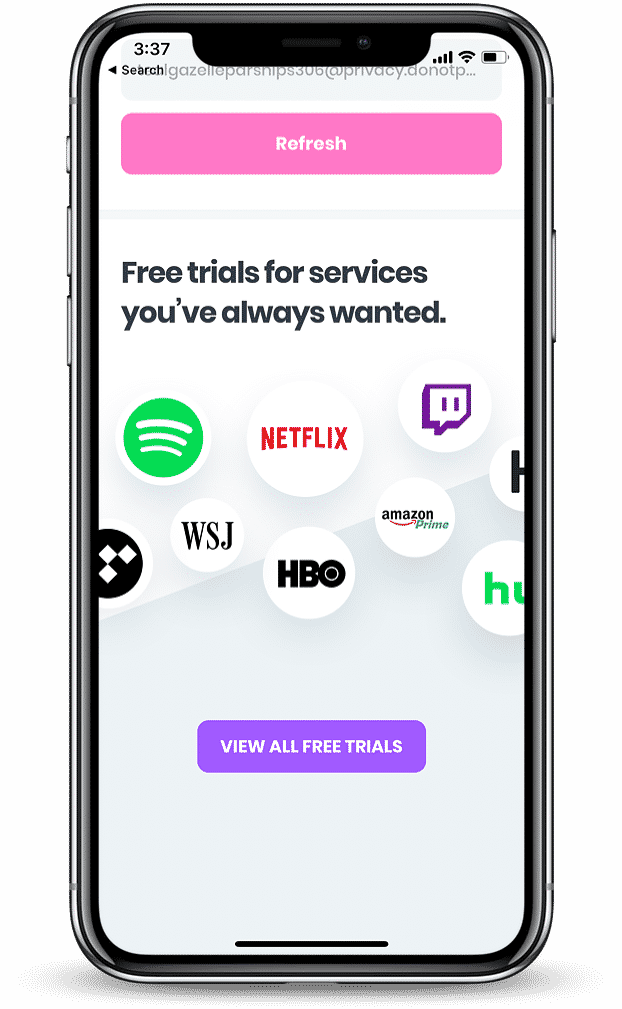 With our virtual credit card, you can sign up for any free trial without worrying about what could happen when the trial period ends.
You simply subscribe with a virtual credit card number and your free trial gets approved. When the trial period ends and the company tries to charge you, they will fail because your free virtual credit card is not connected to any real payment source.
To start enjoying no-risk free trials, access DoNotPay from your .
What Do the LegalZoom Charges Look Like on a Credit Card Statement?
You can check examples of LegalZoom charges in the table below.
LegalZoom.com

LEGALZOOM.COM 800-773-0888 CA

LEGALZOOM REGISTERED866-698-0052 CA

LEGALZOOM.COM 800-773-0888

LEGALZOOM.COM 888-3100151 CA

LEGALZOOM.COM 800-773-0888

LEGALZOOM ADVANTAGE 888-310-0151 CA

LEGALZO

OM.COM 800-7730888 CA

LEGALZOOM FORMS PLAN888-310-0151 CA

LEGALZOOM ADVANTAGE PL 888-3100151 CA

LEGALZOOM.COM 888-310-0151 CA

LEGALZOOM.COM
DoNotPay Manages Administrative Tasks Efficiently!

DoNotPay is a virtual assistant that will help you sort out your daily tasks quickly and efficiently.
Use our app to save money by canceling subscriptions like HelloFresh, LiveCareer, or T-mobile, or to get a refund from Uber Eats, LinkedIn, or any other company.
Open DoNotPay in your and discover how we can help you with:
Fighting speeding tickets

Disputing traffic tickets