The best way to dispute a parking ticket in Buffalo, NY
A small percentage of parking infractions are ever challenged. For this reason, plenty of invalid parking tickets get paid and money is wasted. The hard appeal process sways most people to just pay for citations and try to forget about them. DoNotPay is the world's first AI lawyer that will help you complete the once tiresome process in under two minutes on your phone or computer, for free.
Paying for invalid parking tickets is a thing of the past

Finally, there's an easy way to challenge annoying parking infractions, using DoNotPay. Money.com, one of the world's most popular self-finance portals, reported on the DoNotPay app and gave it high praise for its efficiency. Started in 2015, within less than two years, the app was victorious in overturning 160,000 of the 250,000 citations it challenged. Now, the app saves people millions of dollars from infractions in all U.S. cities, including Buffalo, NY.
Watch how to dispute parking citations in any city
https://youtu.be/u1xUdpY9o88
Beating a citation in Buffalo city in under 120 seconds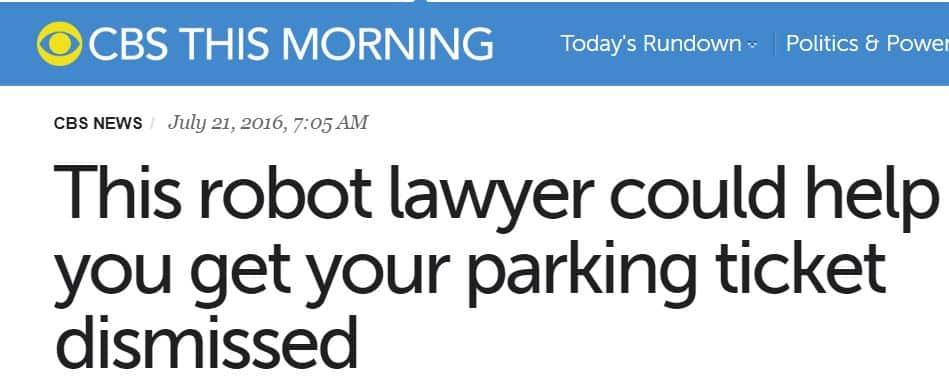 People who've had experience with disputing parking tickets "the old-fashioned way" will tell you how much of a hassle it can be. DoNotPay was created to make this process easy to do for everyone. Just follow these four steps:
Hop on over to the DoNotPay

web app

through your browser

Snap a picture of your parking ticket, make sure it's readable, and upload it to DoNotPay

A chat with our AI lawyer will pop up, asking you simple questions that will help the app assess the situation

DoNotPay will then curate a professional dispute adjusted for your situation and location
Pay vs Dispute?

| | | | |
| --- | --- | --- | --- |
| | Most convenient method | Cost | Potential outcome |
| Pay | Online | Full ticket amount at least | Paying an invalid parking ticket |
| Dispute | DoNotPay | Nothing with DoNotPay | Reduction or removal of fine |
Is disputing parking tickets in Buffalo worth the effort?

We understand where this concern comes from. Previously, contesting a parking citation could take you a days' worth of work, something most people couldn't afford. DoNotPay has cut that process down so much, that it would be silly not to send an appeal, even if you knowingly broke a rule. The app's success in appealing tickets has taught us that, just by challenging infractions, people gain a valuable chance of having them either reduced or discarded completely.
Buffalo city parking ticket disputes are only accepted through the mail. Tickets will have a "Not Guilty" checkbox. Mark it and send the letter to Room 111 City Hall, Buffalo, NY 14202. Make sure to include your information like name and address and any additional evidence that supports your claim. After your appeal is reviewed, you may be summoned to present your case at the city's Parking Violations Bureau.
I don't have much time to focus on this, how much faster is DoNotPay?

Time constraints are the most often excuse people give themselves to justify not fighting a citation. With DoNotPay, all excuses are thrown out the window, as the app turned a previously long and tiresome procedure into a few clicks on your computer or phone. You no longer have to do the necessary research manually or pay for a lawyer's assistance, and then submit your case. Just chat with the app and you'll be done in a few minutes.
What can happen if I don't pay for my parking infraction?

Ignoring parking tickets is never a good idea. The best thing you can do about infractions is to challenge them, like with DoNotPay. There are plenty of urban myths of tickets going away over time or not being high enough on the governments' priority list to do something about them. The reality has hit plenty of people in the face, once they encountered one of the following situations: 
The amount steadily increasing over time, adding more and more fees and debt, until it catches up to you

Your vehicle could get locked in place or towed away, resulting in you having to pay for the ticket and redeeming penalties

The amount will be handed to a collections agency, who will try to extract it from you

DMV could suspend your current registration or reject any future registrations

The state will SELL

your seized car at an auction to cover the necessary fees
People have also reported having tickets forcefully paid through tax, impact on their credit score, and other parking services rejected.
Can I challenge privately issued tickets with DoNotPay?

Absolutely, DoNotPay will dispute both government and private issued parking tickets in all US cities. The app creates appeal letters addressed to all private parking companies daily. These include, but are not limited to: 
Diamond Loft

Douglas Parking 

Impark (Imperial Parking)

ABM Parking Services 

Ace Parking 

SP+ (Standard Parking)

Laz Parking 

Lanier Parking 

Towne Park
Will parking tickets go on my drivers' record?

Rest assured that no matter how many parking tickets you have, and how high the fees, they will never directly impact your driving record. Driving records only counts your offenses made while the vehicle was in motion. The DMV also has no direct look into your parking ticket history. However, this is all assuming you take care of your tickets on time, either by successfully disputing or paying for them. If you leave them unattended for too long, the DMV may be forced to suspend your registration until the debt is paid. If this ends up being the case, the violation will follow you.
Can my vehicle insurance go up if I don't pay parking citations?

The same rules that hold true for ticket impact on your driving record apply to car insurance. According to the Esurance FAQ section, insurance customers will not see an increase in premium rates, as long as they take care of parking citations in time. Like the DMV, insurance companies do not have an overview of your parking ticket history. Insurance risk is calculated by several factors, such as:
The age of the vehicle

History of accidents and repairs

The drivers' age and experience

Drivers record overview, previous violations
While parking tickets will not directly impact your insurance, if they lead to the DMV intervening, this will be noted and your premium might go up as a result.
Do I need to pay for parking infractions received out of my home state?
If the answer to this question was "No", would parking companies bother with cars clearly registered in other states? Some people argue that they're issuing tickets routinely or trying to scare you into wasting money, but that's not the case. Parking tickets will follow you around from one state to another, even if they may be harder to enforce. You don't have to worry though, because DoNotPay will help you dispute them remotely, regardless of your home state.
Can I get a citation if I'm sitting in my car?
This may come as a surprise to some, but it's better to be prepared. Yes, you can get a parking ticket even if you're currently occupying the vehicle. According to New York state law, section 1200, Basic rules of Vehicle & Traffic (VAT), a car is considered parked whether occupied or not, and every rule regarding parking regulation will apply to it, even if the driver is inside. The only exception to the rule is temporarily stopping for active engagement in loading or unloading of passengers or goods. To put it in simple terms:
Yes, you may make a stop to pick up someone or something

No, you may not stop to

wait

for someone or something
I got a parking ticket for a rental car, do I have to pay for it?
If you receive a parking ticket on a car you rented out, you may notice it's not addressed to you. It will be directed at the rental company, which may prompt you to ignore it. You may not be legally responsible to pay the citation to the parking company or state, but the fee will make its way back to you. 
Rental companies know how to handle these situations. Under every "terms and conditions" form you sign when renting a car, you can be sure there's a section covering all forms of violations and costs. For example, Budget Car Rental, a common rental company in Buffalo and New York state, covers this under section 17 of their rental terms. Here's a quick summary of how that works:
By signing, you agree to pay all fines received while you're using the car

You agree that Budget Car Rental can pay on your behalf and demand compensation

The company will charge you an additional $50 fee for every violation they cover for you

If you refuse to pay, the company can use your payment information to charge you for the ticket without the need of your consent
How much money does Buffalo City make from parking citations?
According to the city's official financial report for the year 2018-2019, the total revenue of the Parking Violations Bureau was an enormous $11,558,860. After taking care of any expenses, the netted total was $10,303,876. The city's average over the past 3 years was over 10 million: 
| | |
| --- | --- |
| 2016-2017 | $10,378,240 |
| 2017-2018 | $10,646,240 |
| 2018-2019 | $11,558,860 |
Do I need a lawyer to take on my case?
Parking citations are easily disputable on your own. We get that people may not be familiar with the law and would rather have a professional look over their situation, but that's exactly what DoNotPay was designed to do. The world's first AI lawyer chatbot is arguably more reliable, with its information coming directly from the source, leaving no margins for human error. You can do everything yourself with DoNotPay in a fraction of the time it takes to hire a lawyer.
How much does a lawyer cost in Buffalo, NY?
According to ZipRecruiter, the average lawyer in Buffalo city will charge you $35 per hour. That's a pretty high rate to dispute an average parking ticket fee. Most traffic lawyers will offer a fixed price to create a parking ticket dispute, but why waste money on something you can do for FREE using DoNotPay.
How can I pay for my parking ticket in Buffalo city?
Assuming you've already contested your ticket with DoNotPay and got a negative result, the only thing left to do is pay it. Here's how you can do it:
Official Online Link

- Note that the city charges a 2.25% convenience fee

By mail - Send a check or money order (do not mail cash) along with your parking ticket, payable to Parking Violations Bureau, Parking Violations, P.O. Box 20, Buffalo, NY 14240-0020

In person - The address is 65 Niagara Square, Room 11, Buffalo, NY 14202, working hours are Mon. - Fri. from 8:30 a.m. to 4:15 p.m.

Via phone call - dial 716-851-5182, working hours are Mon. to Fri. 10:00 a.m. - 3:30 p.m.
DoNotPay helps users fight and beat tickets in any city
DoNotPay helps users fight parking tickets in every city in the US and UK. Here are a few cities we've helped users dispute the most tickets in:
Falling for Scams Is Less Likely With DoNotPay
Thanks to AI technology, DoNotPay is a great resource for protecting your privacy and finances from potential scammers. Our bots can help you report robocalls, keep your inbox clean from spam email and shady text messages, or even deal with stalking and harassment if it comes to that.
In case the issues escalate, skip the expensive lawyers and sue the offenders in small claims court with ease.
Another great way to increase your online security is to use our virtual credit cards and sign up for any free trial without risking unwanted charges. You can even avoid sharing your contact info with our Burner Phone feature.
The Solution To Your Driving Woes
DoNotPay provides invaluable help to future and current drivers. By helping you ace that driver's license test, scheduling a DMV appointment the easy way, or contesting parking tickets, our app saves you money and time.
If you need to file a car warranty or an insurance claim, we will help you deal with the necessary paperwork within minutes. Trying to get out of a car wash membership? DoNotPay can cancel it in an instant.
Our platform works above ground as well. You can use DoNotPay to secure refunds from airline companies or compensation for delayed and canceled flights.
To summarize
How to beat parking tickets in Buffalo, NY

Using DoNotPay will save you money in the long run

Only a small percentage of tickets gets challenged

Plenty of easily disputable tickets get paid in full

The appeal process used to be long and hard

DoNotPay has drastically reduced the process

You used to have to do everything manually

Now you only need a few minutes on your phone or computer

DoNotPay is fast and free

The app has turned over millions of dollars in tickets

You don't have to know the laws yourself

DoNotPay can dispute parking tickets everywhere in the U.S.

Appealing tickets used to be time-consuming

The app will do everything in two minutes or less

Paying the ticket is "giving up easy"

DoNotPay will do everything with simple to follow steps

The best method to pay tickets is online

The best method to dispute them is DoNotPay

You run the risk of paying invalid parking tickets

With DoNotPay, you have a chance of your fine being reduced or dropped

Contesting tickets was too much effort for some people

The DoNotPay app is very user-friendly

Parking tickets in Buffalo are only disputable by mail

DoNotPay will gather the necessary evidence for you

Tick the "Not Guilty" box before sending your ticket for review

If your ticket appeal needs further looking into, you'll be summoned to the parking bureau

Time constraints stop people from contesting tickets

The app will take a few minutes of your time away maximum

You don't have to research and write anything manually

Use the app through your computer or phone and let it do the hard work

Never ignore parking tickets

Parking tickets will not be forgiven without a proper appeal

Tickets don't go away over time

The fee will increase if it's not dealt with

Your vehicle can be booted or towed

You'll have to pay all the charges to get it back

Collections agencies may get involved

The DMV might have to intervene

DoNotPay will fight both government and private company tickets

The app works on every parking service in the country

Parking tickets don't go on drivers' records

The DMV has no overview of your parking tickets if they're handled on time

Unpaid parking tickets may get your registration suspended

This will appear on your record, but the reason won't be stated

Insurance companies are not aware of your parking violations, only traffic violations

If you let your ticket lead to suspensions of your registration, your insurance premium may take a hit

You are responsible for parking tickets received out of state

Out of state tickets may be harder to enforce, but they can also be harder to take care of if not addressed quickly

Sitting in the car while it's parked does not mean you're immune to tickets, a car is parked whether occupied or not

Only active loading or unloading of passengers or goods is allowed when breaking parking rules

You can make a quick stop to pick up someone or something

You can not stand still and wait for someone or something in no park zones

You are responsible for coverage of tickets received on a rental car

If you do not pay them in time, the rental company will cover tickets for you and charge you later

Your payment information given to the rental company will be used to extract the money without your consent

You will be charged an additional fee for each ticket, based on which rental company was used

Buffalo City makes lots of money from parking

An average of over $10 million was accumulated each year, for the past 3 years

You do not need a lawyer to dispute a citation

DoNotPay will do everything a lawyer does, but faster

The DNP chatbot lawyer is the future of handling small legal cases

Do-it-yourself legal disputing will become increasingly popular as AI develops

The average lawyer in Buffalo costs $35 per hour

DoNotPay is completely free to use and does the same job

There are four official methods to pay for tickets in Buffalo

Online, By Mail, In Person and Via Phone

DoNotPay is developing and expanding its expertise

Learn more about each option at the

https://donotpay.com/learn