Show You Care By Sending Care Packages for Inmates in Michigan
You can show your incarcerated loved ones you are thinking about them even when they are not present in your life as before. Writing letters, calling, and visiting inmates are the best ways to cheer up an imprisoned person.
Sending care packages for inmates is also a treat all prisoners are looking forward to. If you want to send some items to an inmate housed in Michigan, you will have to check the rules and regulations applied to that state as well as the specific requirements of particular facilities.
What You Should Know About
Michigan Inmate Care Packages
You should bear in mind that sending products to inmates is completely different from doing the same thing in the outside world.
Correctional facilities have a plethora of restrictions that must be obeyed if you want the inmate to receive the package. It is always a good idea to check the rules of the specific state on a reliable website.
If the inmate you'd like to send a care package is located in Michigan, visit the Michigan Department of Corrections website for useful information.
You should also know that you can't send packages directly to inmates—they have to be sent through an approved vendor. The Michigan Department of Corrections allows Securepak to send premade packages to prisoners in this state.
Friends and Family Pack Program—
Michigan Packages for Prisoners

The Michigan Department of Corrections has a customized package program called Family Pack Program (FPP). It allows family members to send approved items to inmates, but it also enables prisoners in the general population to place their orders through a vendor kiosk found in the general population housing units.
You can send only one FFP package to an inmate per quarter in the following periods:
January to March

April to June

July to September

October to December
Your FFP package should not exceed the value limit of $100 per order. If the inmate is making an order, this amount will be added to their purchase from the prisoner store every two weeks. A friend or family member can send one package to an inmate per quarter. If two people send packages at the same time, the first order will be processed, and the other one returned.
Who Can Send FFP Packages To Inmates
The Michigan Department of Corrections has strict rules about who can place orders for inmates. Take a look at the table below to see if you fit the category:
Who Can Send FFP Packages to Michigan Inmates
Who Can't Send FFP Packages to Michigan Inmates

Parent

Stepparent

Grandparent

Spouse

Child

Stepchild

Grandchild

Sibling

Stepsister

Stepbrother

Aunt/Uncle (only if they were a surrogate parent of the prisoner)

Another prisoner

Parolee

Probationer

A family member of another prisoner, parolee, or probationer
If you don't obey these rules, the prisoner might lose their FFP privileges. Inmates in segregation cannot receive FFP packages.
What Can
Michigan Care Packages for Inmates Include
?
There is a list of strictly forbidden items that must not be sent to inmates. Disobeying the rules can lead to serious consequences, such as the inmate losing their mail privileges.
The prisoner can receive the following approved items in their care package:
Cosmetics

Food

Clothing

Religious items
These items must be approved by the Michigan Department of Corrections and already selected by the approved vendor.
The package must not include any of the following items:
Cash

Credit cards

Weapons

Drugs

Cigarettes

Sharp objects
The jail staff will look for contraband, and only after their thorough inspection, can the inmate receive the care package.
If the package contains any of the forbidden items, the staff will return, confiscate, or destroy the package, depending on the level of the safety threat.
Connect With an Inmate in Michigan With DoNotPay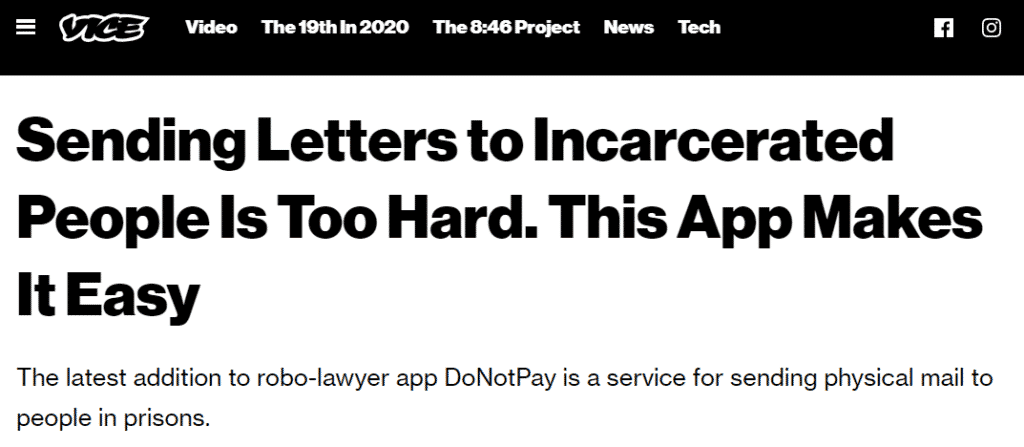 If you are looking for other ways of nurturing your bond with an inmate besides sending them care packages, DoNotPay has got you covered.
Our app can help you show how much you care about a prisoner by enabling you to exchange messages with them. In case you've lost track of an inmate after they've been transferred to a facility in Michigan, we can help you find them.
Use our Connect With an Inmate feature to:
Send a Personalized Letter
Receive letters in a

Virtual Mailbox
Use DoNotPay To Send a Personalized Letter to the Inmate You Care About

Care packages bring joy and make prisoners feel more at home by receiving their favorite food or other products, but the letters provide much-needed emotional support. Items put in a package cannot update them on what's happening in the outside world and the wellbeing of their friends or family members. Follow these steps to send a perfect letter to an inmate:
Sign in to DoNotPay in your

Choose the

Send a Personalized Letter

option under the

Connect With an Inmate

category

Write your message in the space provided or upload it
You can also attach photos and pick a letter template with a suitable theme for any occasion or season. DoNotPay will print, address, and ensure the letter reaches the inmate you care about.
Use DoNotPay To Receive Letters From Inmates

DoNotPay offers the option of having your mail from inmates delivered straight to your Virtual Mailbox. You will only need to select the Create My Mailbox feature to start meaningful conversations with your incarcerated loved ones.
When the inmate writes you a letter and sends it to us, we will make a digital copy and forward it to you. Always be up-to-date on your prison pen pal!
Looking for an Inmate in Michigan? DoNotPay Can Help You Find Them
You can't write, call, visit, or send packages to inmates if you don't know the address of the correctional facility they are housed in. If that is the case, DoNotPay can help you locate them with basic personal info. You don't even have to know their ID number.
To locate an inmate in Michigan or any other state across the U.S., follow these instructions:
Find the

Connect With an Inmate

category

Select the

Locate Someone

feature

Enter the prisoner's name and the state where they are serving their sentence
When you finalize these simple steps, we will provide you with the inmate's precise location.
Other Neat Features DoNotPay Offers

Find everything you want to know about inmate mail rules and regulations with our detailed guide. If you want to know the specifics about sending packages to inmates across the country, check out common requirements in:
Our app can do a lot more than help you deal with inmate issues. You can forget about tiresome administrative problems with our assistance. Access DoNotPay from your and choose any feature from the list:
Disputing traffic tickets

Fighting speeding tickets