Sign Up For Windscribe Free Trial Securely With a Virtual Credit Card

Windscribe is an app that allows you to surf the Internet safely through the use of a VPN (virtual private network). While there are several options when it comes to the use of a VPN, Windscribe provides one of the most comprehensive packages, with servers in more than 63 countries and 110 cities. You can choose which IPs and ads you'd like to block, and you can apply this to however many devices you need.
If you're interested in trying , but don't want to be charged with an automatic subscription renewal, DoNotPay can help.
Does Windscribe Offer a Free Trial?
Yes. Windscribe offers a variety of different plans depending on what your personal needs are. The most basic features of Windscribe are free for all users to use, but if you're looking to upgrade your VPN service and would like to try , you can sign up for a 24-hour trial period. 
| | | |
| --- | --- | --- |
|           Monthly Plan |                Yearly Plan |              Build A Plan |
|                 $9 |                    $49 |     $1 a month per location |
How Can I Get a Windscribe Free Trial?
Signing up for a Windscribe Pro free trial is a simple process. Follow the steps below to begin your 24-hour trial period for Windscribe Pro.
Begin by going to the Windscribe website and click "Sign Up" in the top right corner.
Choose your username and password to create your new Windscribe account. You can include your email, but this is optional.
Download the Windscribe app onto whatever device you'd like to use the VPN.
Enter the Windscribe app and click on the "Chat" icon on the bottom right.
Ask the bot to give you a Windscribe Pro trial. They'll confirm that it's your only account, and then grant you access.
If you've entered your email, you'll get a confirmation email from Windscribe listing the expiration date of your trial.
Does the Windscribe Free Trial Automatically Renew Into a Paid Subscription?
If you want to test out Windscribe Pro with , you may be wondering if the subscription will automatically renew and charge you when the trial period is over. Oftentimes, when you sign up for a free trial, the service will immediately charge you when the trial expires without giving you a courtesy warning. It's never fun to receive unexpected charges, especially for services you don't need.
So, does the Windscribe Pro free trial automatically renew and charge you? Yes, the Windscribe Pro free trial period immediately becomes a paid subscription when it expires. If you want to cancel the subscription and therefore further billing cycles, you can do so in the "My Account" section of the Windscribe app. You can also avoid unwanted charges by using a virtual credit card from DoNotPay.
Avoid Being Charged for Unwanted Automatic Renewals With DoNotPay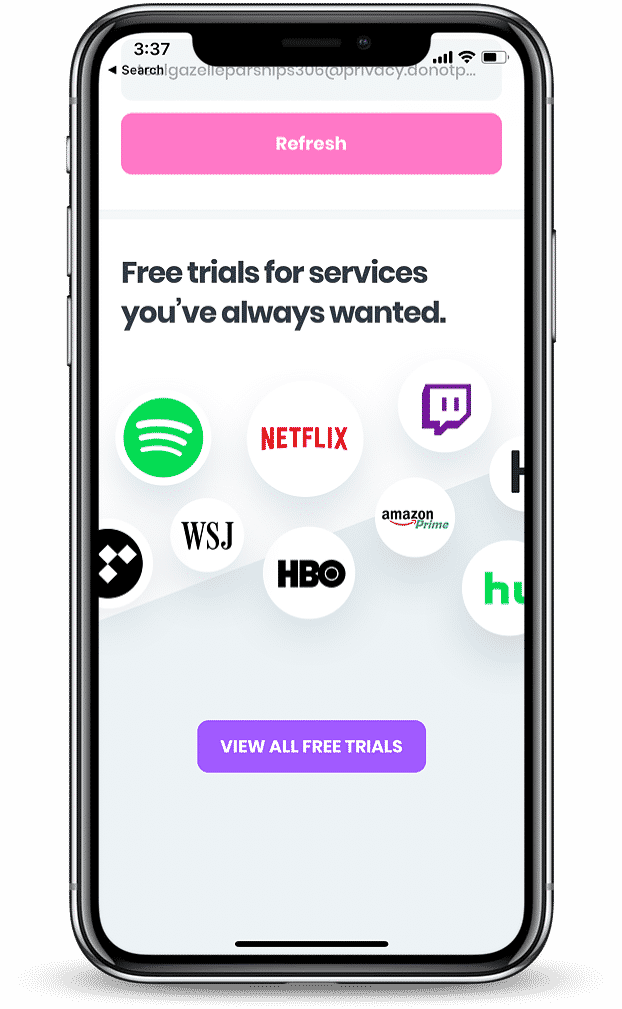 When you check your credit card bill and see an unfamiliar charge, it can be unsettling. If you look into it and discover that the charge is for a service you only wanted a free trial for, it's super frustrating! Oftentimes, you aren't able to dispute these charges because you technically signed up for the service. Even though the trial period is free, companies usually still ask for your financial details, and they can charge you immediately with these details when the trial expires. DoNotPay eliminates this problem by providing you with a free virtual credit card. 
How Does Donotpay Create a Virtual Credit Card?
DoNotPay helps you with many everyday issues, and creating a virtual credit card to help you avoid being charged after a free trial is over is one of them! If you've never heard of a virtual credit card, you may be wondering how it works.
In general, virtual credit cards function by providing credit card details that allow you to sign up for free trials. Even though the details are legitimate and work upon sign-up, there is no actual money on the card. Therefore, if any charges are made that are of actual monetary value, the credit card will automatically reject them. The DoNotPay Free Trial Card, specifically, works by:
Generating random credit card details, including a credit card number, expiration date, and CCV.
Approving charges and bills relating to "free trials" automatically.
Rejecting all other subscriptions or charges.
When your free trial period ends and you're charged, the company will likely contact you when the charge doesn't go through. You will then be able to cancel your service and avoid unwanted future charges. To sign up for a Free Trial Card with DoNotPay, follow these simple steps:
Sign up for DoNotPay with your email or phone number.
Use the generator to receive your unique virtual credit card details and sign up for free trials.
What Else Can DoNotPay Do for Me?
DoNotPay specializes in providing help for everyday issues, which can be easily accessed through the DoNotPay app or web browser version. To find out how DoNotPay can help you, click on the relevant links below to find out more. Try it now.