How to Sign Up For Willow TV Free Trial With a Virtual Credit Card

Are you a cricket fan? If so, you are probably aware of Willow. It is the premier broadcaster of cricket in the United States and Canada. Willow is an American sports channel that is completely devoted to cricket.
Willow is the official broadcaster for various cricket boards, airs overseas cricket events of live and recorded matches, as well as other cricket-related programming. If you are looking for a , DoNotPay can help you navigate the process. 
Does Willow Offer a Free Trial?
No, unfortunately, Willow TV does not offer a free trial for its services. However, Gaana+ is included for free with your subscription. It will give you access to more than 30 million Hindi songs, Bollywood music, regional music and more.
If you have wanted to try Gaana+ too, you can at least sample it if you choose to purchase a Willow TV subscription. If you just want to get a free trial of Gaana+ on its own, continue reading to find out how DoNotPay can help with free trials for any company.
How Much does a Willow TV Subscription Cost?
There are two subscription packages that you can purchase through Willow TV. 
Willow Monthly Subscription: $9.99/month
Willow Annual Subscription: 60.00/annual
Payment for your subscription is collected by Willow TV's collection agent:
Cricket Acquisition Corporation, 650 Castro St, Suite 120-214, Mountain View, CA 94041, USA.
Will a Willow TV Subscription be Automatically Renewed? 
Yes, both subscription packages are recurring packages, and payment will be automatically collected each payment period. The Willow Monthly Subscription will recur every 30 days, while the Willow Annual Subscription package will recur every 365 days (12 months). 
If you have signed up for one of their packages, but are having trouble canceling, DoNotPay can assist you with canceling Willow TV.
How to Avoid Automatic Renewal of Willow TV or Any Other Subscription with the Help of DoNotPay's Virtual Credit Cards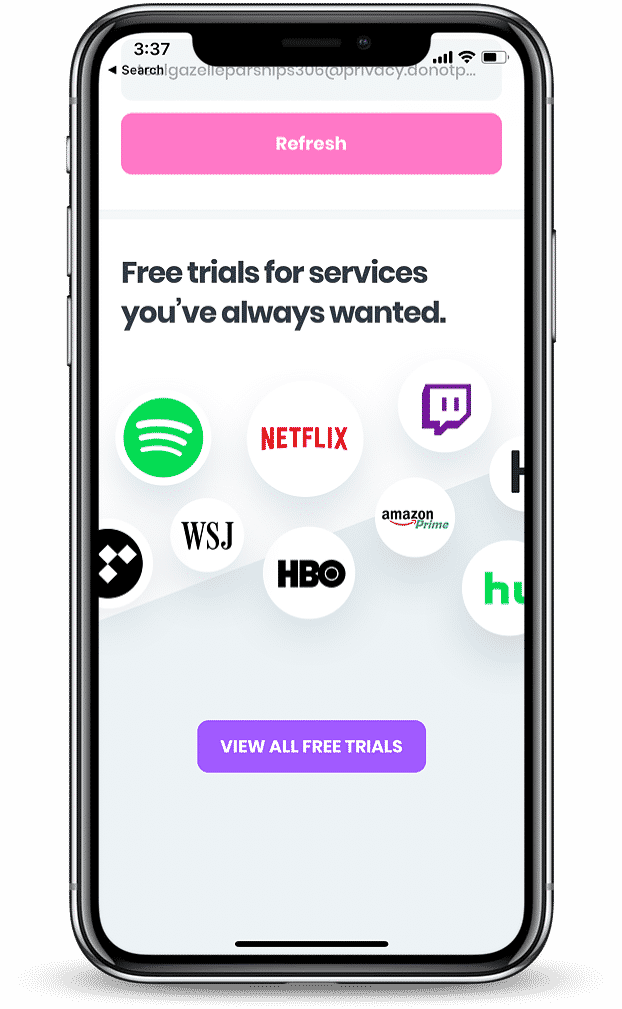 Although you cannot get a , you may be considering a monthly subscription to try it out, thinking you can assess after the month is up and decide whether you want to keep your subscription or cancel. Unfortunately, many people forget to cancel their trials or recurring subscriptions, which is why companies set them up that way.
If you want to actually try out different streaming services and compare them with their free trials first, without the risk of forgetting to cancel, DoNotPay can successfully help you with a virtual credit card.
Find a streaming service you would like to try. (We offer a few suggestions below!)
Request a one-time use, free virtual credit card through DoNotPay
Use the credit card information from DoNotPay as your payment source when you sign up
Enjoy your free trial, and know that you will not be charged!
When you request a virtual credit card from DoNotPay, we will automatically generate a credit card number along with other credit card information. The difference between our virtual credit cards and traditional credit cards is that there is no actual credit or spending power. This means that you cannot be charged when a company attempts to charge for your subscription. 
What Are Alternatives to Willow? 
If you are looking for other places to watch sports, here are a few subscriptions you should consider trying:
Name
Price
Service
YouTube TV
$64.99/month

85+ channels of entertainment, news, live sports, and more

ESPN +
$6.99/month

Access to 30 for 30 library, live events, and originals

Fubo TV
$64.99/month for the Starter Plan, $69.99/month for the Pro Plan, $79.99/month for Elite Plan, $33/month for Latino Quarterly

100+ channels for sports and entertainment
Live and on demand
Cloud DVR included.

Hulu + Live TV
$69.99/month

Access to over 75 channels with live TV, ad-free entertainment
Disney+, live sports with ESPN+, and more (ad-supported)
How Else Can DoNotPay Help You Today?

DoNotPay can not only help you save money with virtual credit cards for free trials, we can help you save money and time in many other ways!
DoNotPay is here to make your life easier!